6 Ethical & Comfortable
WORK FLATS FOR WOMEN
BUENOS AIRES, ARGENTINA
Finding your go-to pair(s) of ethical and comfortable work flats is no easy feat. Between commuting, the many choices of transportation, dressing for office dress codes, and everything in between, the perfect pair of work shoes has a long list of criteria to meet. However, when shopping thoughtfully and sustainably, it's essential to think beyond 9-5 and choose shoes that double for off-duty hours.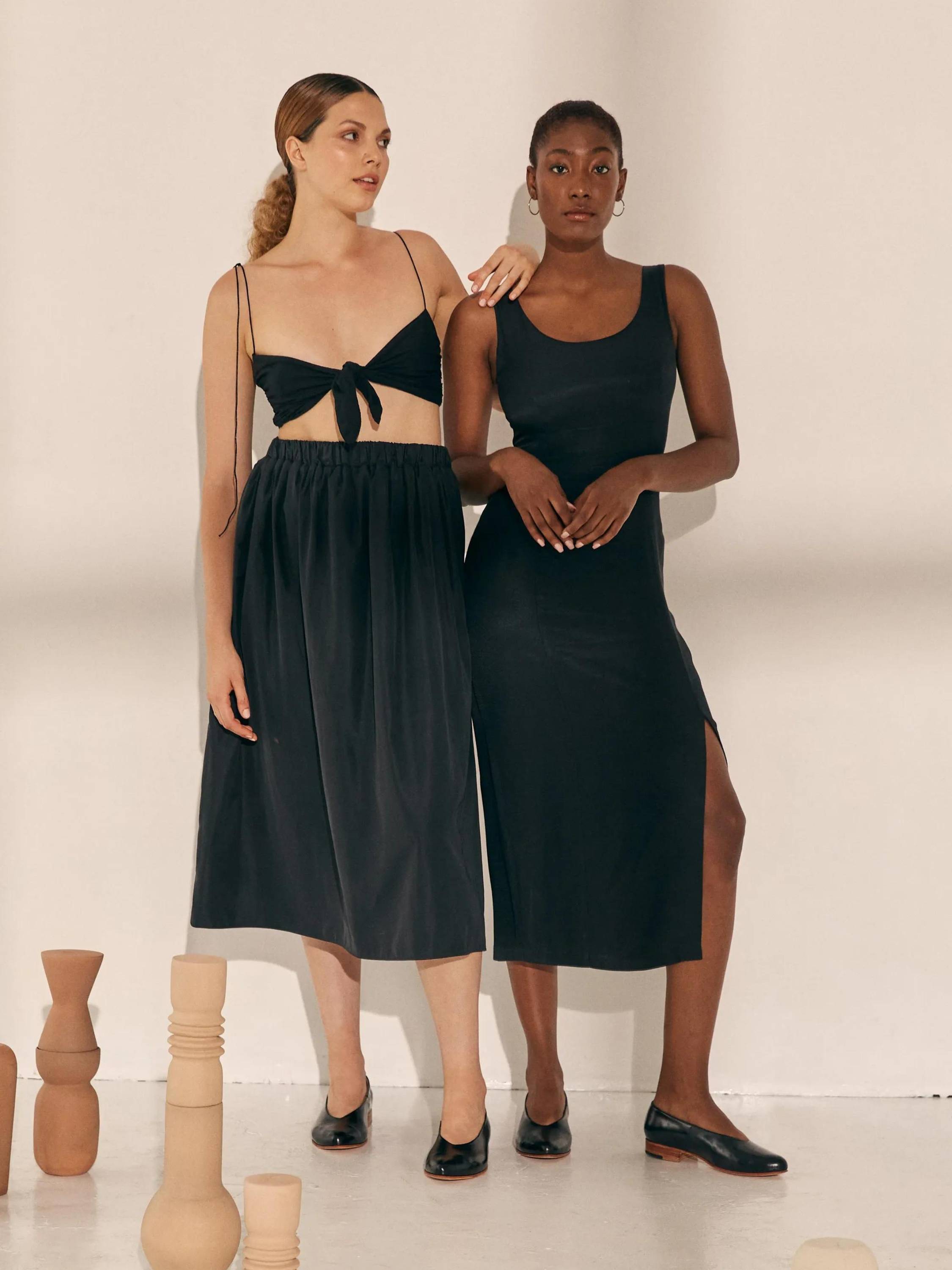 Speaking from years of experience, ZOU XOU founder Katherine started ZX after working in a creative professional office in a fashionable city. Her job required her to have style, look put together, and be active/on her feet. Leather flats, mules, ballet flats, and mary janes were perfect solutions for outfits where something between a sneaker and a pump was needed. Flats that are stylish and refined but also practical.
Here are 6 of our flats that check all of our boxes for ethical and comfortable work flats: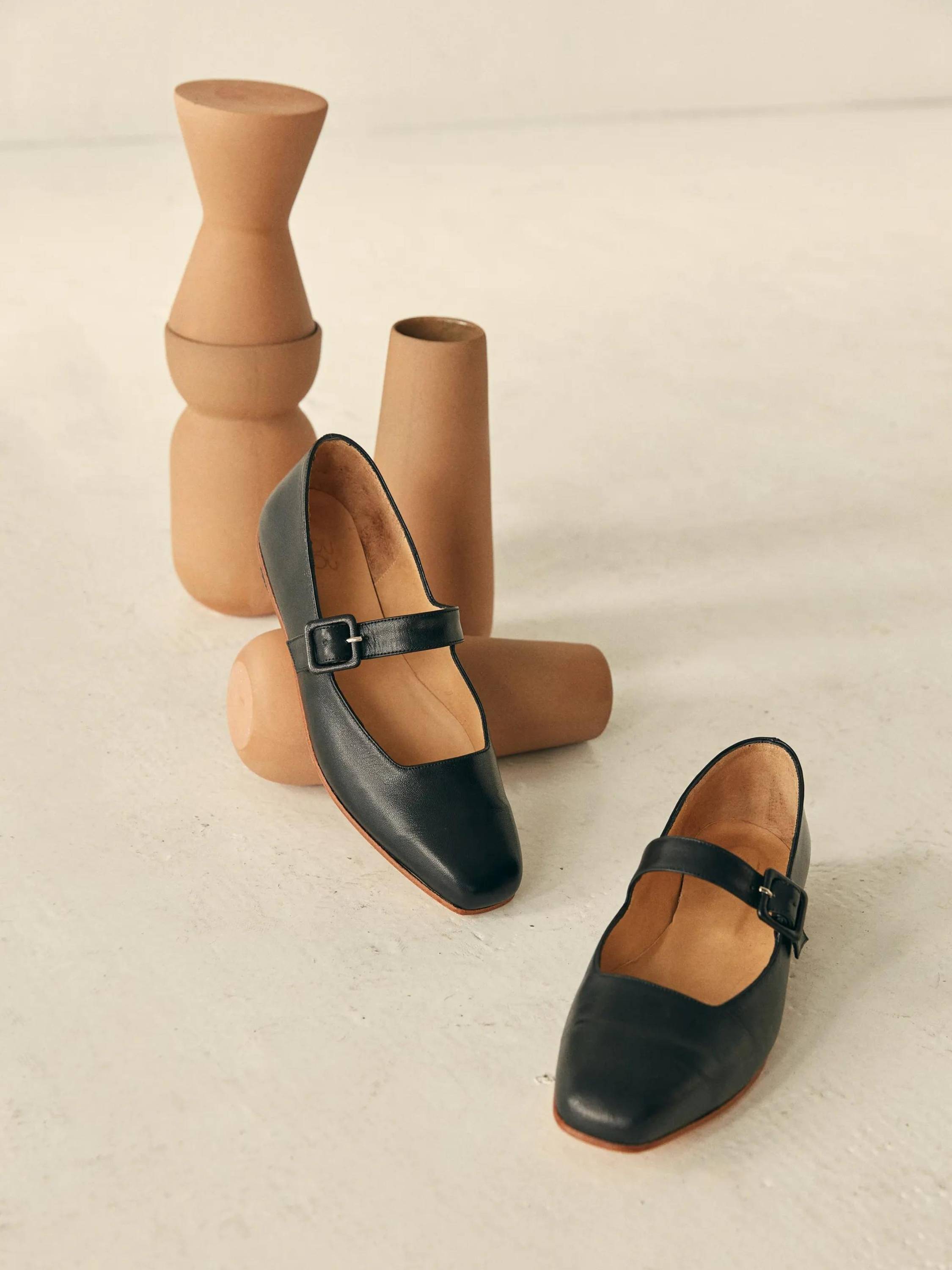 The Eugenia flat is our contemporary take on Mary Jane Flats. A ZOU XOU fan favorite, the Eugenia is one of our most popular classic styles. The Eugenia has a modern feeling with a square toe and angular topline.
The upper is crafted from kidskin leather with a lambskin lining for maximum comfort that only improves with time. With little to no break-in period, the Eugenia will become an instant go-to in your wardrobe.
Heel height: 18mm
Best for: Versatile styling
On duty: Comfortable and professional shoes for walking to work.
Off duty: Run errands or meet a friend for dinner after hours.
Feminine with an edge, The Eugenia is a natural choice for ethical and comfortable work flats. The Eugenia will seamlessly take you to the office, dinner, and drinks after, pain-free and in style.
Styling the Eugenia for work is a breeze. Get creative and style the Eugenia playfully for clever juxtaposition. Think wide-leg trousers, voluminous dresses or skirts, and oversized blazers. Workwear's masculine silhouettes balance beautifully with the Eugenia's delicate details. No matter your personal style, the Eugenia will blend in with a chameleon-like effect.
Who it's for: The woman looking for contemporary and minimalist flats with maximum styling potential.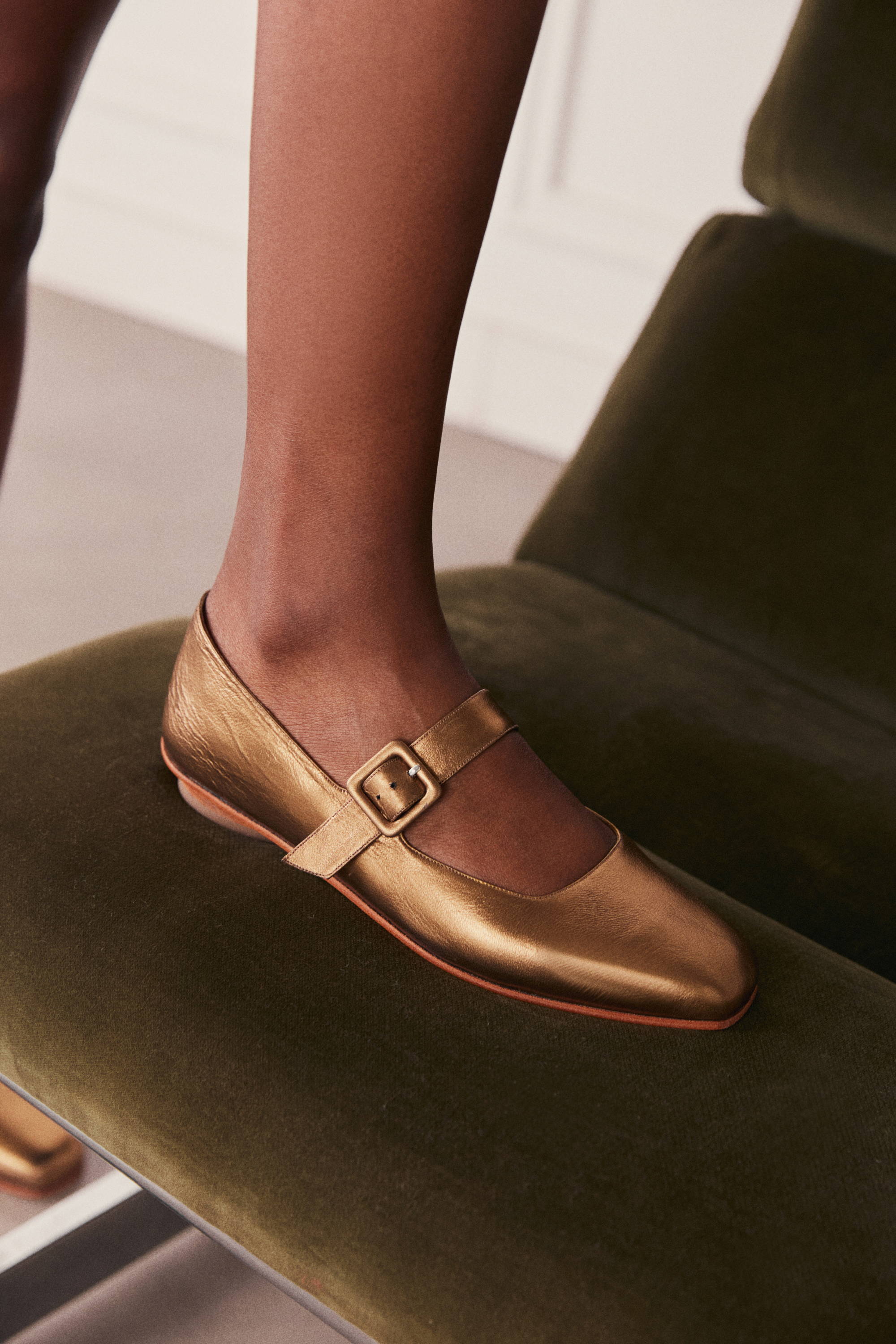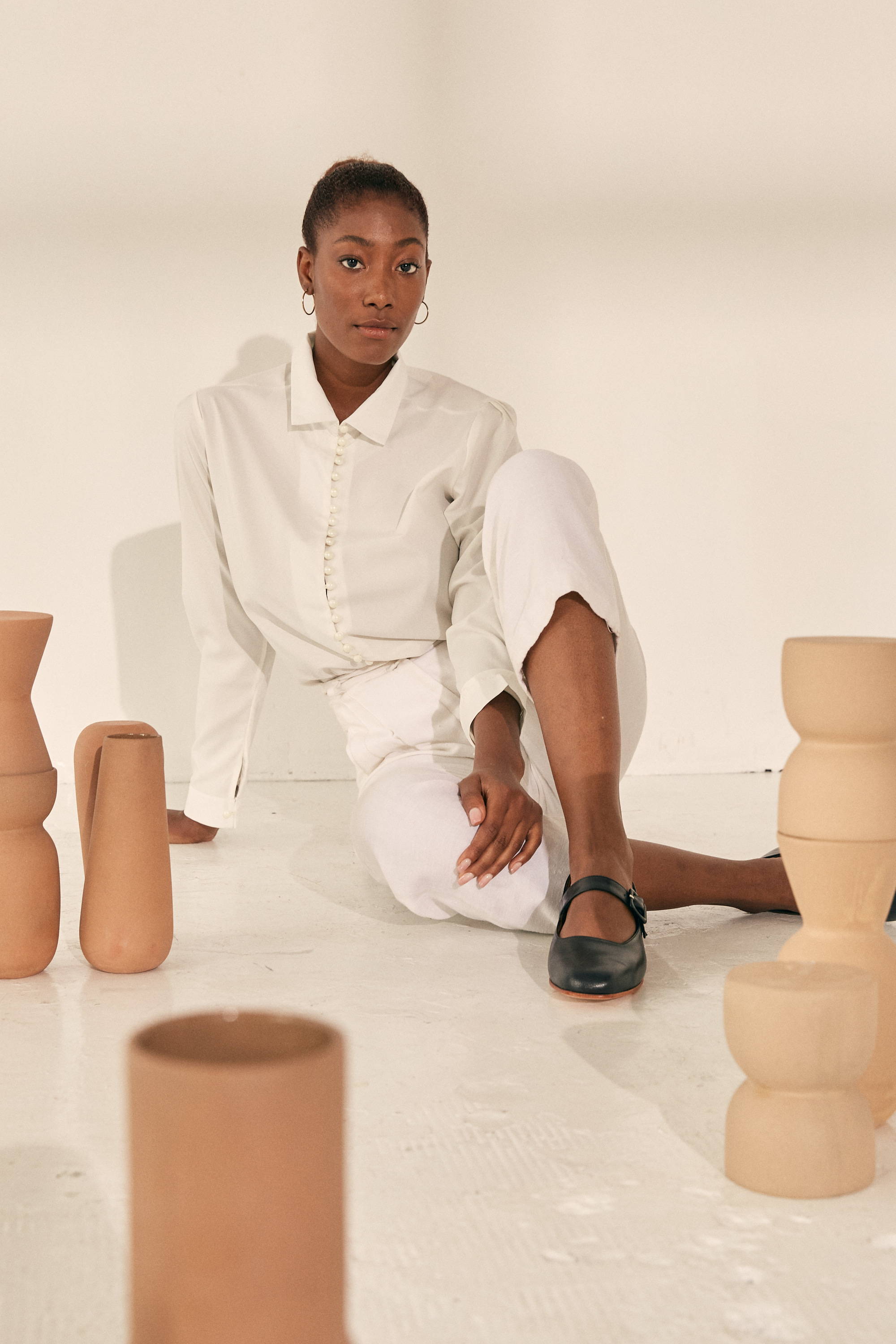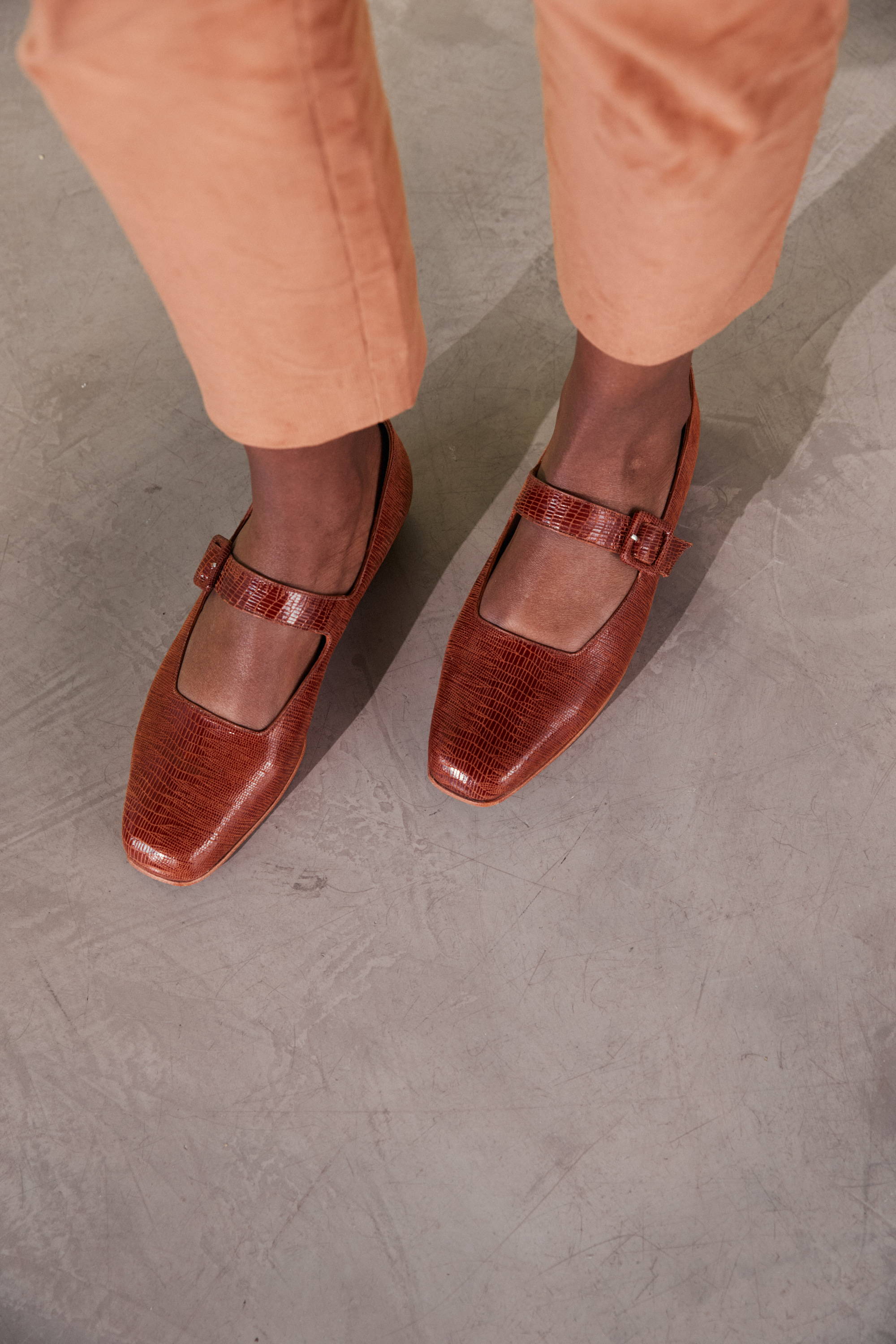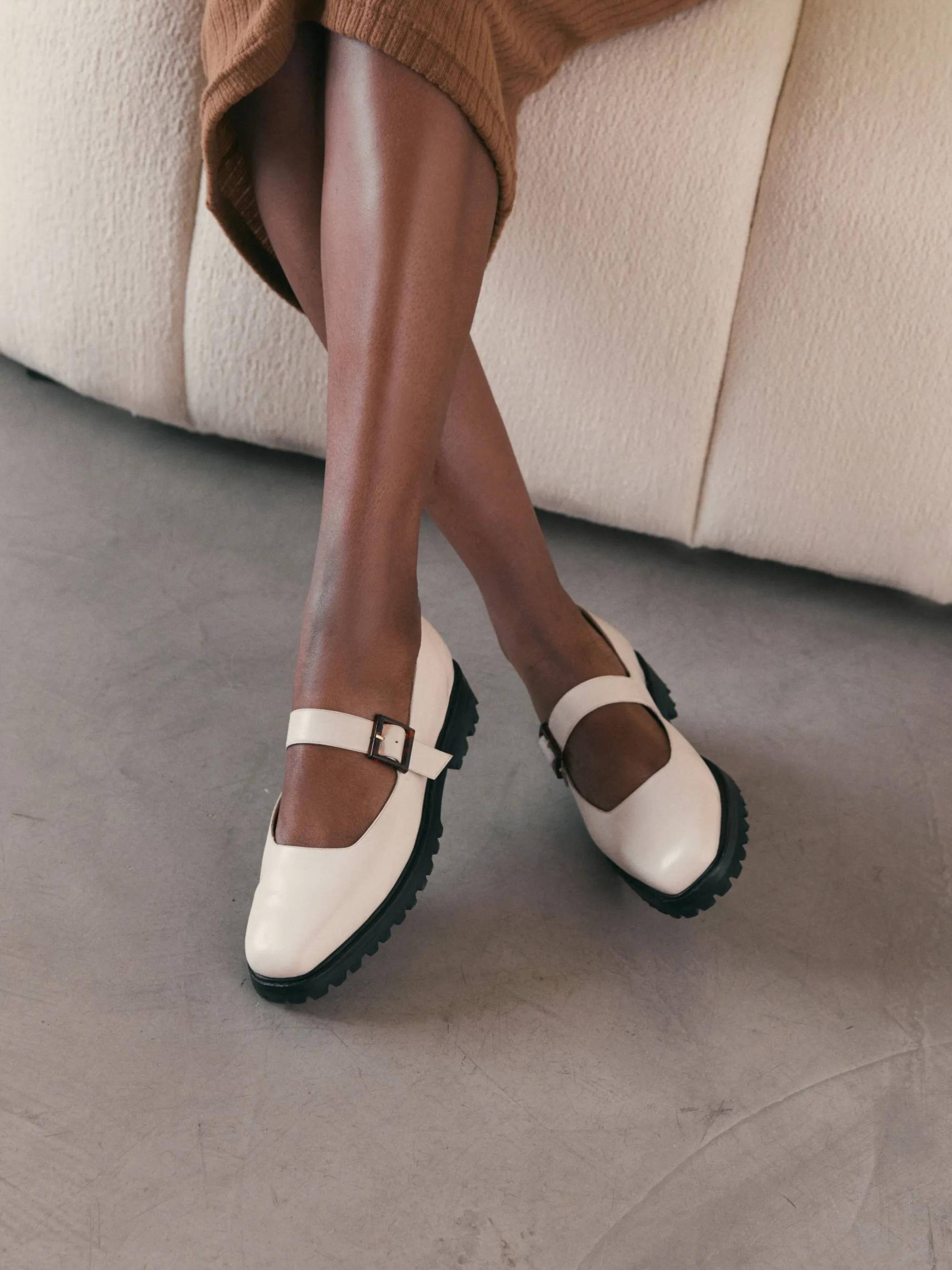 The Uchi flat is a reimagining of our bestselling Eugenia flat built on a chunky leather and rubber lug sole. Think Mary Jane Flats with a twist. With a square toe and sleek faux tortoise shell buckle, the Uchi flats speak for themselves.
Function with an edge, The Uchi Flat, similar to the Eugenia Flat, is crafted from kidskin leather. What sets the Uchi apart is its Febo brand chunky rubber outline. Walking is no feat for the Uchi and will keep you going comfortably from sun up to sun down, no matter what the day has in store.
Heel height: 18mm on a 25 mm platform
Best for: City commuting
On duty: Surprisingly sporty flats for biking to work.
Off duty: Quirky, sustainable footwear that will impress your fashionable friends at happy hour.
The Uchi walks the line between formal and informal making it an excellent choice for ethical and comfortable work flats. Whether your office is smart casual or business casual, the Uchi is a great companion. Thanks to its chunky sole, you'll be able to tackle any weather without thinking twice on the way to and from the office.
For an everyday look, style the Uchi Flat with your go-to jeans or trousers and a sweater, t-shirt, or button-down for a no-brainer uniform year-round. For creative styling, experiment with pairing the Uchi flats with ultra-feminine dresses or tailored pieces to create irony.
Who it's for: The woman who appreciates versatile pieces that packs a punch of personality.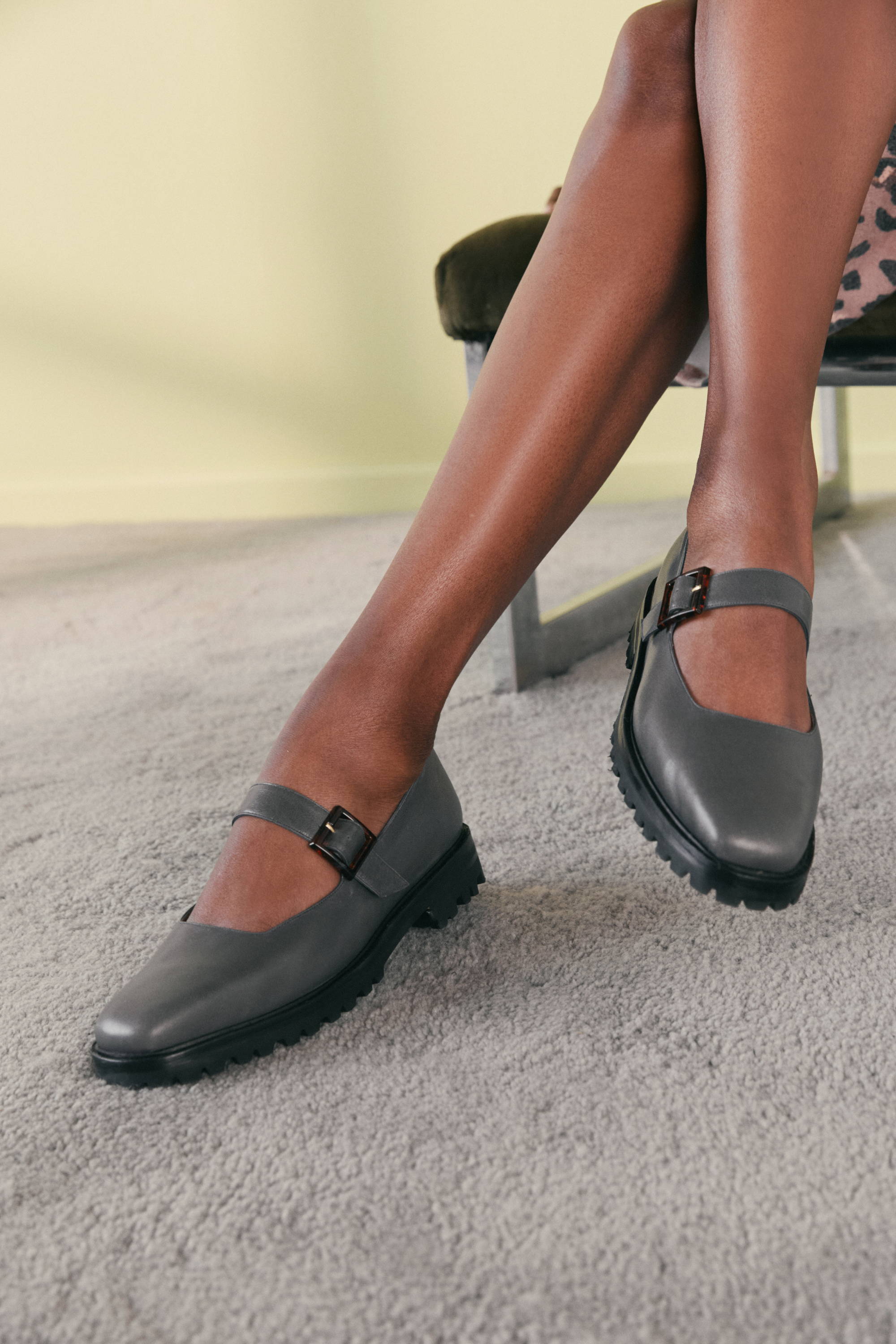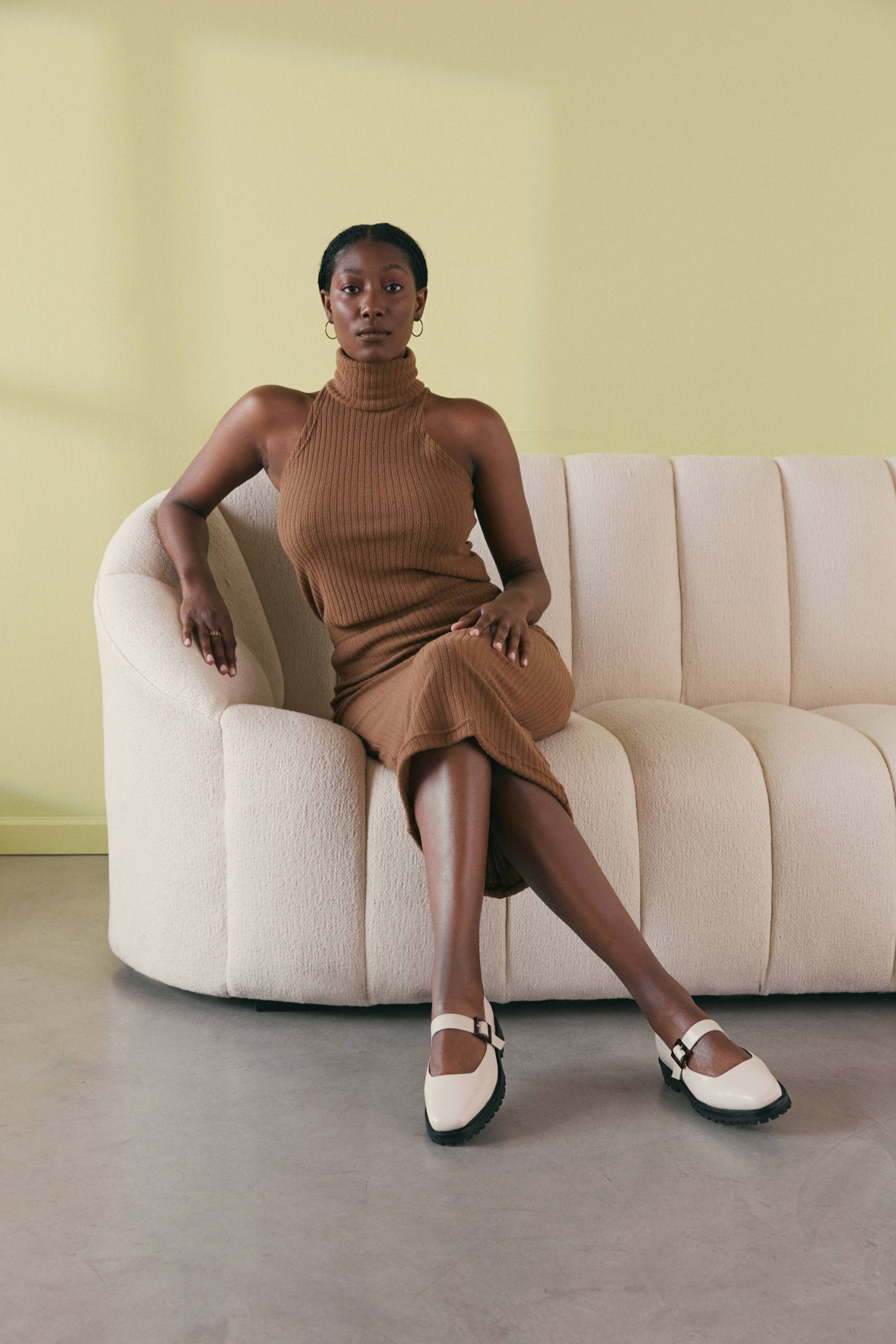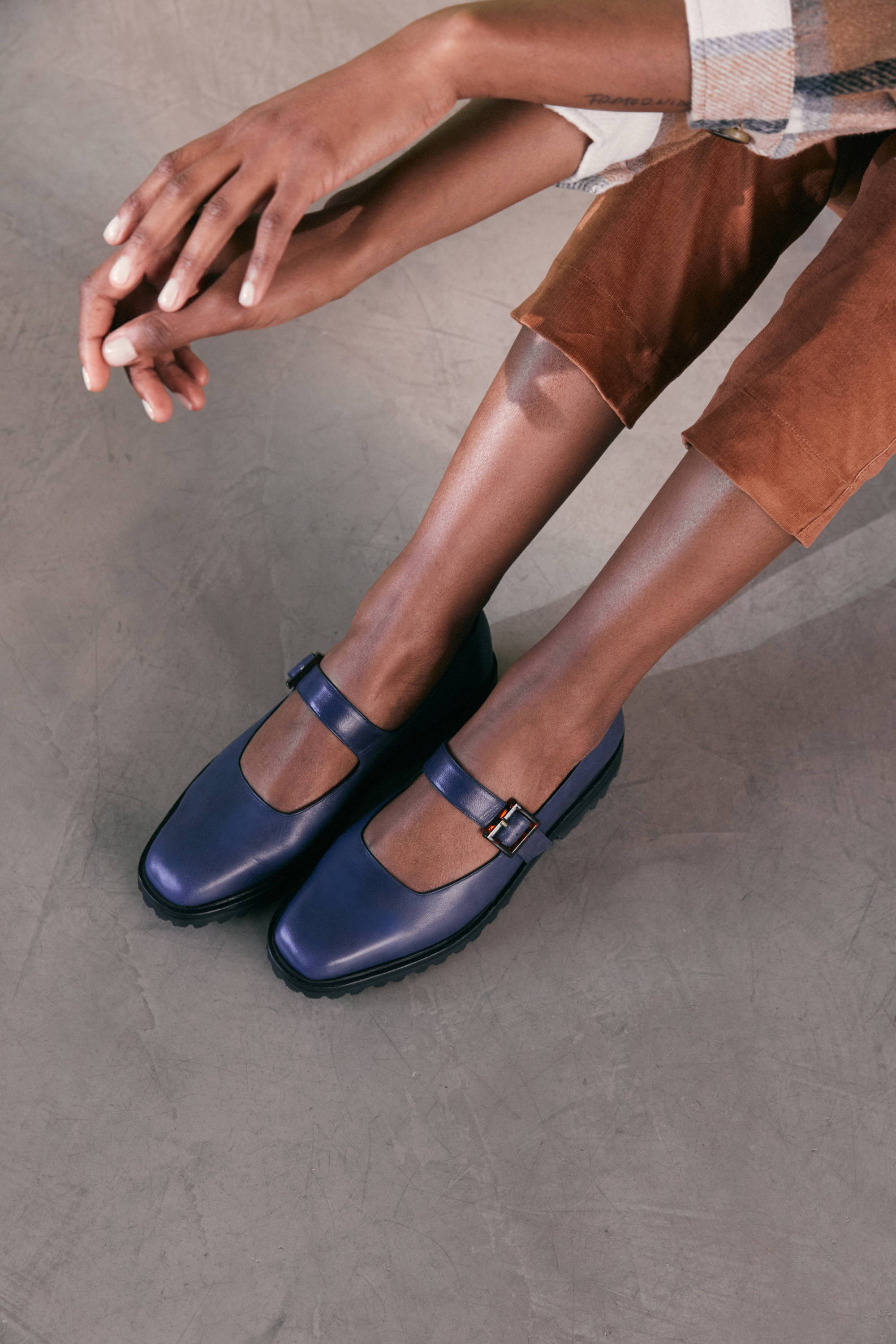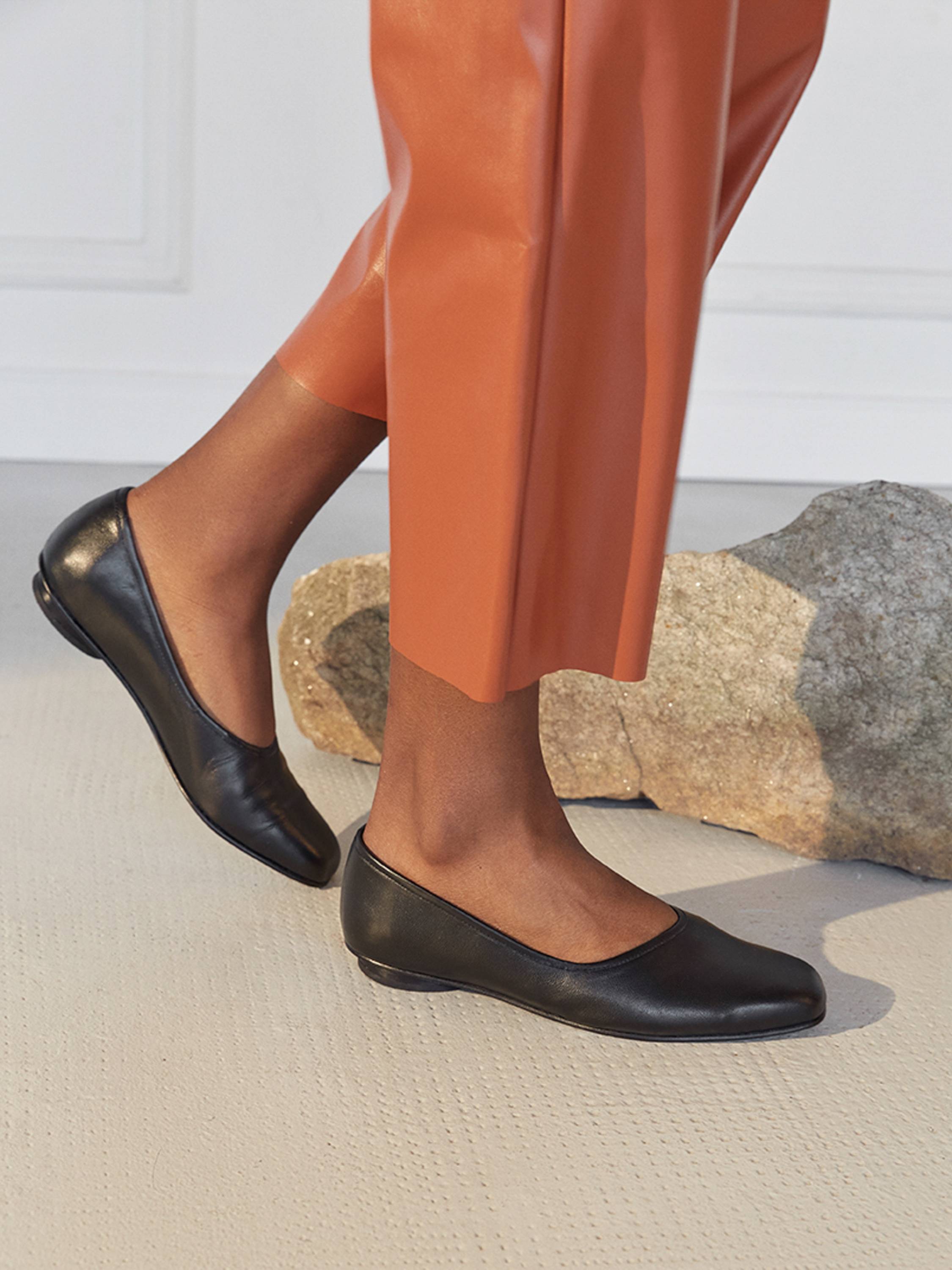 The Inia flat is a modern interpretation of classic ballet flats. A minimalist and streamlined design, the Inia is a sister style to the Eugenia with a square toe and oval stacked leather heel. The Inia flat packs a punch for creative styling that allows you to push the boundaries of your outfits.
The Inia is crafted from black kidskin leather upper and sheepskin leather lining. These flats will mold to your feet over time, quickly becoming one of the most comfortable pairs of shoes in your wardrobe. Plus, the memory foam-cushioned insole makes walking long or short distances a breeze.
Heel height: 15mm
Business Professional Flats
Best for: A forever investment piece 
On duty: The easy choice for your next presentation or interview.
Off duty: Chic, professional shoes that are dressy enough for your next fancy dinner date.
The Inia is a no-fuss classic style making it a no-brainer for ethical and comfortable work flats. From casual to formal dress codes, the Inia will make a perfect pairing, no matter how you style it for 9-5.
Style the Inia for formal offices with the usual culprits, tailed trousers, silk blouses, and traditional blazers. For more flexible dress codes, wear the Inia with anything from midi dresses to oversized boyish trousers for a put-together off-the-cuff look.
Who it's for: Add the Inia to your daily shoe rotation for a cool + but-not-girly finish to your daytime looks.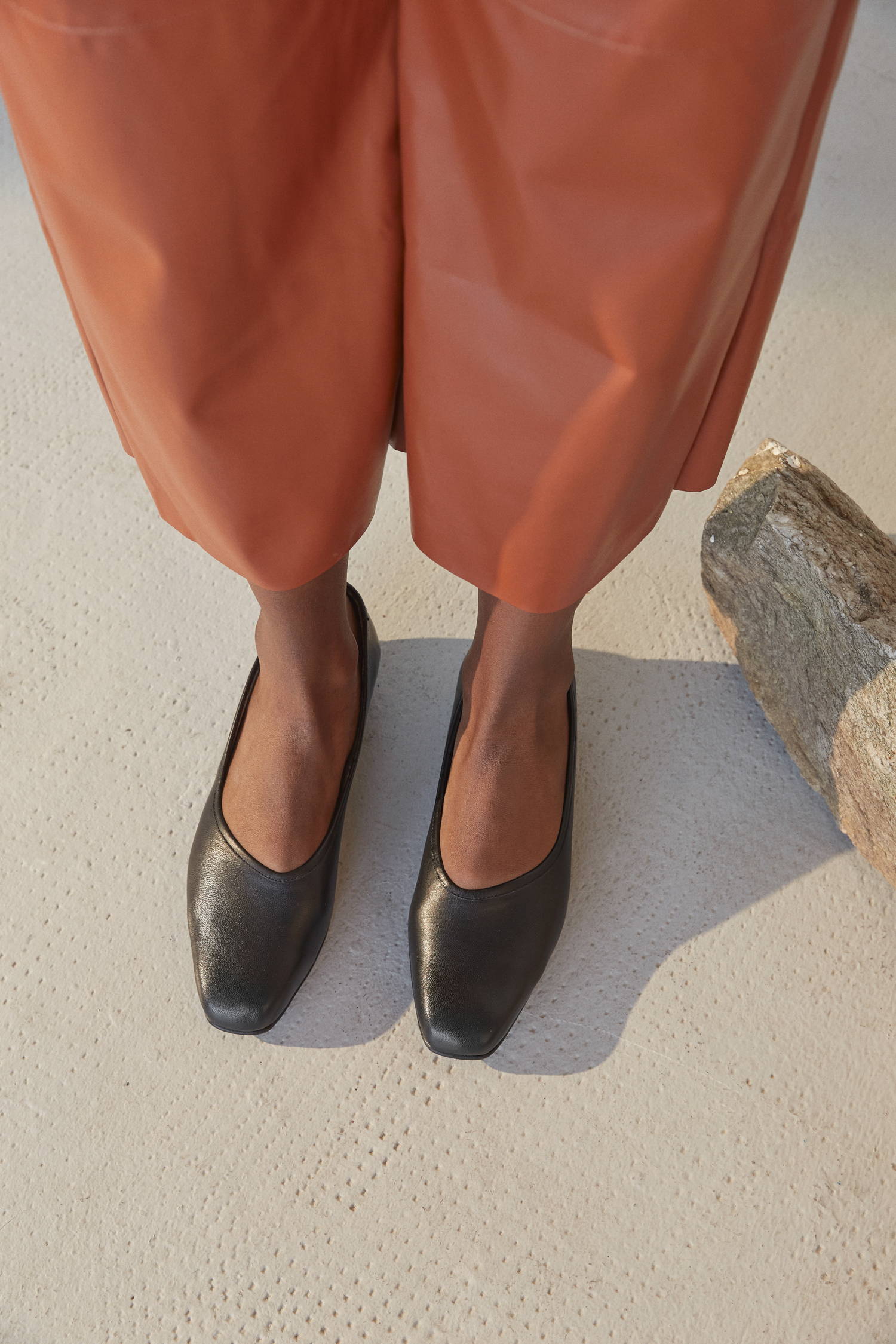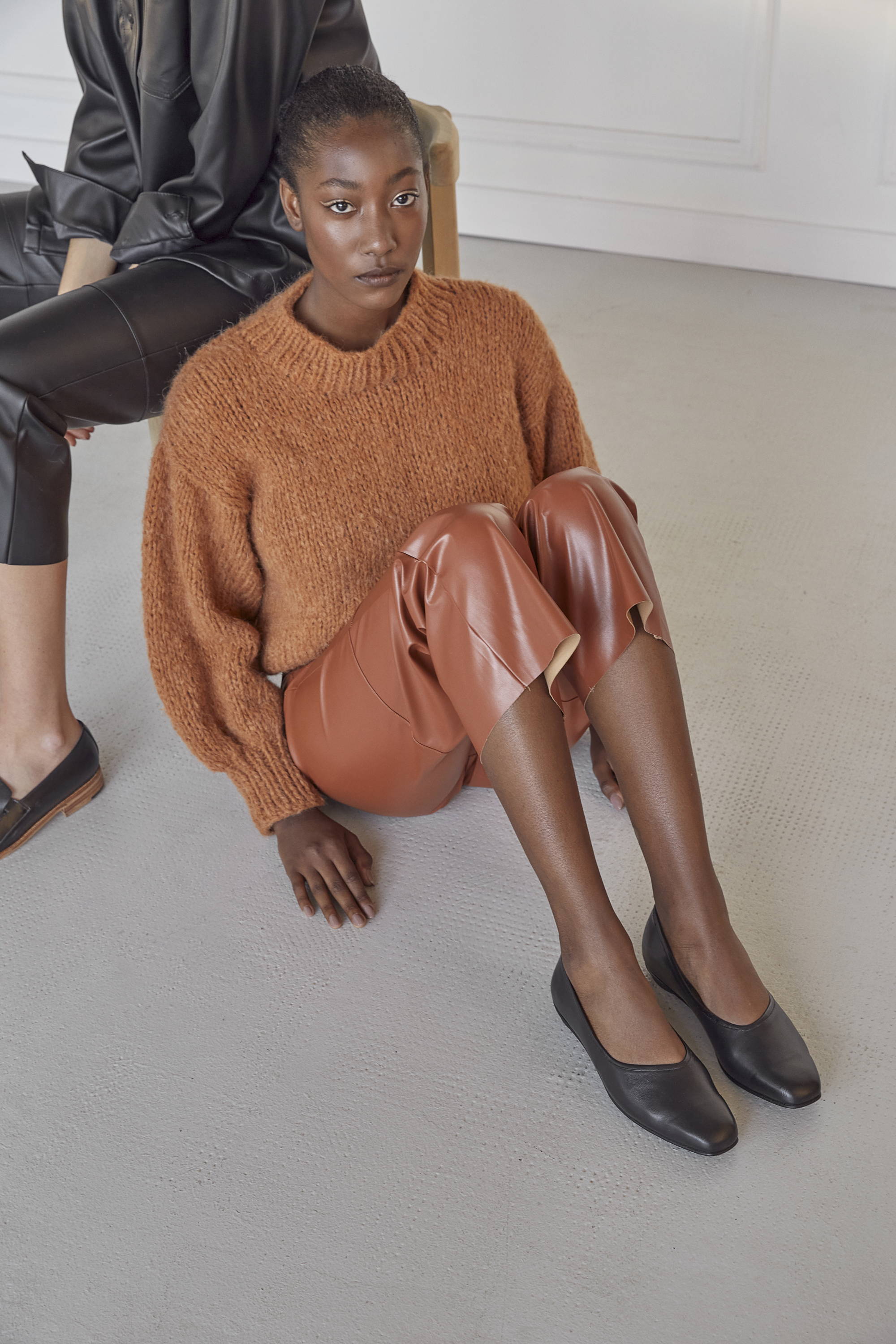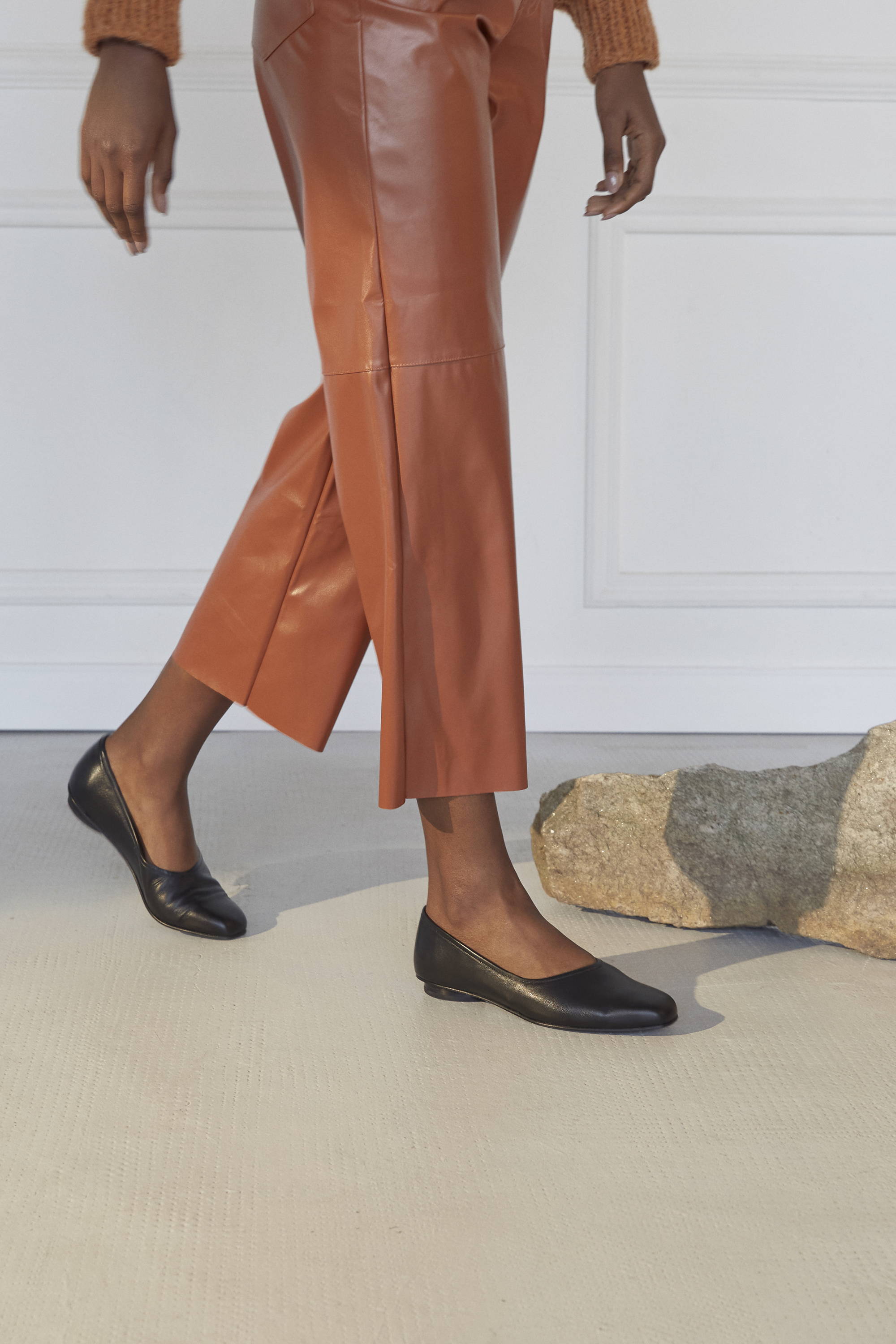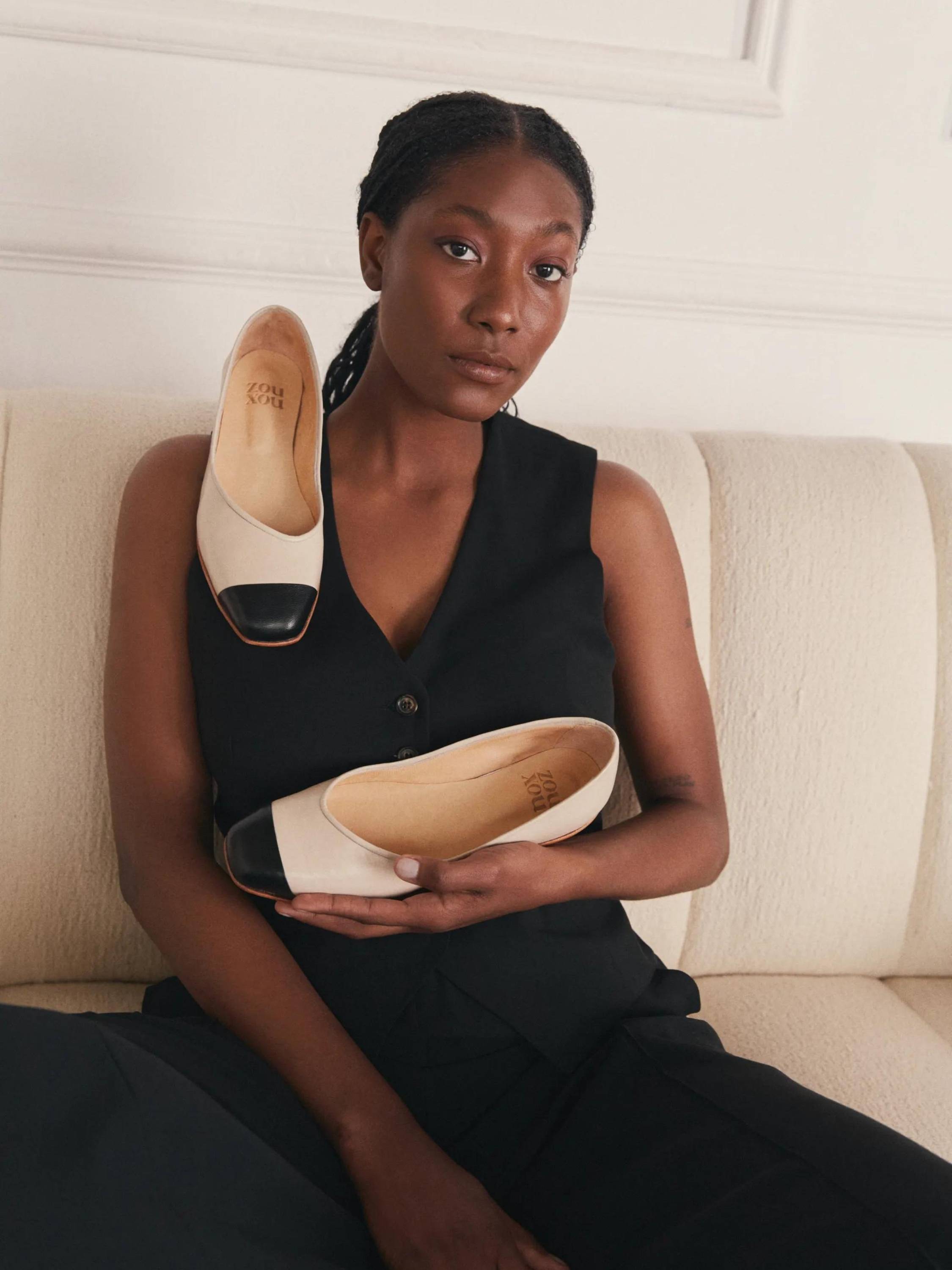 The Coca flat is a modern interpretation of cap-toe ballet flats. A sister style to the Inia flat, the Coca flats are a no-brainer for those searching for more visual interest than the Inia offers. The Coca flat has a square toe, oval stacked leather heel, asymmetrical topline cut low on the foot, and a contrasting toe cap. Feminine feeling, the Coca flats have an underlying edge.
Similar to the Inia flat, the Coca flat is also made with kidskin leather and a memory foam-cushioned insole. One distinction of note, the Coca flat has a leather lining.
Heel Height: 15mm
Best for: A formal-feminine contrast
On duty: Smart, ethically made footwear for your next work party.
Off duty: Formal feeling flats that keep you comfy on a long commute home.
The Coca flats are naturally dressy, making them an easy choice for ethical and comfortable work flats. For formal offices, the Coca flats will feel polished and professional. At the same time, in more casual settings, the Coca has the styling potential to add a classic finish to your informal looks.  
Style the Coca flat with anything distressed or casual, like track pants for an ironic play with contrasts, or lean into its timelessness by pairing it with other classic items in modern shapes and exaggerated proportions, like a boxy boyfriend blazer.
Who it's for: The woman who likes to reinterpret classics through creative styling.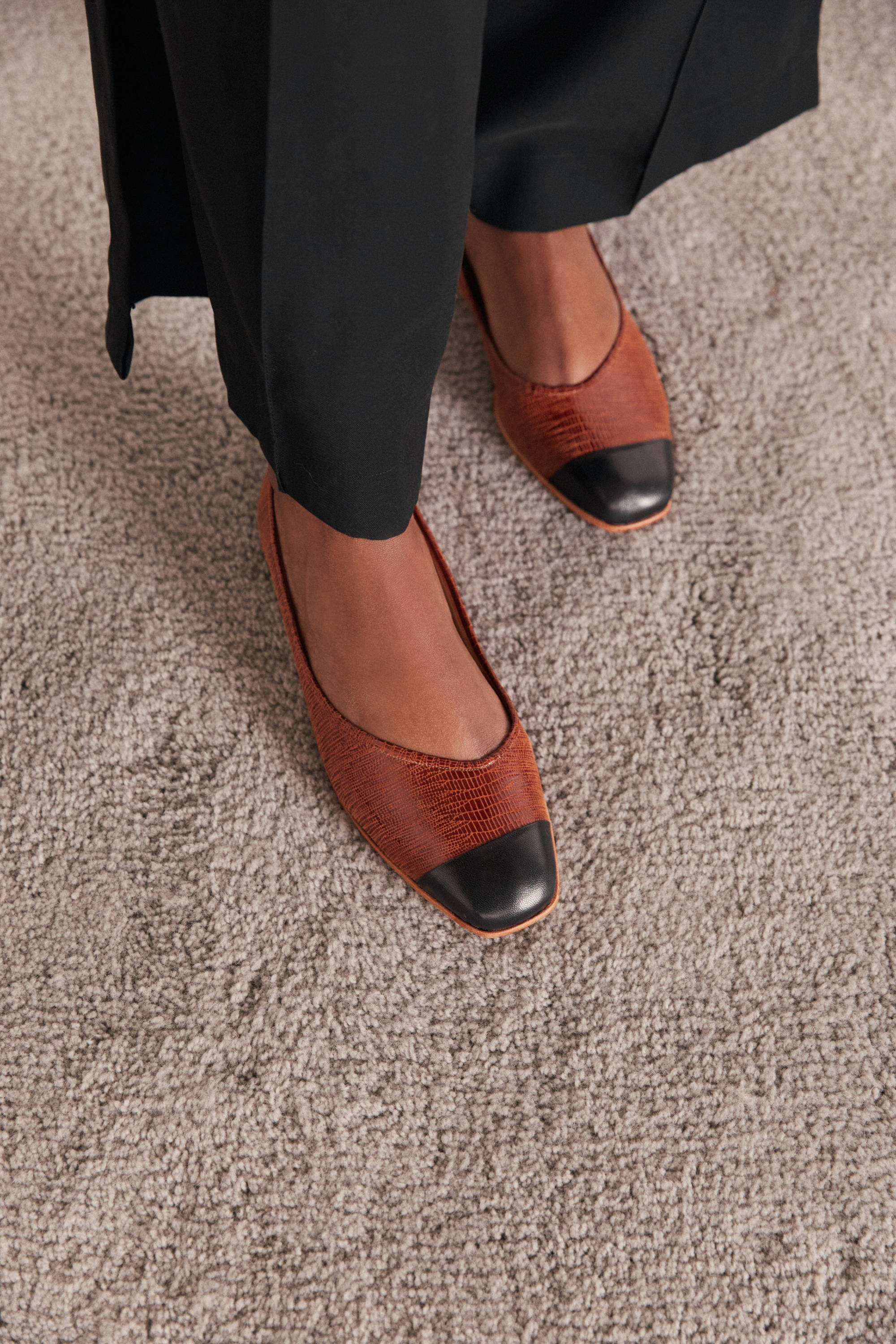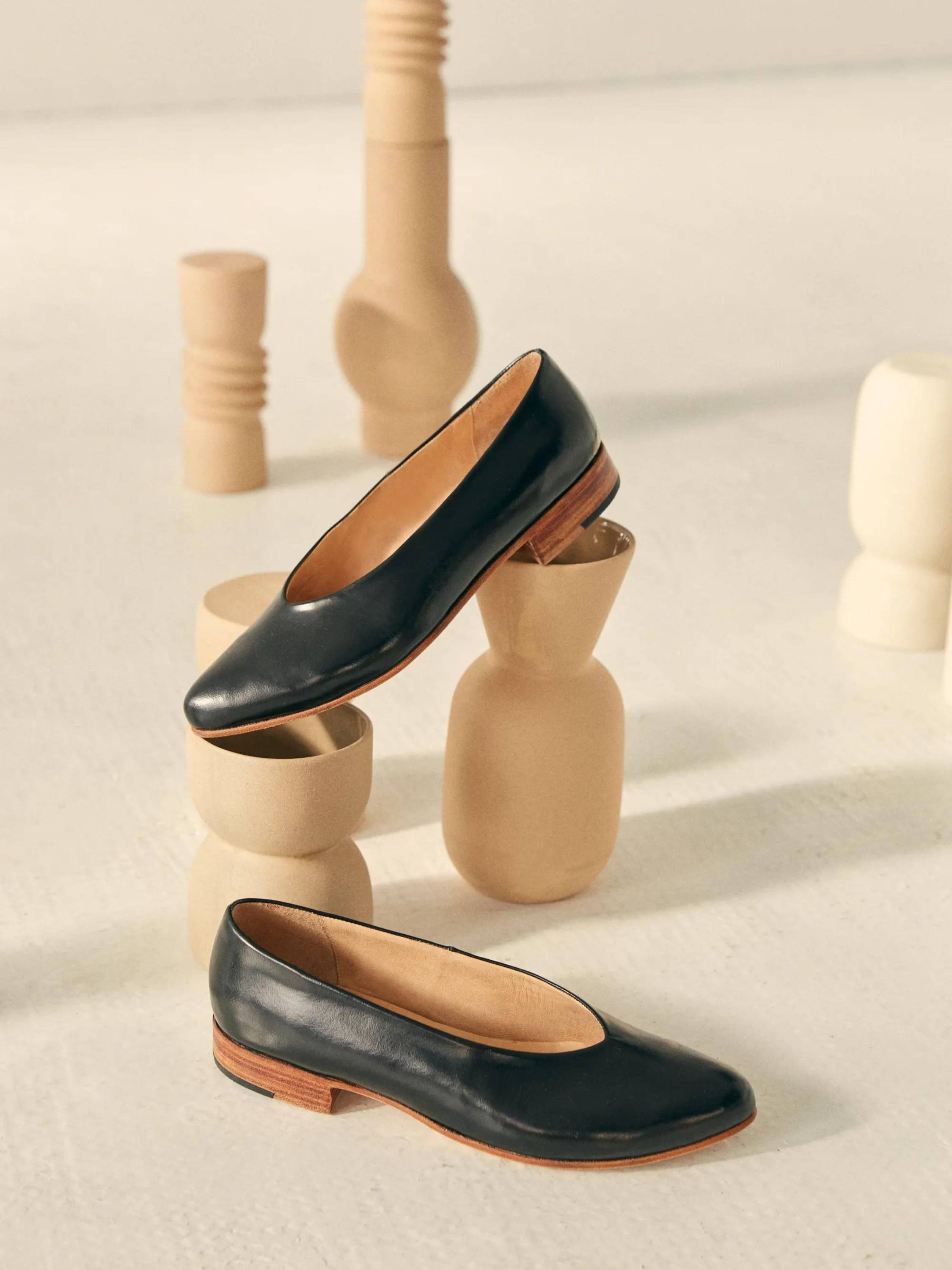 The Glove flat is an elegant slip-on flat featuring a high-cut v-shaped vamp. What sets it apart from the rest is its sleek almond toe and low-stacked leather heel, creating an instant lengthening effect. As a result, we reach for the Glove flat for almost any occasion.
The Glove is crafted from kidskin leather, a natural leather lining, a leather sole, and low-stacked leather for a minimal break-in period that leads to effortless comfort.
Heel Height: 25mm
Best for: Traditional offices that appreciate style
On duty: Comfortable shoes for being on your feet all day, like back-to-back meetings or a conference.
Off duty: Versatile shoes that will accompany you to an event after-hours in style.
The Glove flat takes after the Eugenia's chameleon-like effect and can feel as formal as you desire. The Glove flat is an easy pick for a classic and versatile pair of ethical and comfortable work flats.
Wear yours with almost anything from workwear to dressy or casual pieces. Style the Glove with classic pieces like cropped trousers with a white button-down and a tuxedo blazer for a formal feel, or opt for straight-leg jeans and your favorite sweater or blouse for a put-together smart-casual look.
Who it's for: The woman who likes a good pair of dress-up flats.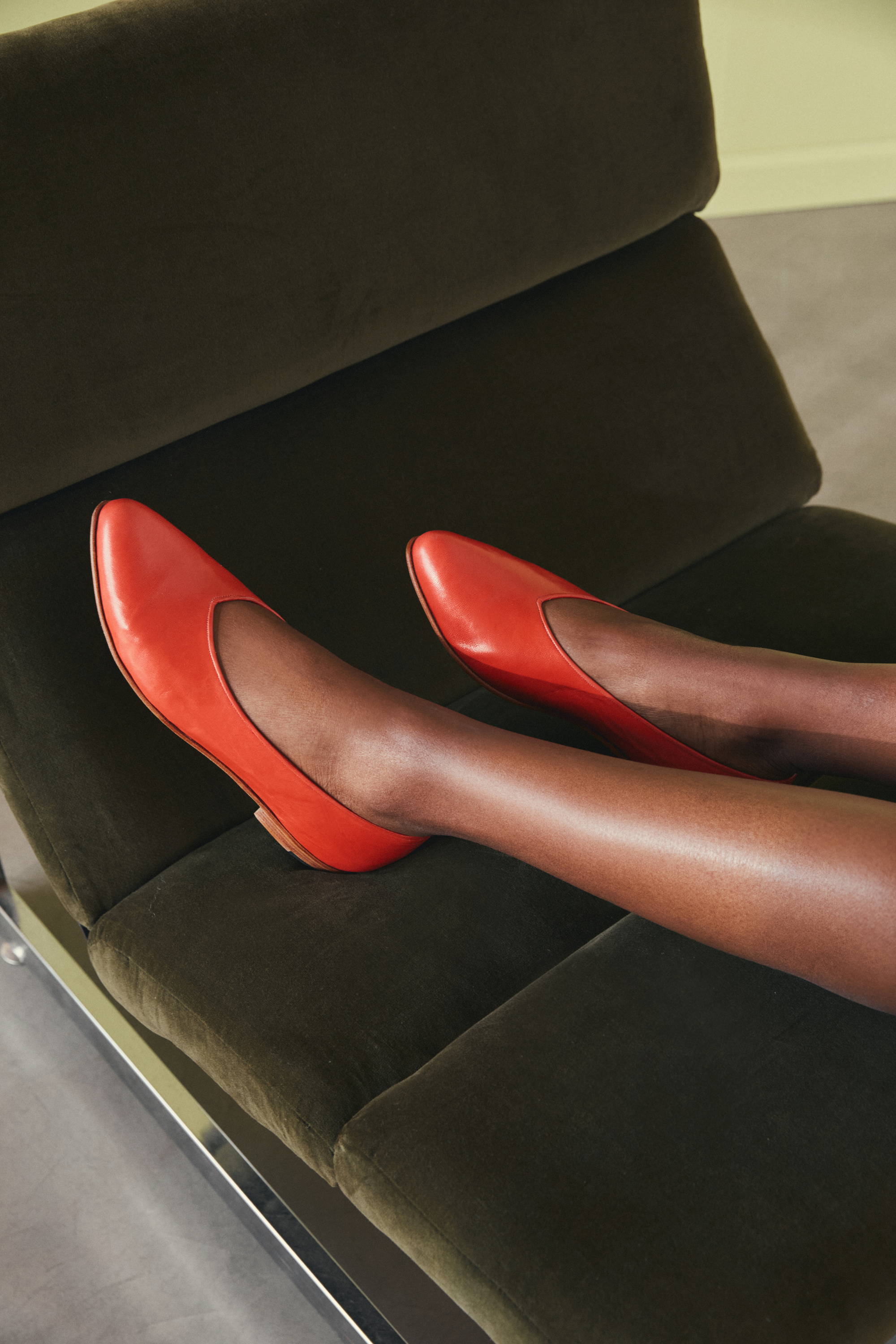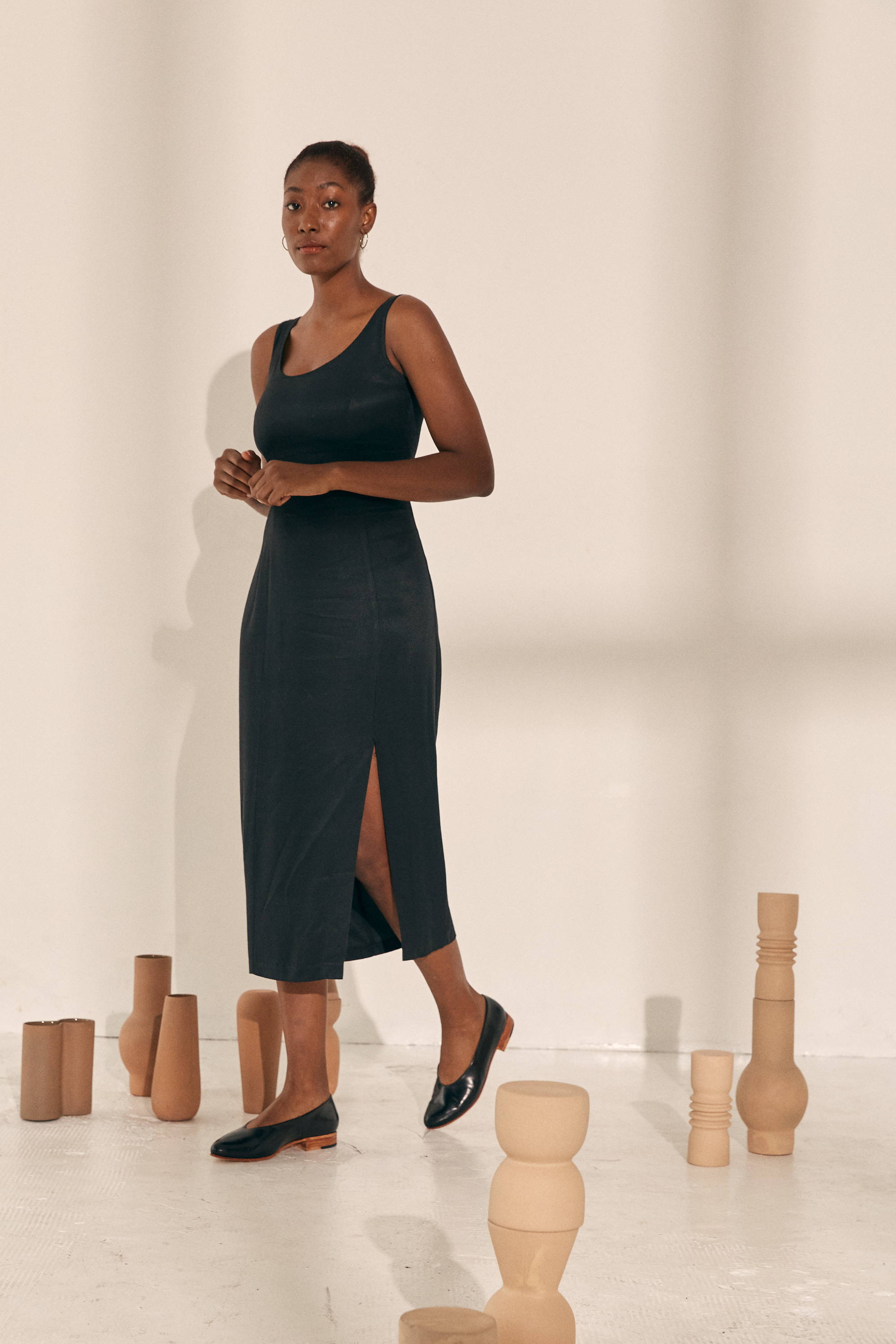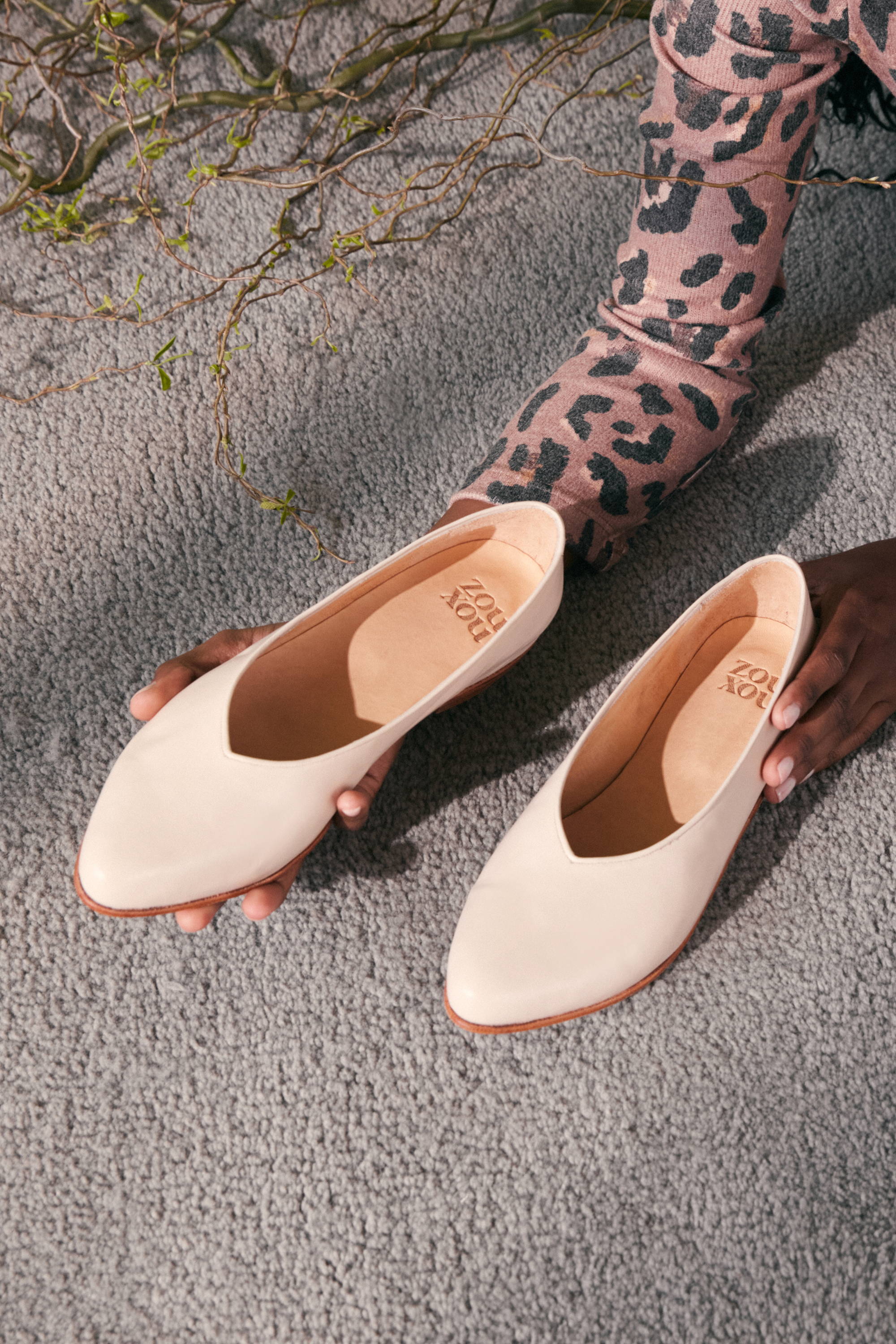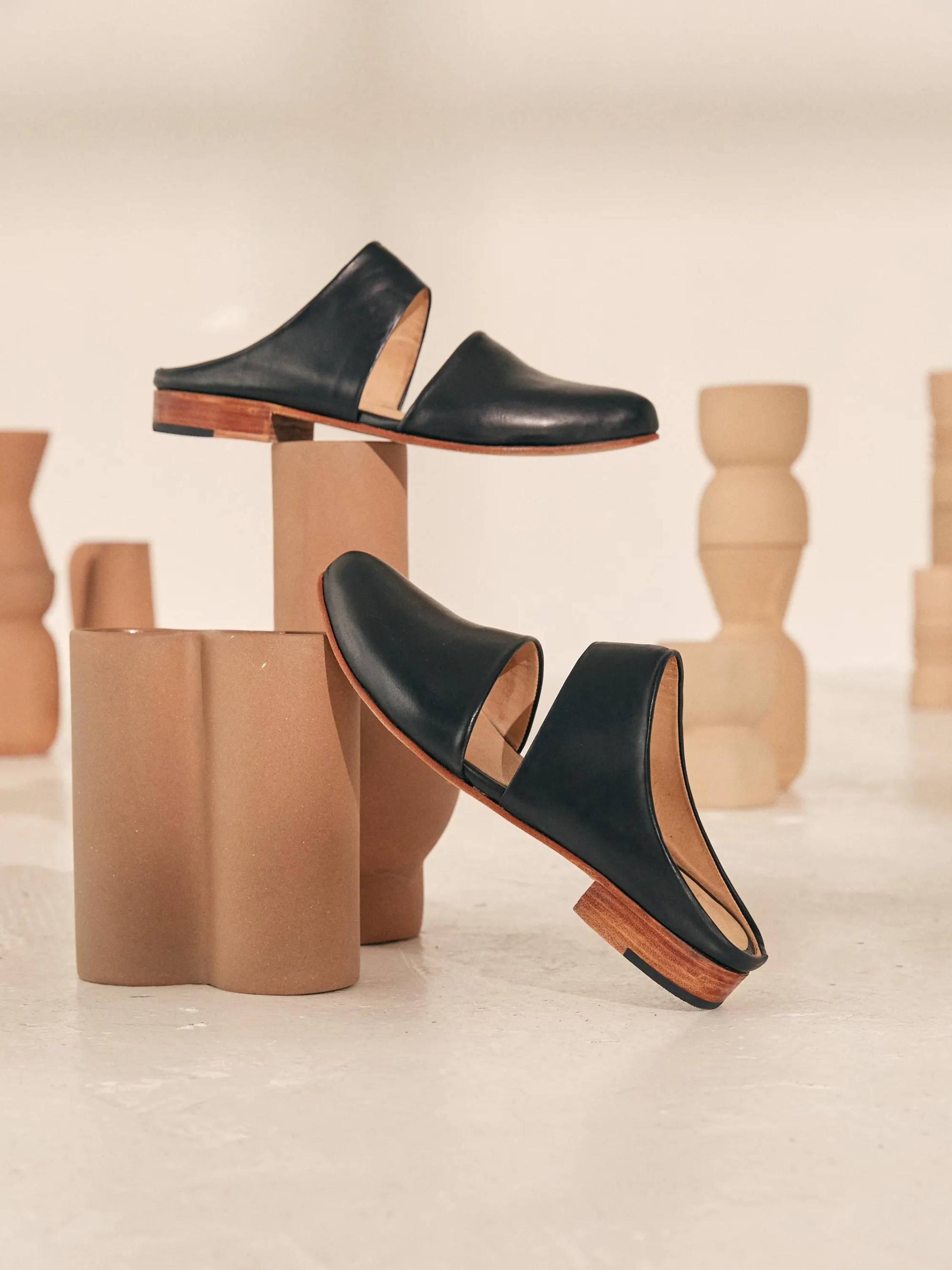 The Mule is our take on a perennial flat inspired by traditional babouche slippers. Featuring a sleek cut-out upper and almond-shaped toe, the mule feels put together for days filled with lots of activity.
The Mule is crafted from kidskin leather, natural leather lining, and a natural outsole. Like other styles, the Mule melds to your foot over time. Eventually, your mules will feel like butter and hug your feet in all the right places. *Please note this style runs small. Consult our sizing guide before ordering.
Heel height: 18mm
Best for: On-the-go  
On duty: Unexpected footwear for your next casual work event.
Off duty: Head to drinks at a trendy bar with friends or close colleagues.
The Mule is an instant classic for ethical and comfortable work flats thanks to its streamlined untraditional feel. Polished with a hint of skin, the Mule is a natural fit for warmer climates year-round and seasonal for colder areas. The Mule will add a refined touch to casual looks and keep formal outfits from feeling too stuffy.
Like most of our flats, the Mule is versatile. Style the Mule with transitional business silhouettes for an effortless-cool effect that tones down your level of dressiness. For casual scenarios, style the Mule like you would your favorite pair of sneakers to quickly elevate your everyday looks.
Who it's for: The woman with a refined style who likes to go places on foot.