5 Must Have
SUSTAINABLE FLATS FOR SPRING
BUENOS AIRES, ARGENTINA
When the warm weather enters, reach for these sustainable flats for spring.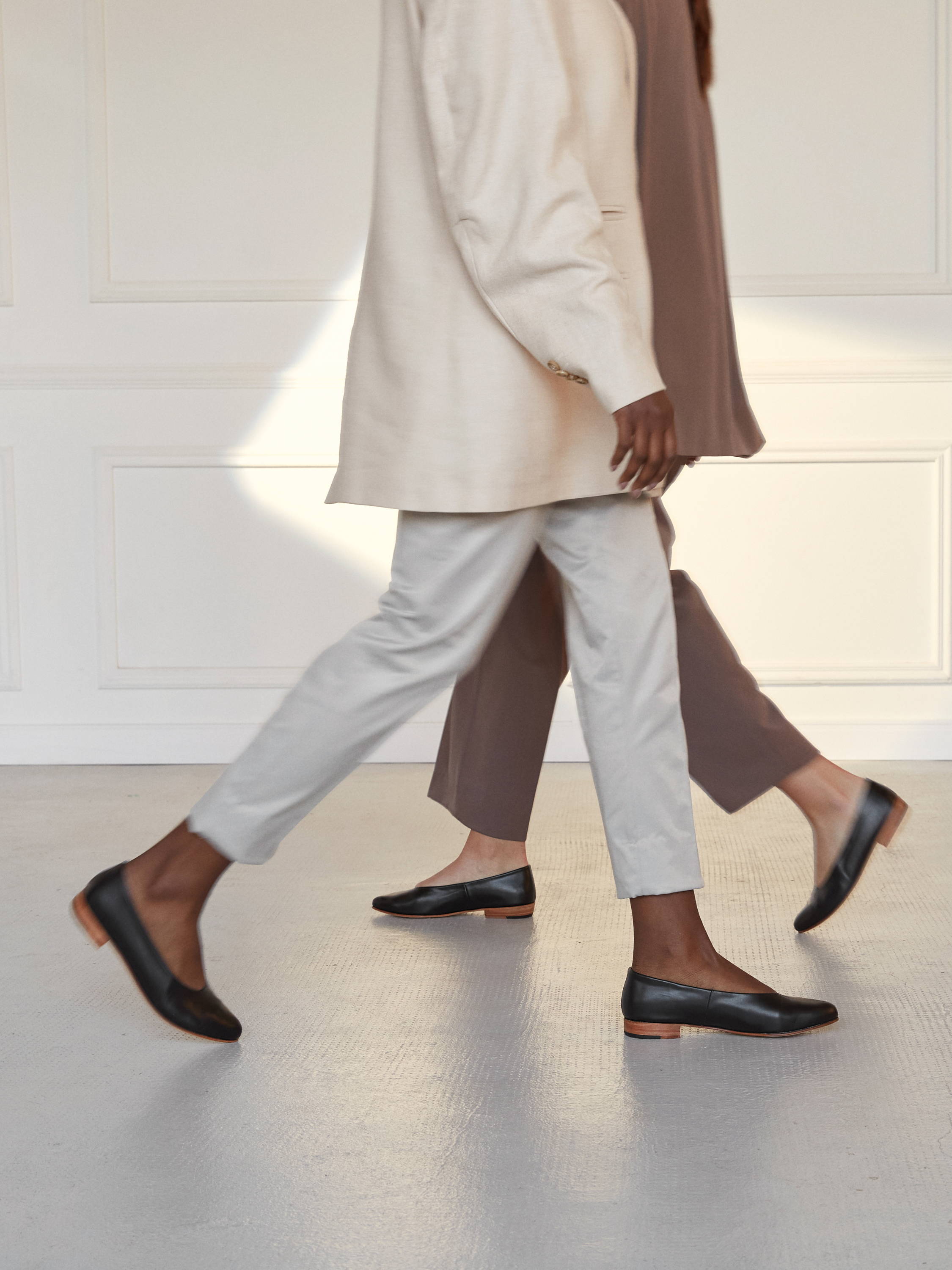 As soon as the early signs of spring start to appear, there's one thing we can all agree on. It's time to say goodbye to your warmest boots, wool socks, and winter coats for the foreseeable future and welcome spring favorites back into your wardrobe.
It's only sensible during this shift to revisit your footwear collection and see what needs to be replaced, repaired, or retired. So if your spring footwear repertoire needs a seasonal refresh (meaning you need to replace shoes past repair or are looking to expand your selection), here are our 5 must-have sustainable flats for spring.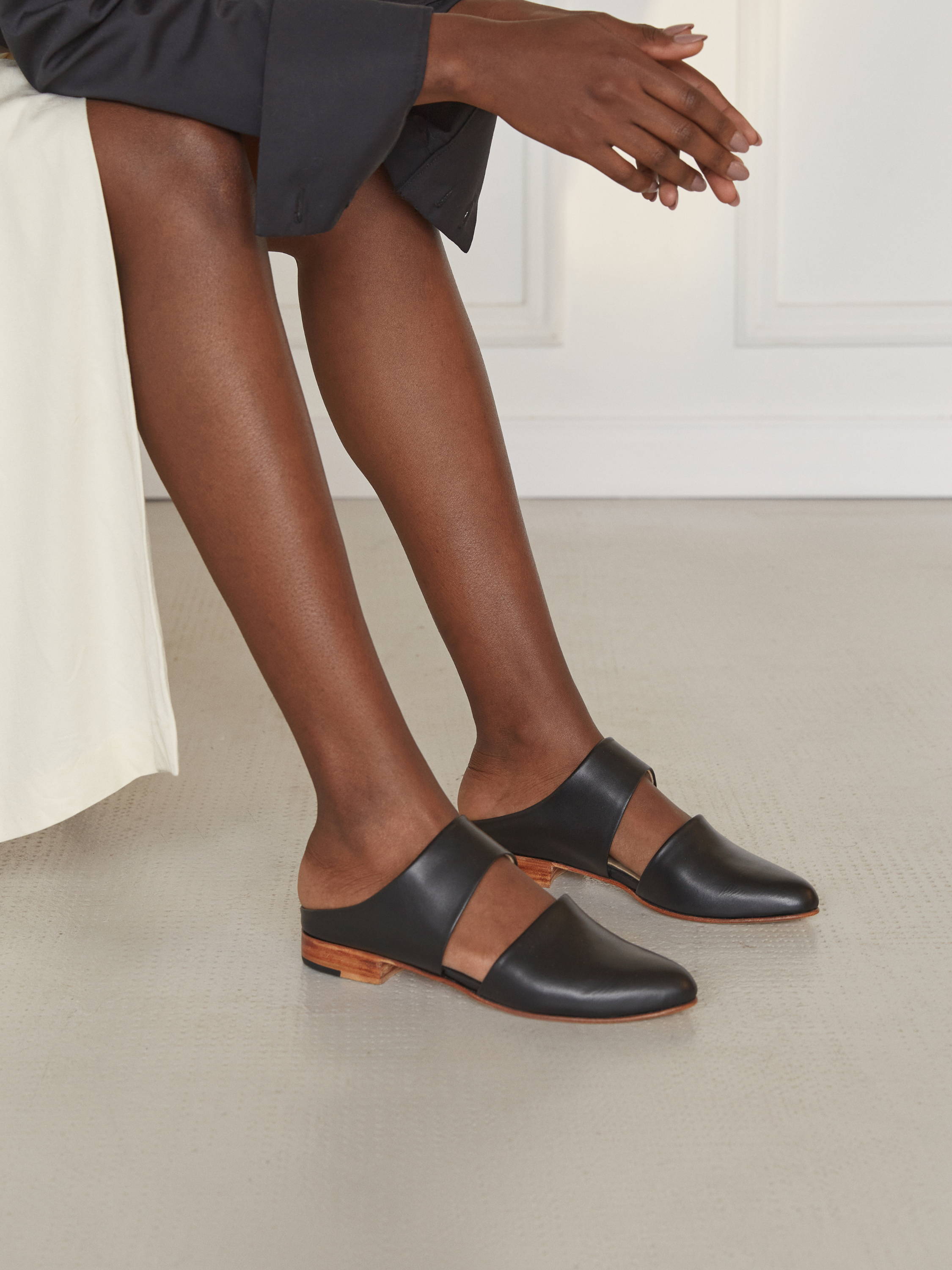 Our perennial flat, The Mule, is inspired by traditional babouche slippers. Effortlessly comfortable and sleek, the Mule is an easy choice for sustainable flats for spring. The mule lengthens the leg with an almond-shaped toe and evokes an off-duty cool. Better with each wear, the Mule will mold to your foot over time and soon become your go-to for days filled with activities.
Who it's for: The woman with a refined style who likes to go places on foot.
After months of cold weather, wearing the Mule will feel like a breath of fresh air thanks to their cut-out upper (while still keeping your toes warm). From the city commute to wandering the flea market, the Mule will keep you going from sun up to sun down. The beauty of the Mule is that it pairs well with practically anything. Think of them as a replacement for anything you style with sneakers and boots.
Style the Mule with cropped jeans and an oversized wool shirt jacket for a walk through the park, brunch with friends, a stroll through a museum, or even a short bike ride. Wear the Mule with tailored trousers and a statement blazer to make things more polished for a work meeting, gallery opening, or dressy dinner.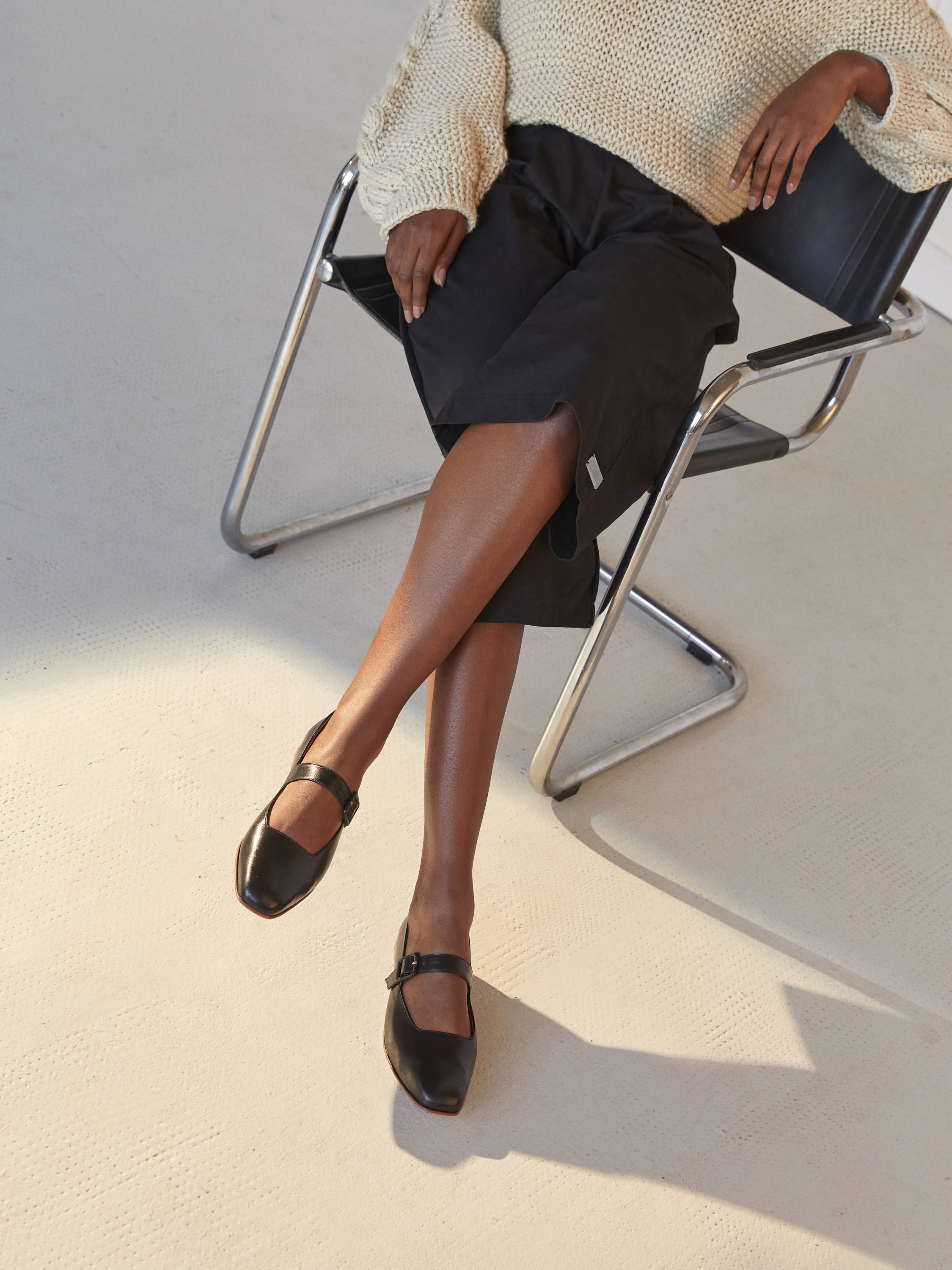 Enter The Eugenia Flat, a modern interpretation of the classic mary jane flat with a unique twist. With a square toe, angular topline, and oval-shaped heel, the Eugenia provides no shortage of styling opportunities. Those looking to create juxtaposition in their ensembles will find the Eugenia to be a pair of unmatched sustainable flats for spring.
Who it's for: The woman who never turns down a creative styling piece.
Chameleon-like in nature, the Eugenia can be pushed as little or as far as your spring styling justifies. They also can be worn for practically any purpose. The Eugenia seamlessly feels at home dressed up or down and will comfortably accompany you wherever the day takes you.
For a play on shape and form, pair the Eugenia with a voluminous midi dress and a statement jacket on your day off exploring the city. Head to the office (or a more formal outing) in oversized high-waist trousers and a cuffed menswear-inspired shirt. After hours, enjoy the warm weather over a cocktail with friends al fresco and reveal a bralette or a cropped baby tank underneath.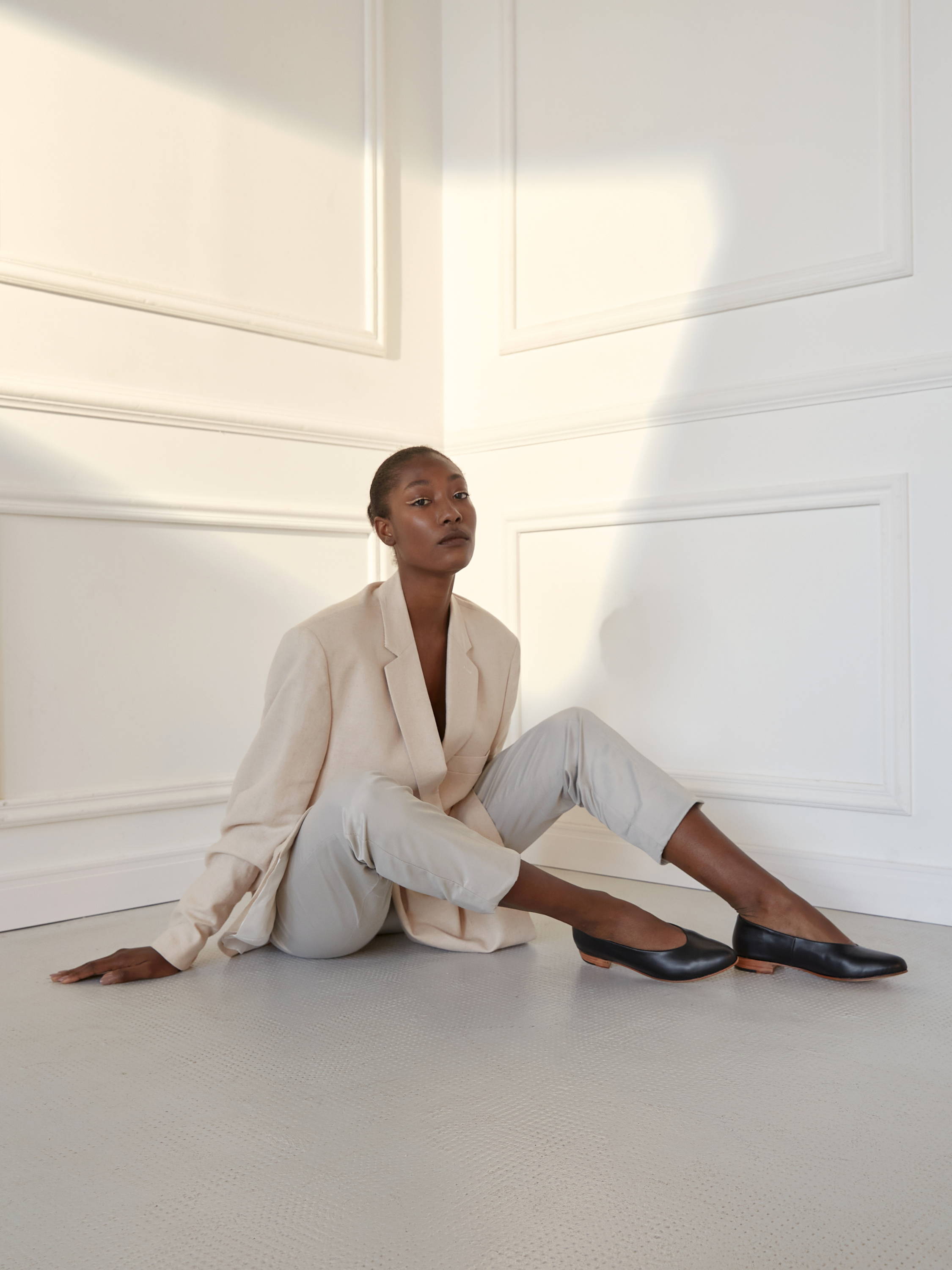 Back to basics, The Glove Flat is a spin on the archetypal ballet flat. A no-fuss slip-on silhouette, the Glove flat is reliable and capsule wardrobe-worthy. They are must-have sustainable flats for spring if you don't already have anything like it. Like the Mule, the Glove also had an almond-shaped toe for a lengthening effect.
Who it's for: The woman with a pragmatic style who likes to look polished.
Somewhat formal feeling, the Glove transforms for any occasion with the help of styling. Think of them as a blank canvas thanks to their streamlined simplicity. Wear the Glove with oversized silhouettes for a street-style feel or tailored pieces for a buttoned-up look.
The Glove is our go-to replacement for heels. Pair a statement midi dress (we prefer styles with volume to play on contracts) with the glove for a birthday, bridal, or baby shower. For a casual day out, wear the Glove with straight-leg jeans and a cropped chunky knit cardigan to browse a magazine shop, pick up a new plant, or head to a coffee shop.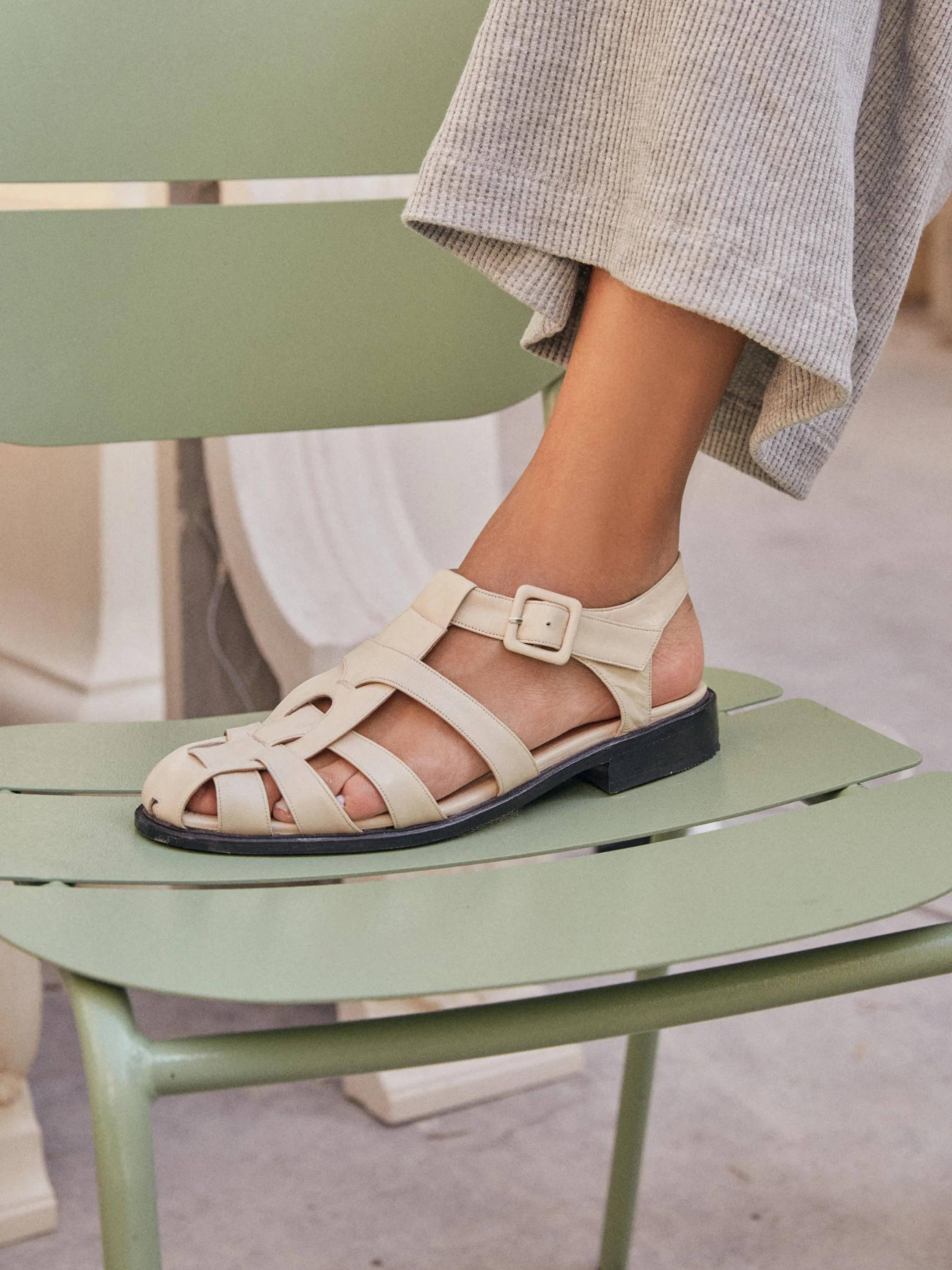 One of our seasonal favorites is The Franca Sandal. A sleek and feminine take on the fisherman sandal, the Franca is crafted from interlocking pieces of soft leather. We could go on and on about the merits of adding a closed–toe flat sandal to your wardrobe. The Franca is ideal as a foundational late-spring silhouette that can be worn through the summer and early fall. Simply a must-have for sustainable flats for spring, the Franca is undoubtedly a multi-season piece worth the investment.
Who it's for: The woman who is looking for a spring shoe with a decidedly modern feel.
An inspiring styling moment, the Franca brings a sporty and outdoorsy feel to any look in a cool, unbothered way. And on colder spring days, the Franca also pairs well with socks for added warmth.
Style yours with wide-leg trousers and a sweater tee for the office, then switch it up with loungy pants and a tank for running weekend errands or a nature walk. But the fun doesn't stop there. Nautical in nature, the Franca can accompany you on a walk by the beach or, frankly, anything involving water or a boat.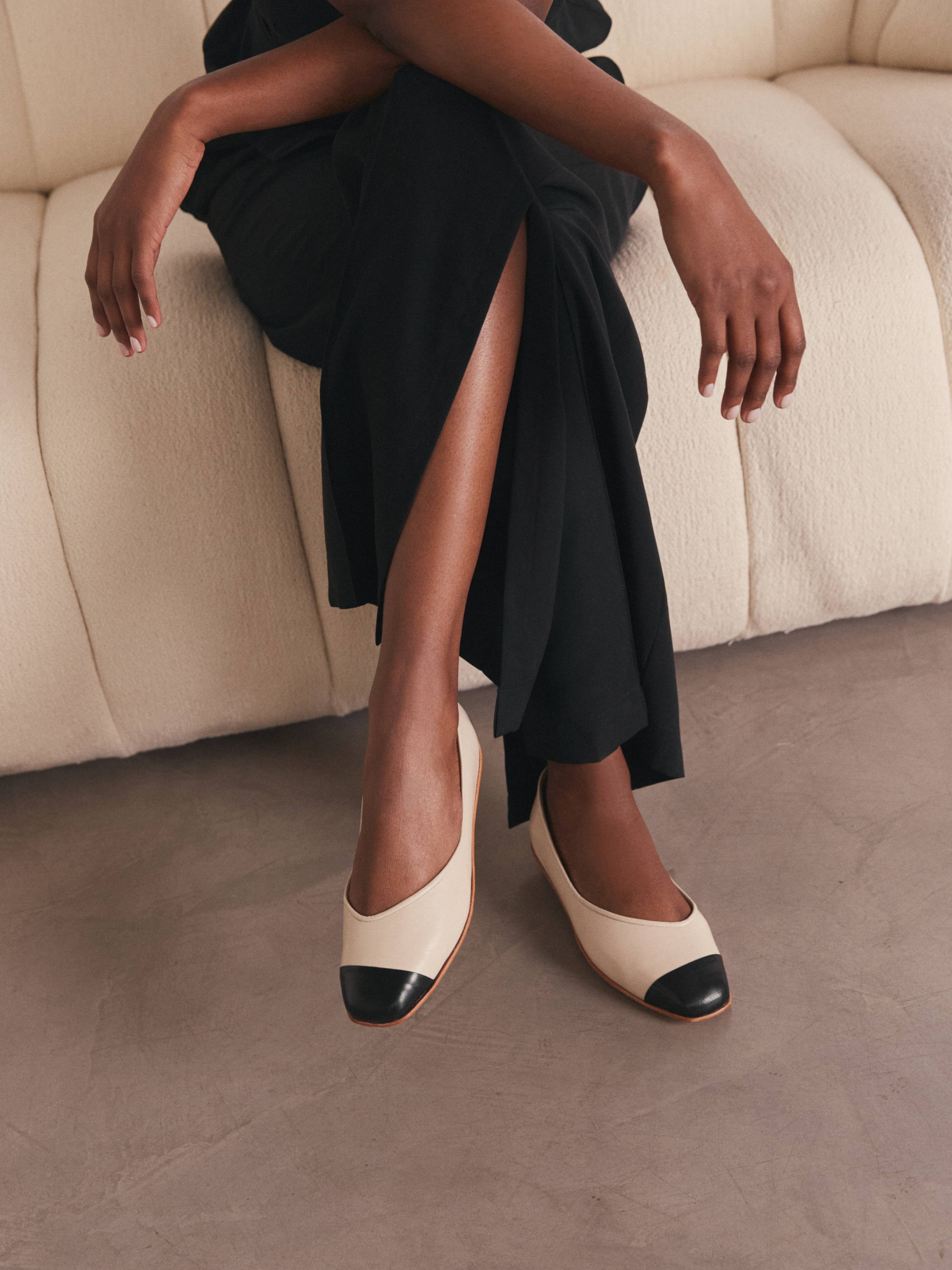 Lastly, we have The Coca Ballet Flat. Our modern interpretation of the cap-toe ballet flat, the Coca, is also a sister style to The Inia Flat. The Coca packs a design punch with a square toe, an asymmetrical top line, and a contrasting toe cap. We can't forget about its comfy memory foam-cushioned insole, either. The Coca are no-brainer sustainable flats for spring if you have a soft spot for reimagined classics.
Who it's for: The woman who likes to reinterpret classics through creative styling.
Add the Coca Ballet Flat to your shoe collection for a feminine and classic finish to your casual looks. Or lean into its formal nature for your next big event, i.e., a spring wedding, graduation, or anniversary.
Style the Coca flat with anything distressed or informal (like track pants) for an ironic play with contrasts to pick up fresh flowers or grab lunch. Lean into its timelessness by wearing it with other classic items in modern shapes and exaggerated proportions (like a boxy boyfriend blazer) to a wine bar with friends.