The Summer Issue
S22 STYLING GUIDE
BUENOS AIRES, ARGENTINA
As midsummer approaches, we begin to reunite with a life filled with energy, movement, and celebration. Now it's time to dress for the occasion with "mood-enhancement dressing." Meet new silhouettes from the Summer Collection and get inspired on how to style them from day to night alongside themes of movement, rhythm, sensuality, and revelry.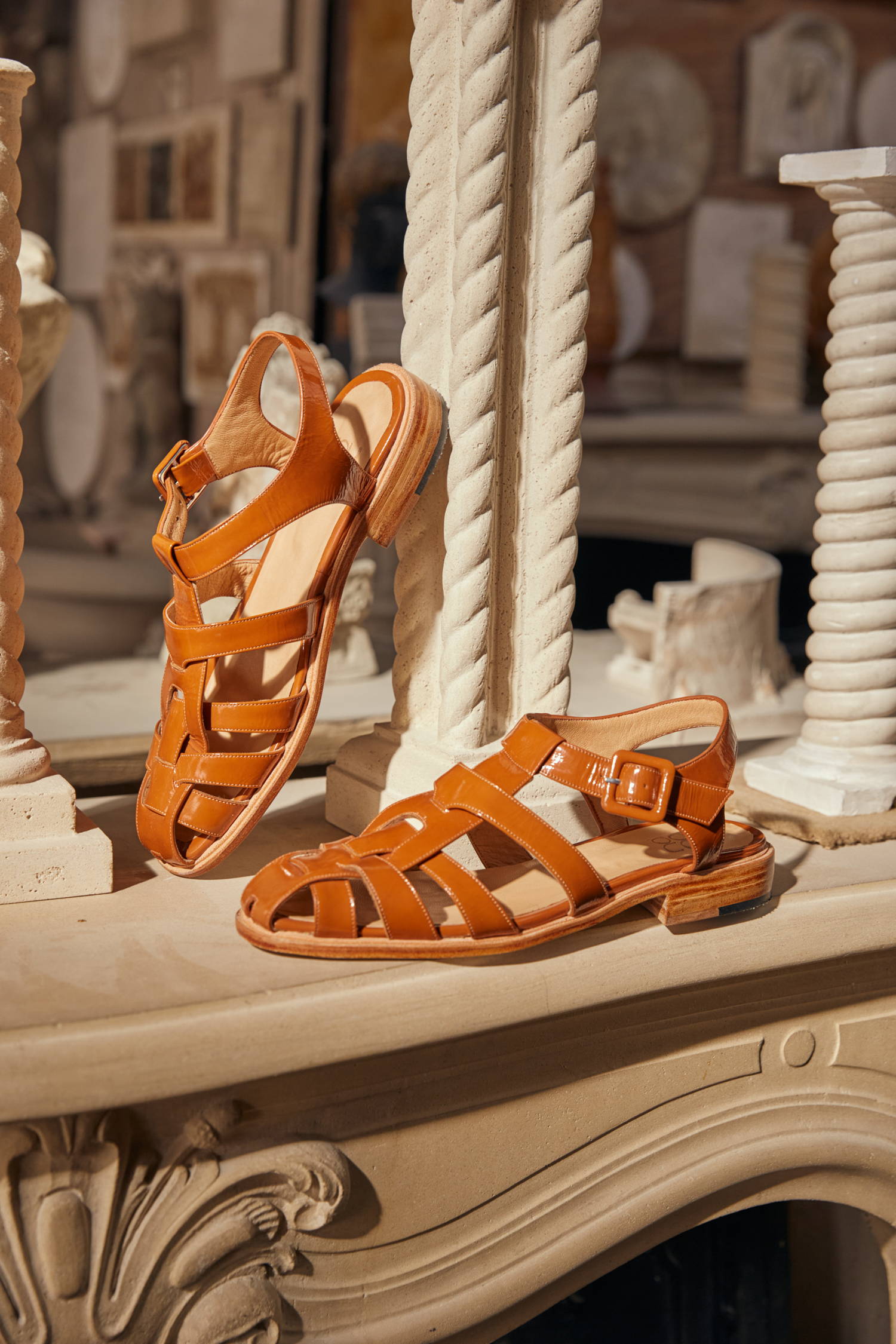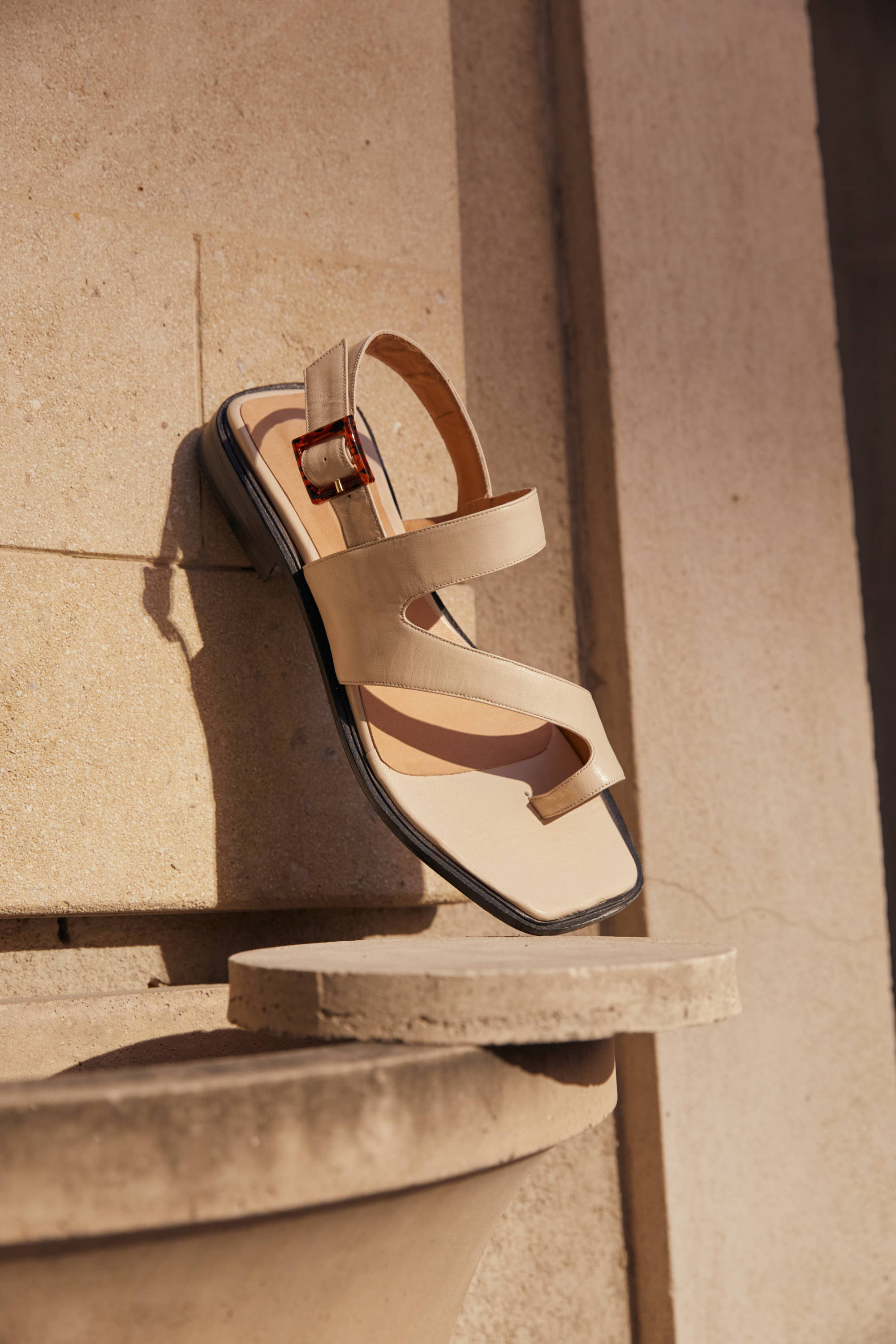 The Anto sandal is a non-basic that will function as a critical piece in your summer wardrobe. Mannish but somehow still elegant & sleek, this style features a toe ring construction and faux tortoise buckle closure set on a low stacked leather heel. Wear the Anto with everything from denim and tailored trousers to ultra-feminine dresses.
Who it's for: The woman looking for a sandal with graphic appeal.
Opt for the Anto in Marfil and Black as a go-to everyday sandal, or expand the styling potential of one's wardrobe with the Anto in Caramel Patent for a pop of color and shine.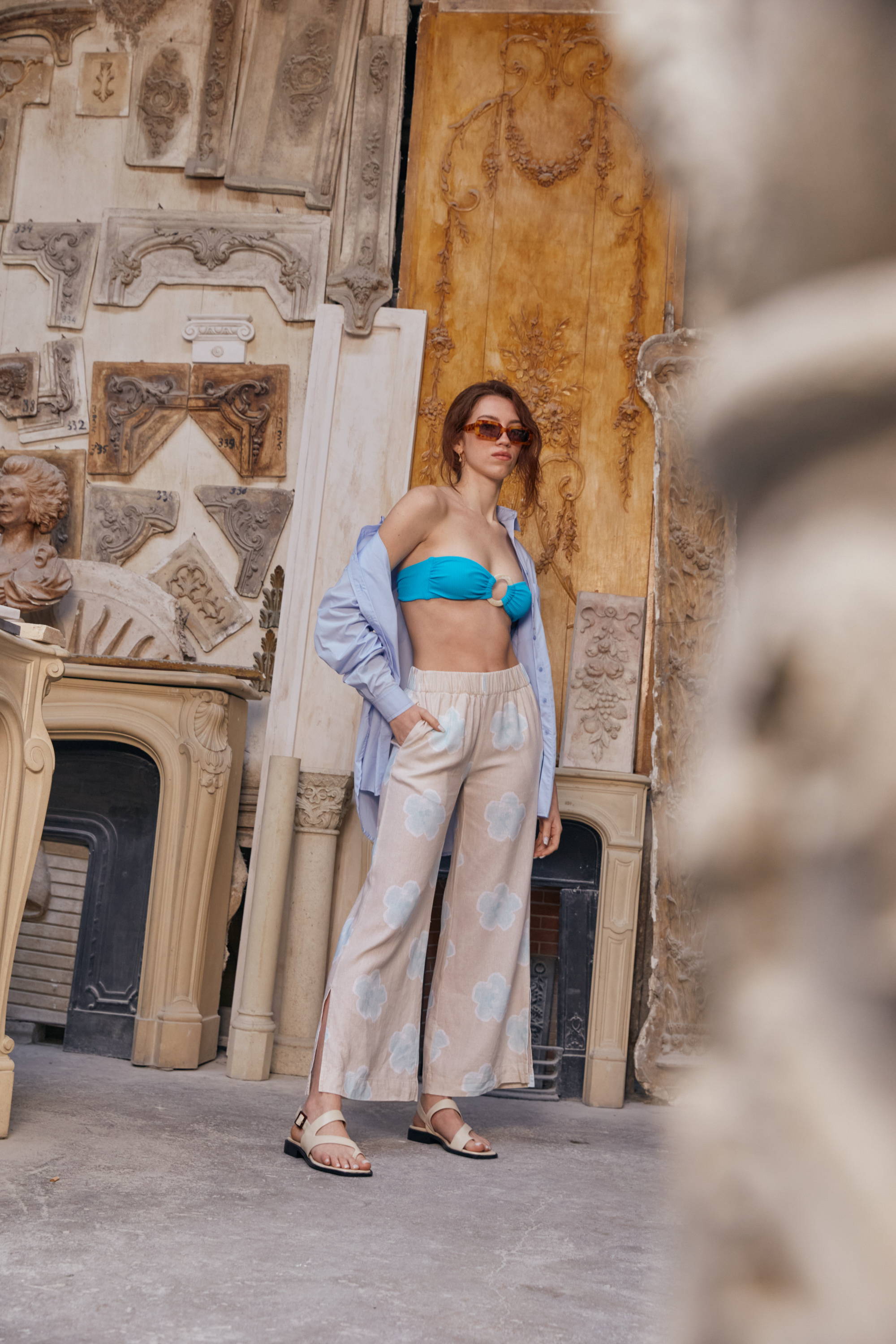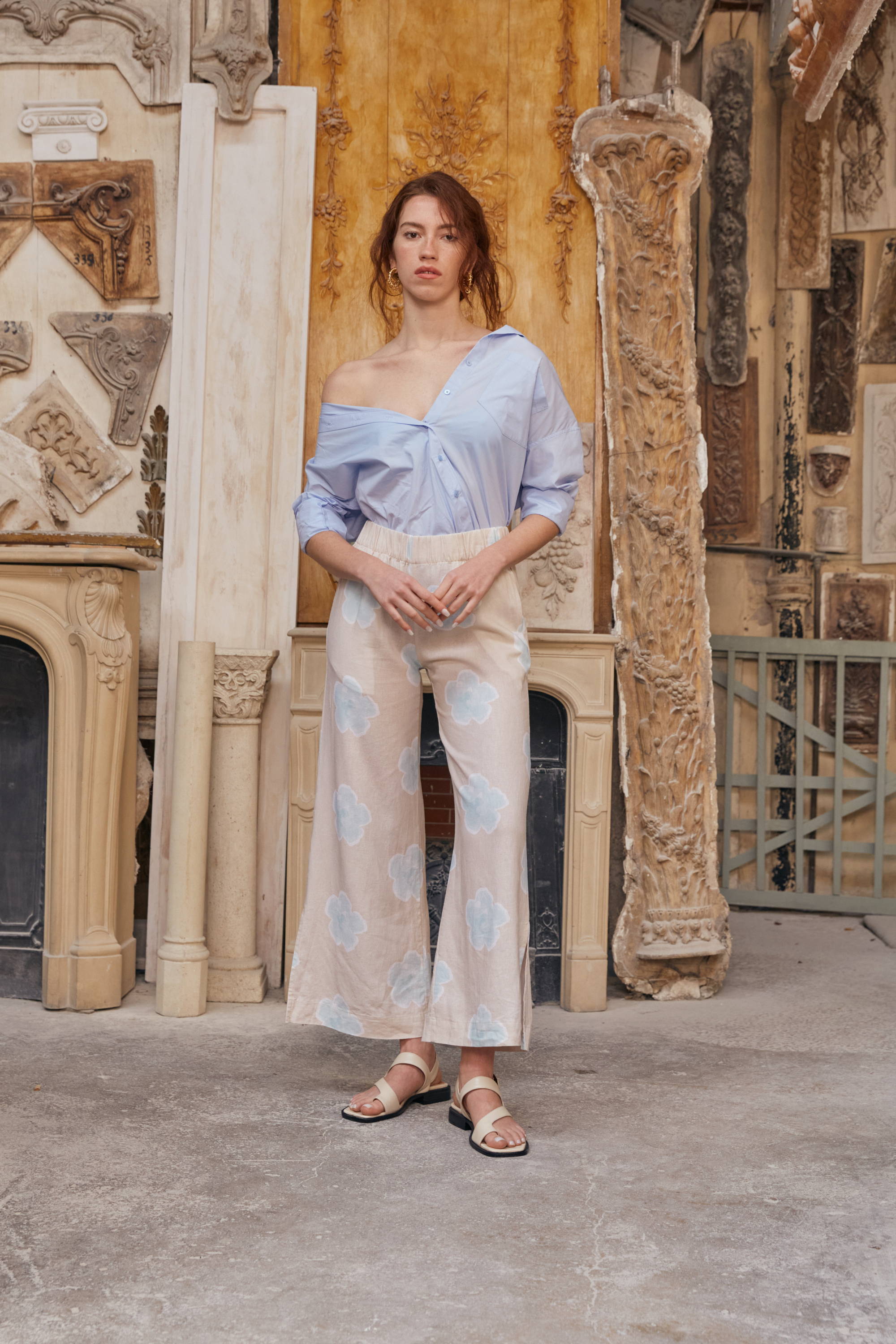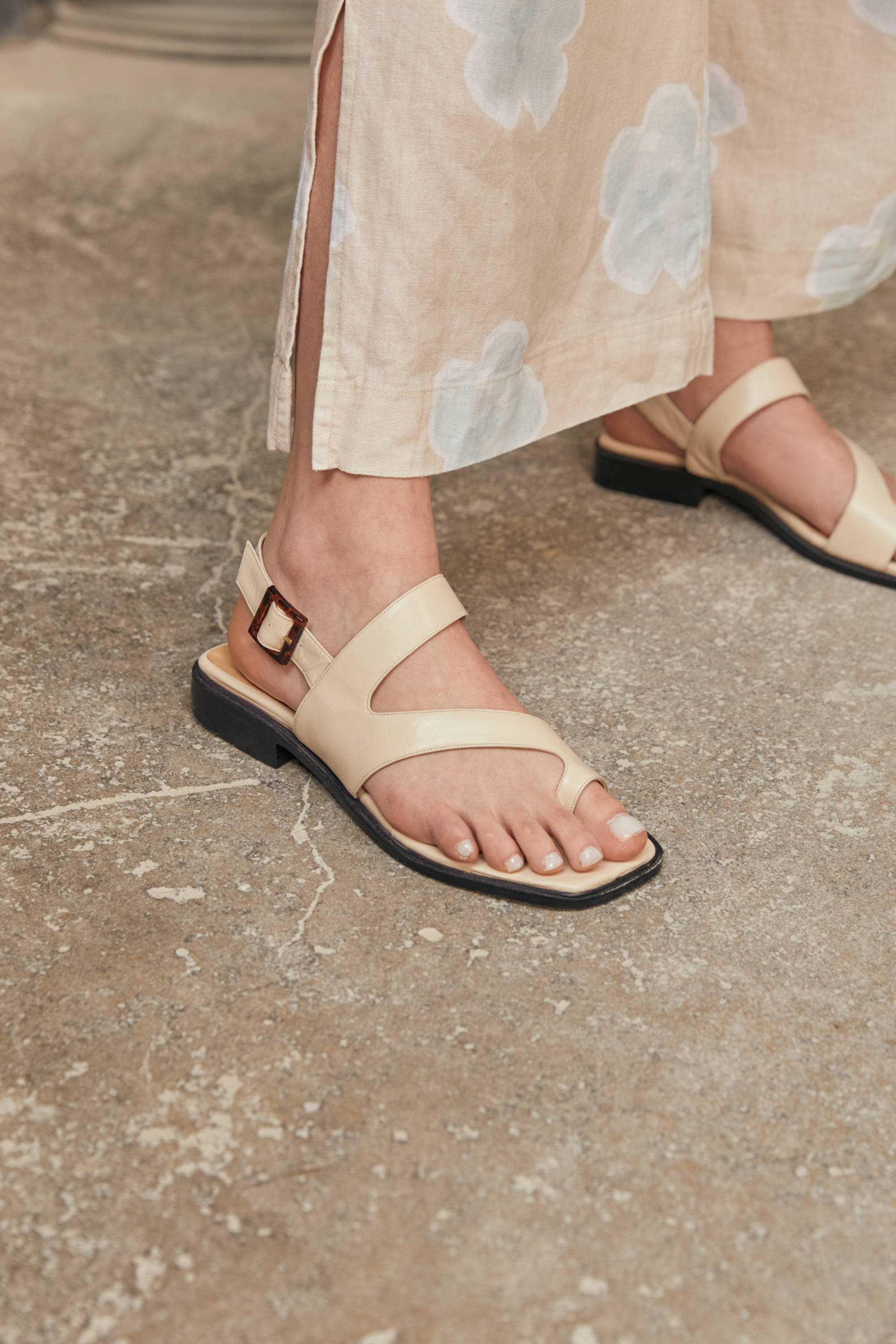 Are you taking a leisurely vacation or planning an afternoon away? The Anto is the perfect companion from sightseeing to sand, followed by al fresco dining. Thanks to its low heel height and strap, the Anto will feel secure and comfortable all day.
Day
When temperatures soar, pair the Anto with a swimsuit or bandeau top as a base layer. Next, add a pair of flowy pants, preferably made with linen or cotton for breathability. Lastly, add an oversized button-up, leave it open or drape it across the shoulders. The result is eye-catching yet understated.
Night
As the sun sets, simply button up the top, tuck it in, and roll up the sleeves for a relaxed approach. Then, style the top for a one-shoulder look for a romantic feel. In a matter of seconds, the outfit will be ready to tackle where the evening goes.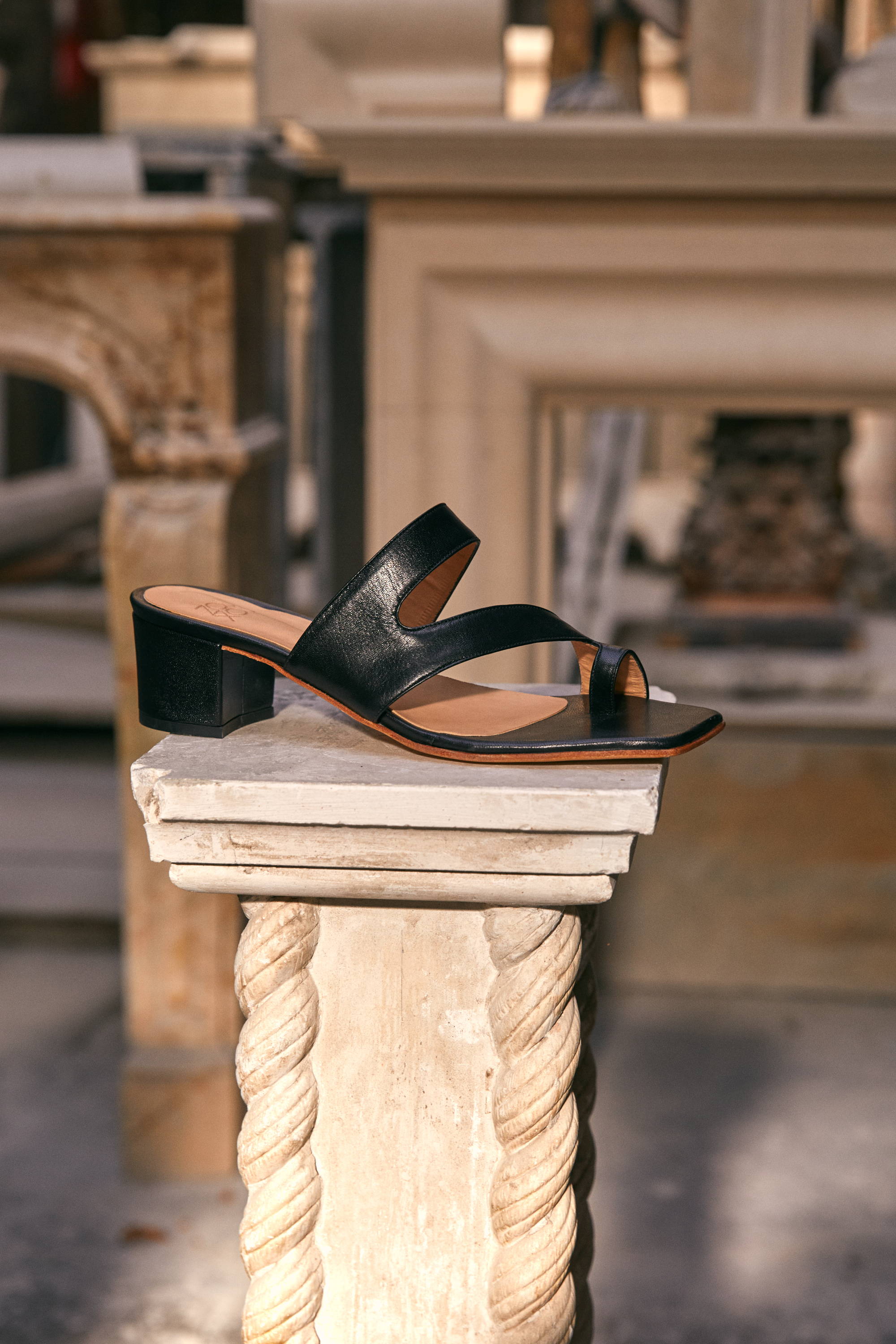 The Una sandal is a slip-on thong style crafted from a single piece of leather and set on a comfortable block heel. Thanks to its clean and minimal detailing, the Una adapts effortlessly to work, dinner, or off-duty wear. Style the Una with everything from vintage denim or cycle shorts to bold printed dresses and structured skirts.
Who it's for: The woman searching for a simple, approachable way to dial up her look with a statement color or modern flair.
Classic dressers will be drawn to the Una in Marfil and Black, while bold dressers will be pulled towards the Una in Algae or Peony.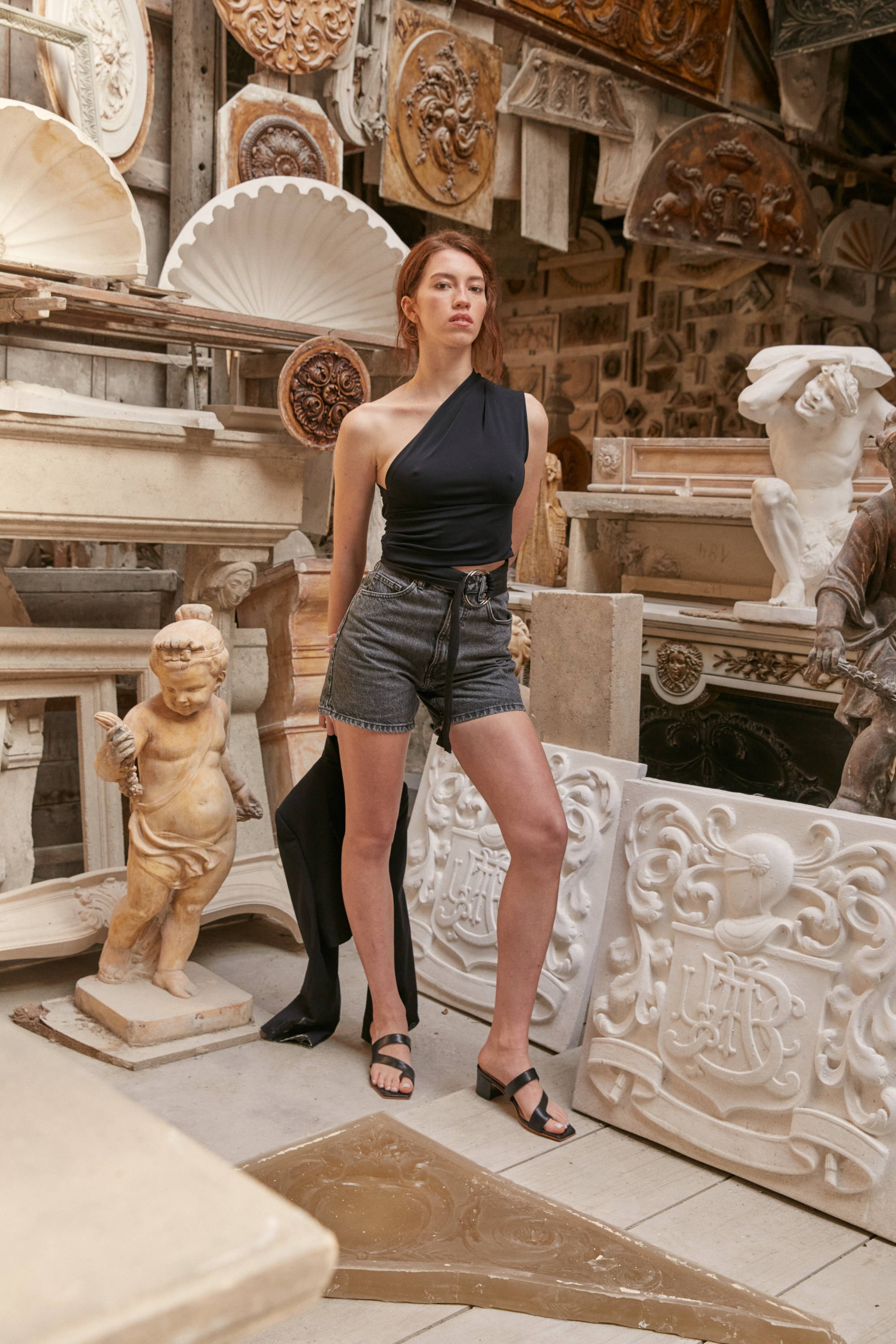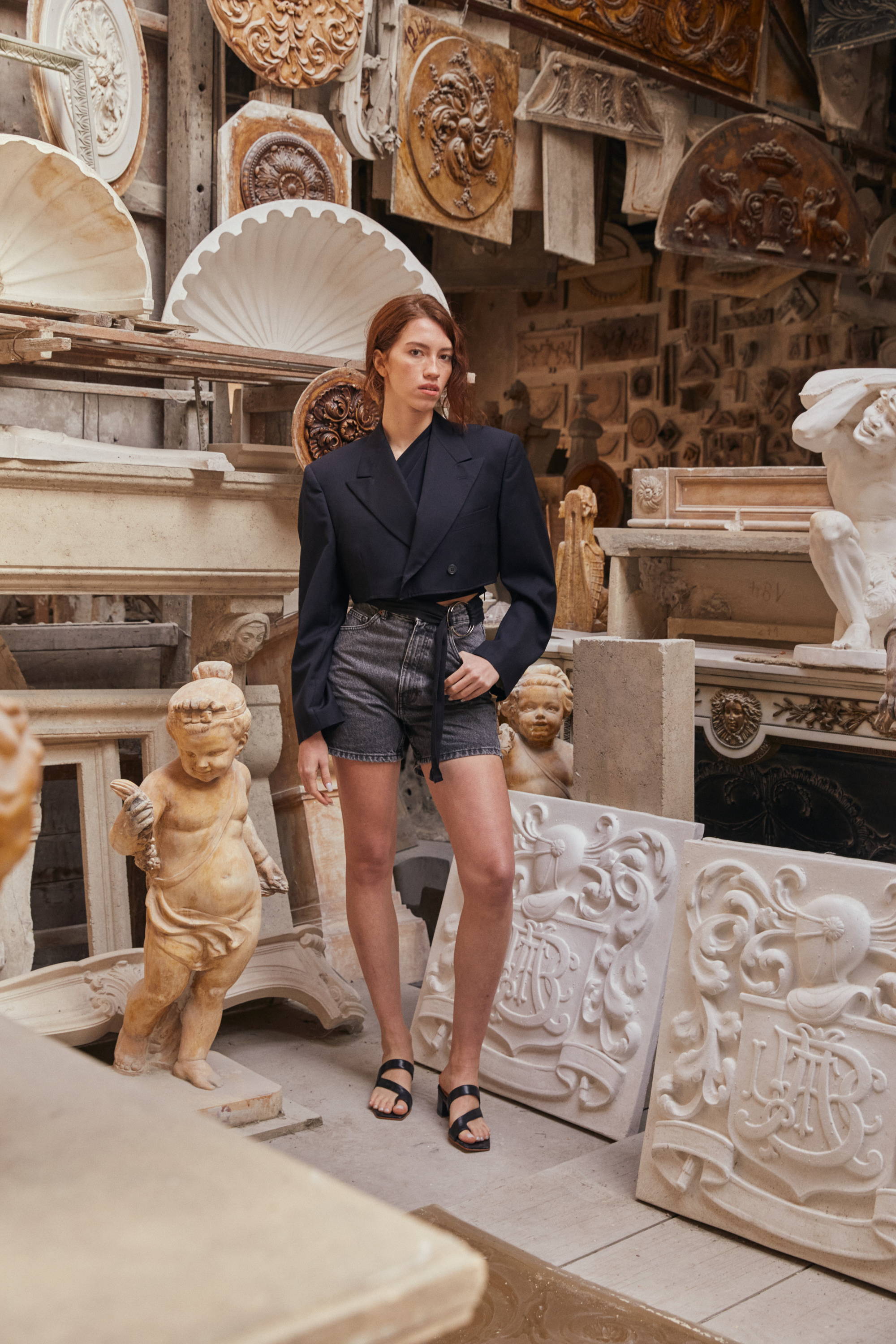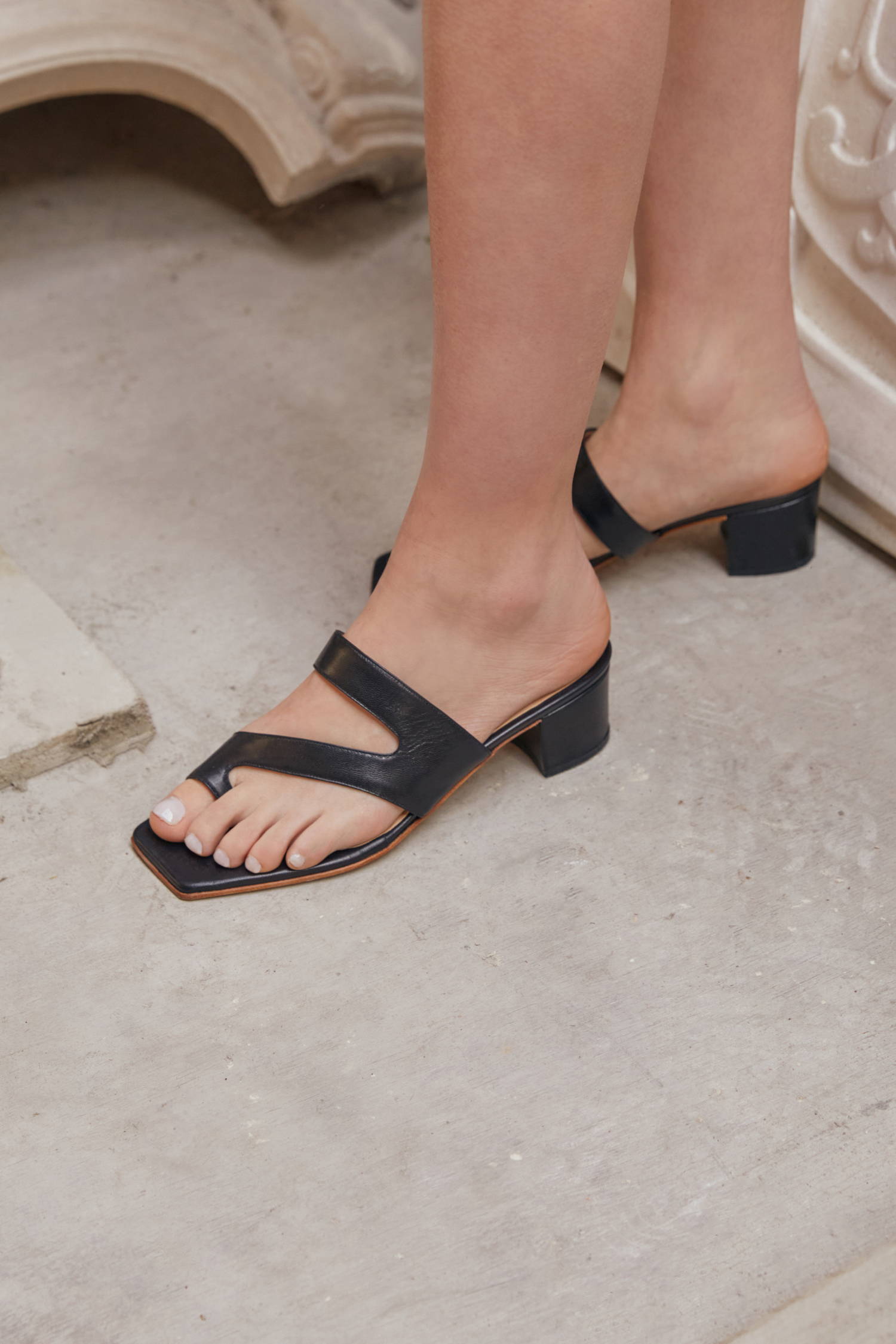 For a day that calls for a put-together outfit with an edge, opt for the Una. This heeled thong sandal will take you from brunch to a concert in the park under the sun without hesitation.
Day
Start by styling the Una with a comfortable pair of denim shorts for a busy social day. Then, handle the heat and humidity with a thin one-shoulder top that is convertible, making it a breeze to bare more skin when the temperature becomes unbearable. This ensemble will effortlessly dance the day away with you.
Night
When nightfalls, simply layer a cropped blazer to play on the season's "summer tailoring" trend. You'll be ready for a low-key dinner with friends, followed by drinks in a matter of moments.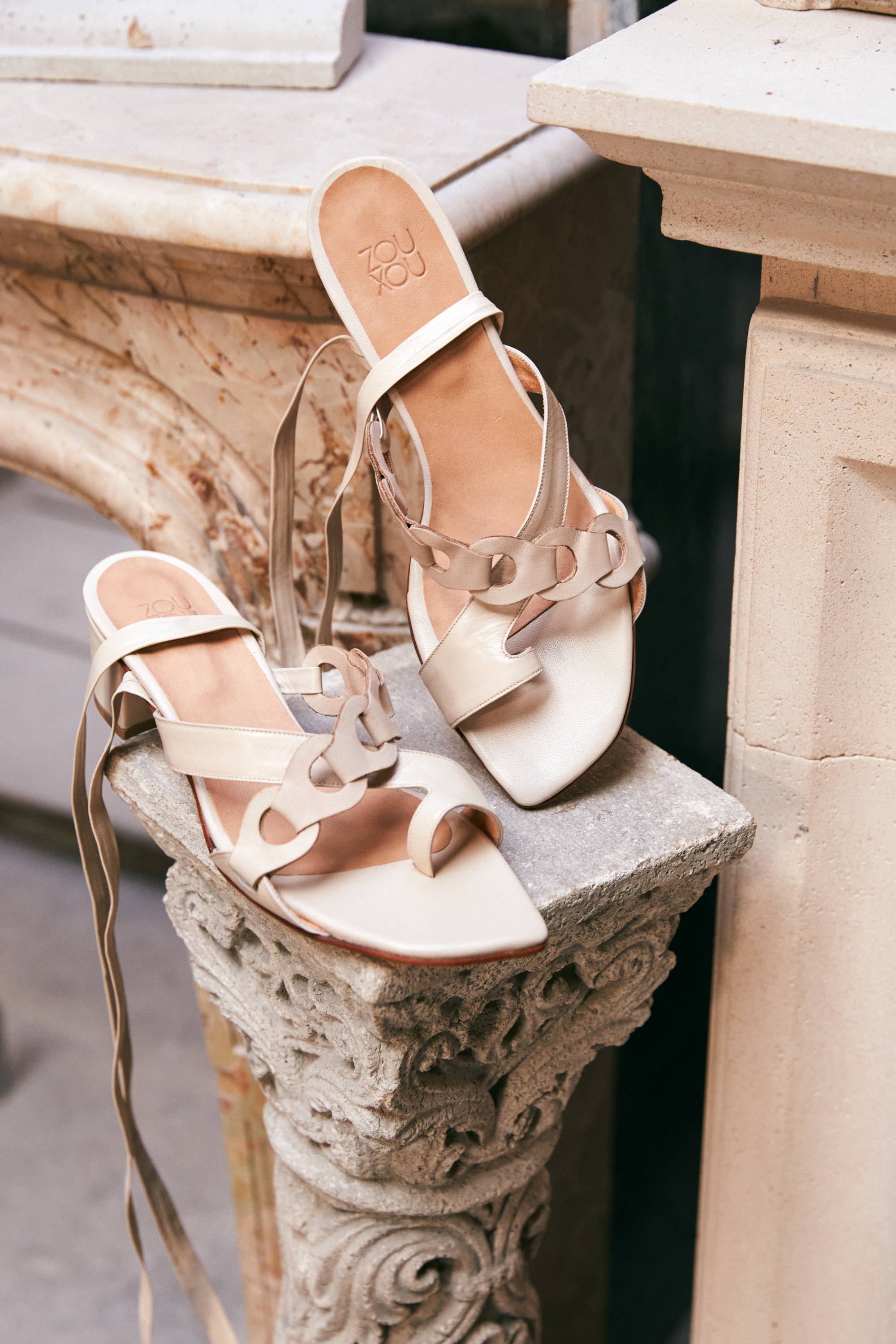 The Vita sandal is a sensually strappy summer sandal. The Vita's block heel is perfect for a night out, while its thong construction and tie-up laces offer complete comfort. The definition of functional, the Vita can be worn in countless ways; tie the laces up the leg, down around the ankle, or invent your own way. Pair the Vita sandal with leg-bearing dresses and shorts, or let them peek out of slit trousers or skirts.
Who it's for: The woman who appreciates a going-out shoe that's comfortable and versatile.
Minimalists will find the Vita in Marfil or Black to be the perfect addition to take a basic look to the next level, while maximalists will be taken with Peony and Seafoam for a pop of color.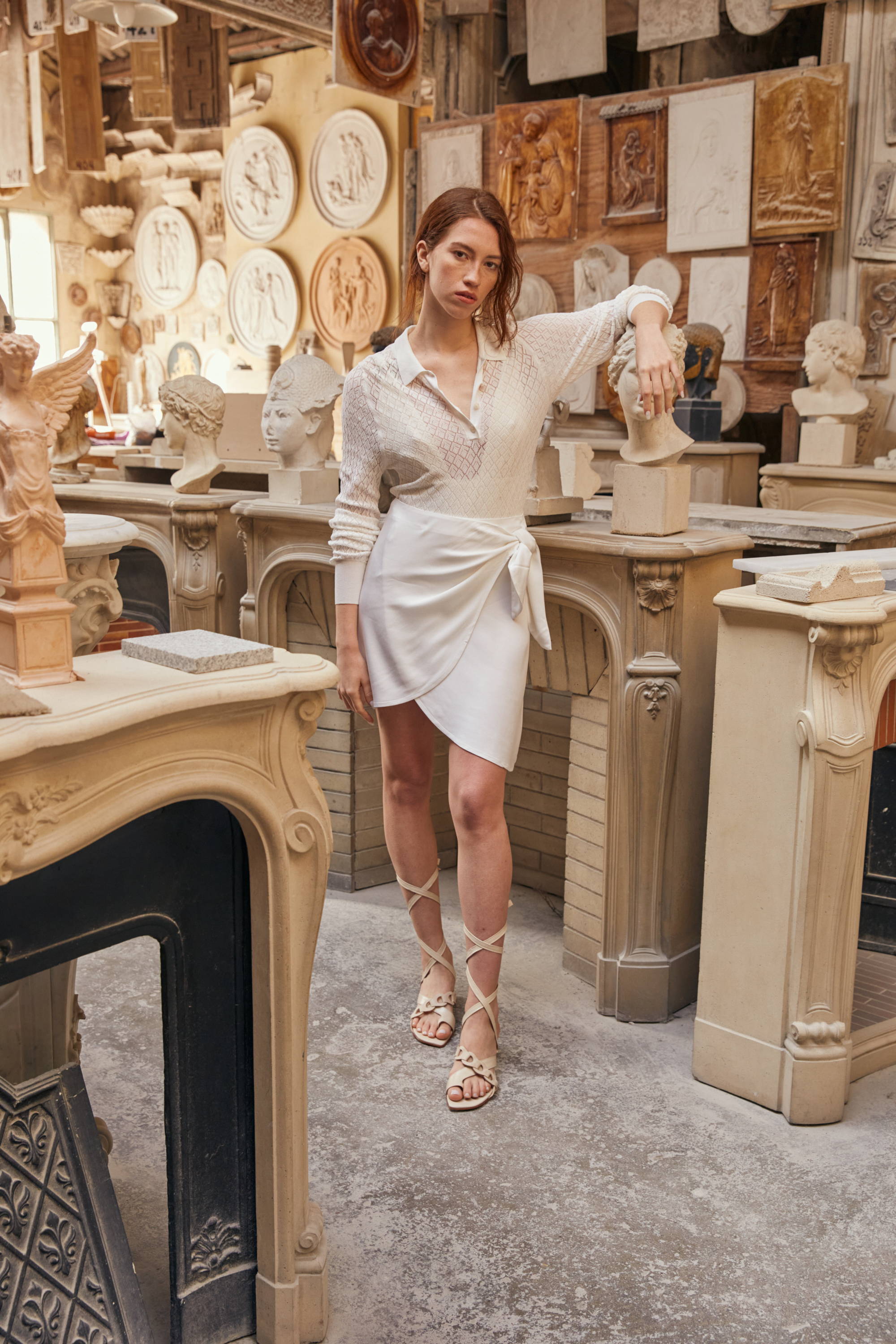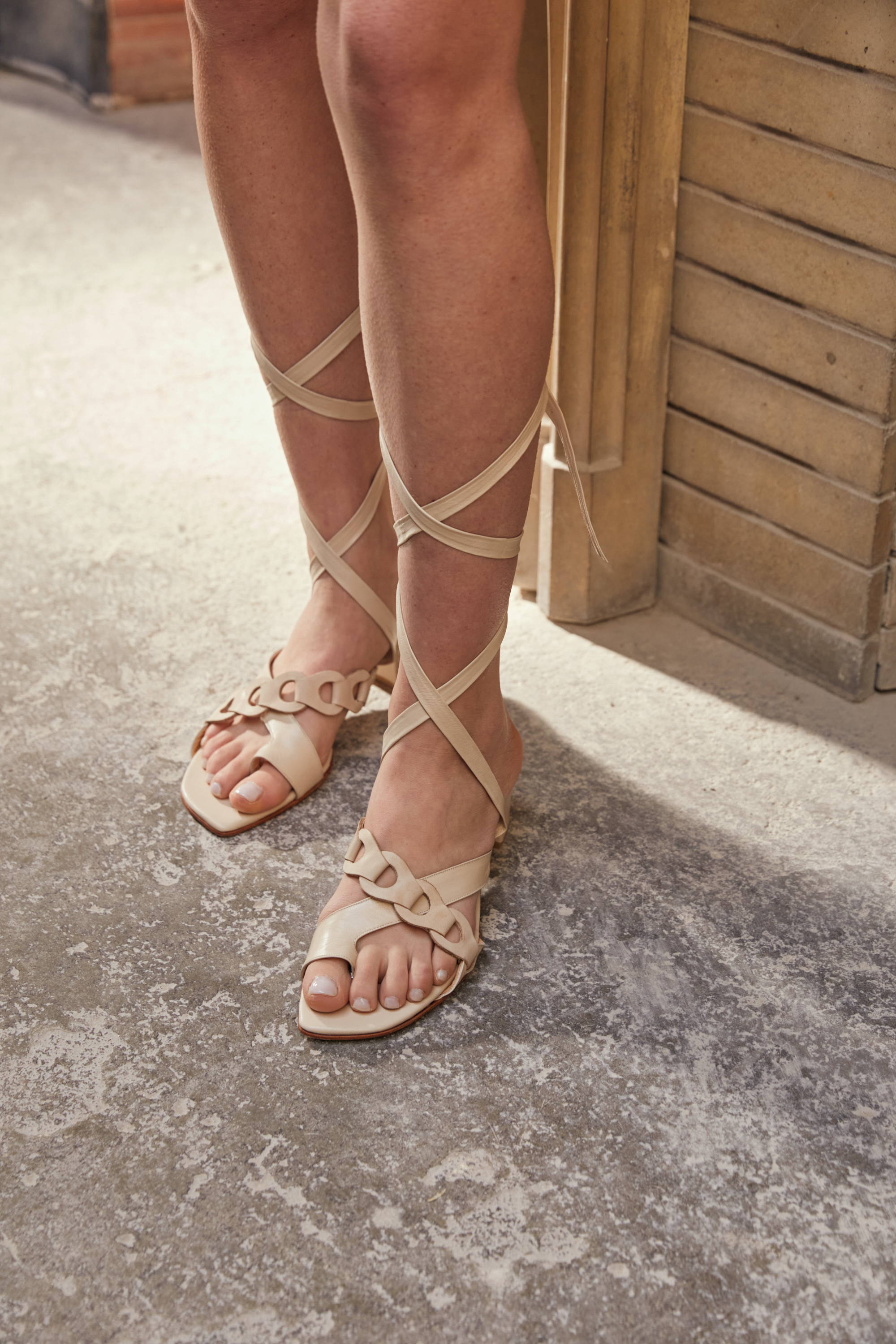 A day seaside followed by dinner and dancing calls for the Vita sandal. The definition of an eye-catching dancing shoe, the Vita handles sun up to sun down with no complaints.
Day
Start the morning in a feminine outfit with creative styling. Pair the Vita with an eyecatching swimsuit and an ever-classic wrap skirt. In case the wind picks up, tie a light sweater around the shoulders. Spend the day by the ocean alternating between taking a dip and getting some sun with an ensemble just as flexible as your plans.
Night
Once day turns to night, put on a light sweater for an added layer of warmth in cooler temperatures. This layer freshens the look for an evening filled with dinner and dancing under the moonlight.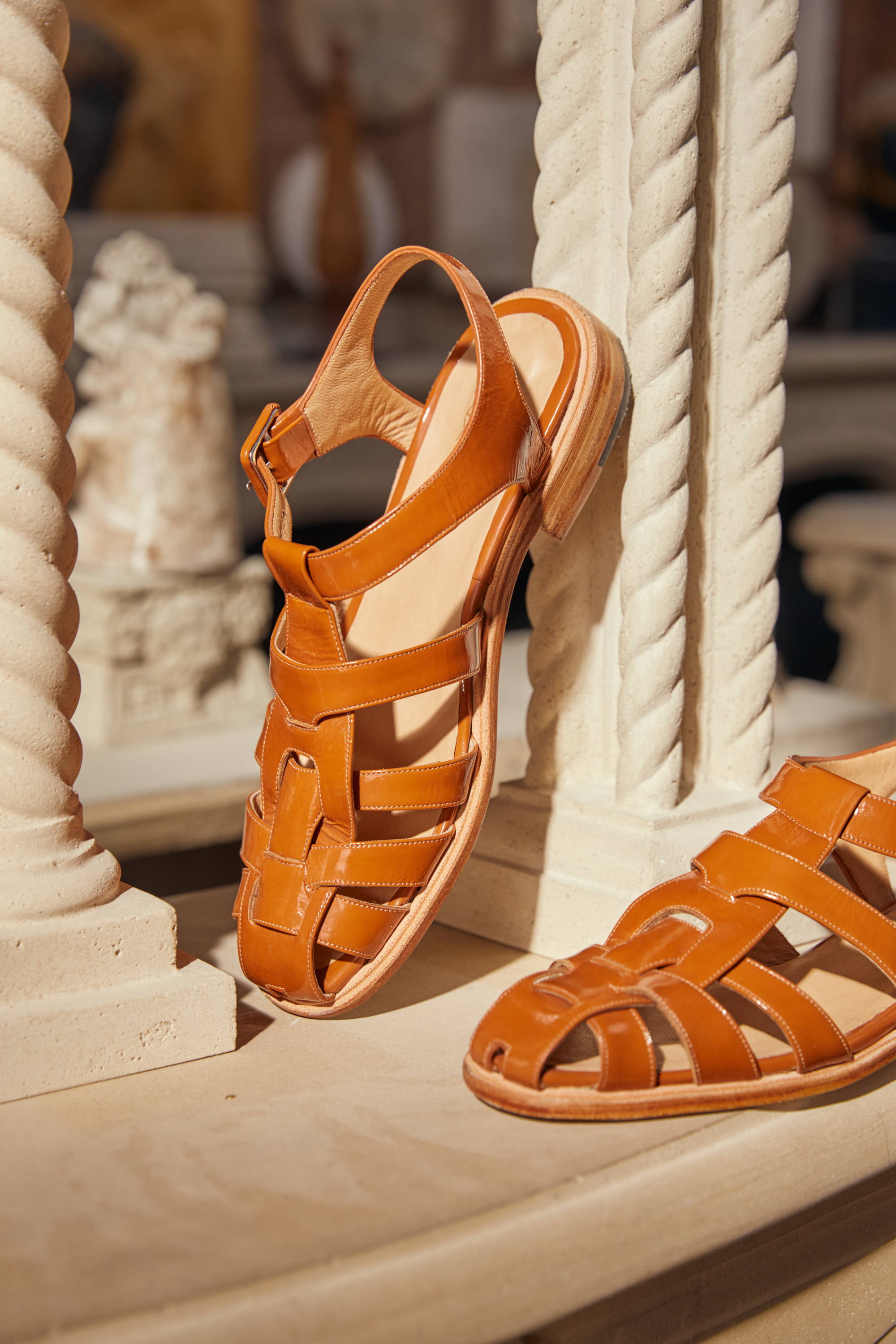 The Franca flat is ideal as a foundational late-spring, summer, and early fall shoe for its ability to transition well from office to off-duty. The Franca is a sleek and feminine take on the fisherman sandal crafted from interlocking leather pieces and set on a stacked leather heel. Style the Franca flat with everything from button-downs and trousers to shorts and dresses.
Who it's for: The woman searching for a summer shoe with a decidedly modern feel.
Opt for the Franca in Marfil or Black for an ever-classic wardrobe addition, or go with the Franca in Caramel Patent for an unexpected twist to any outfit.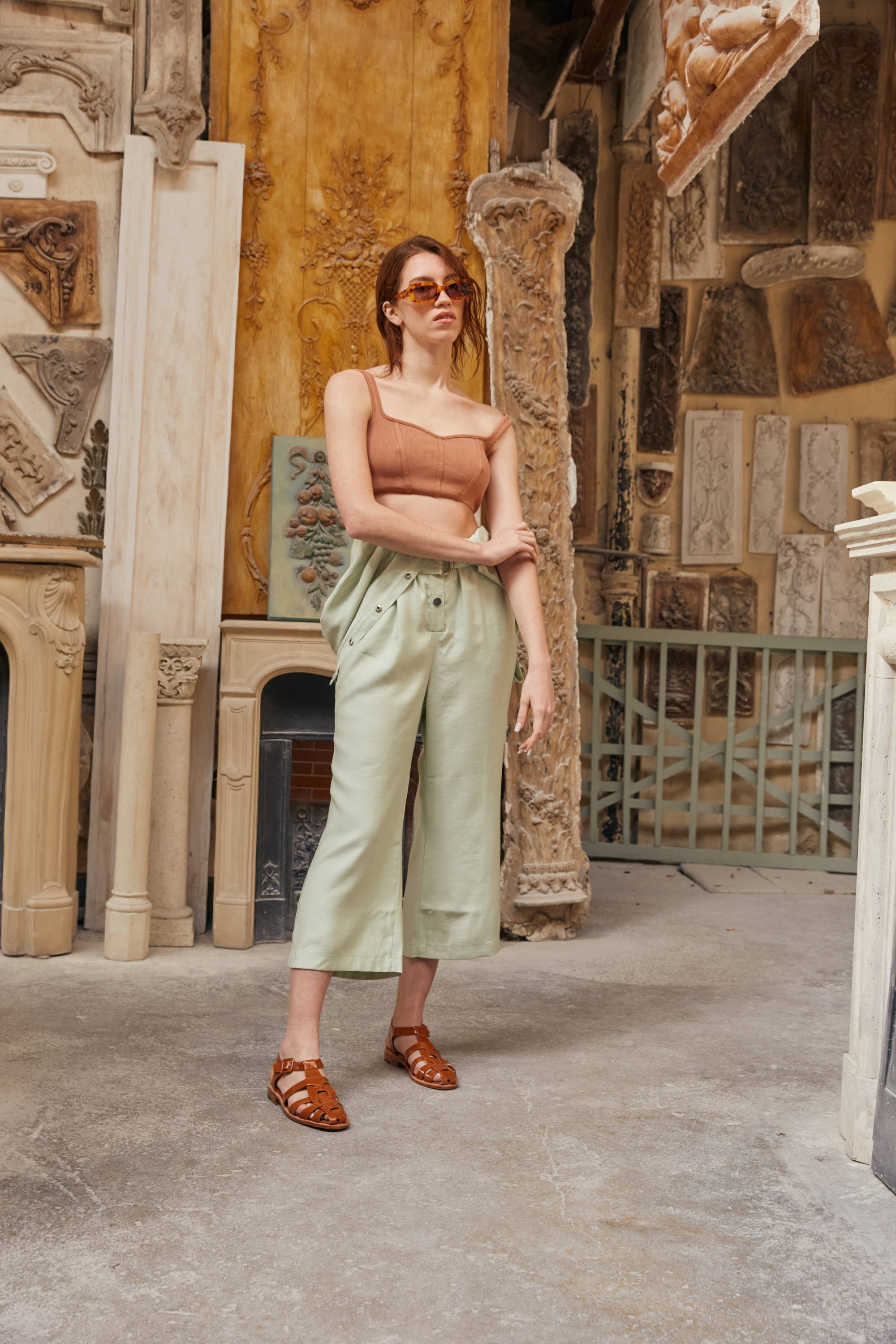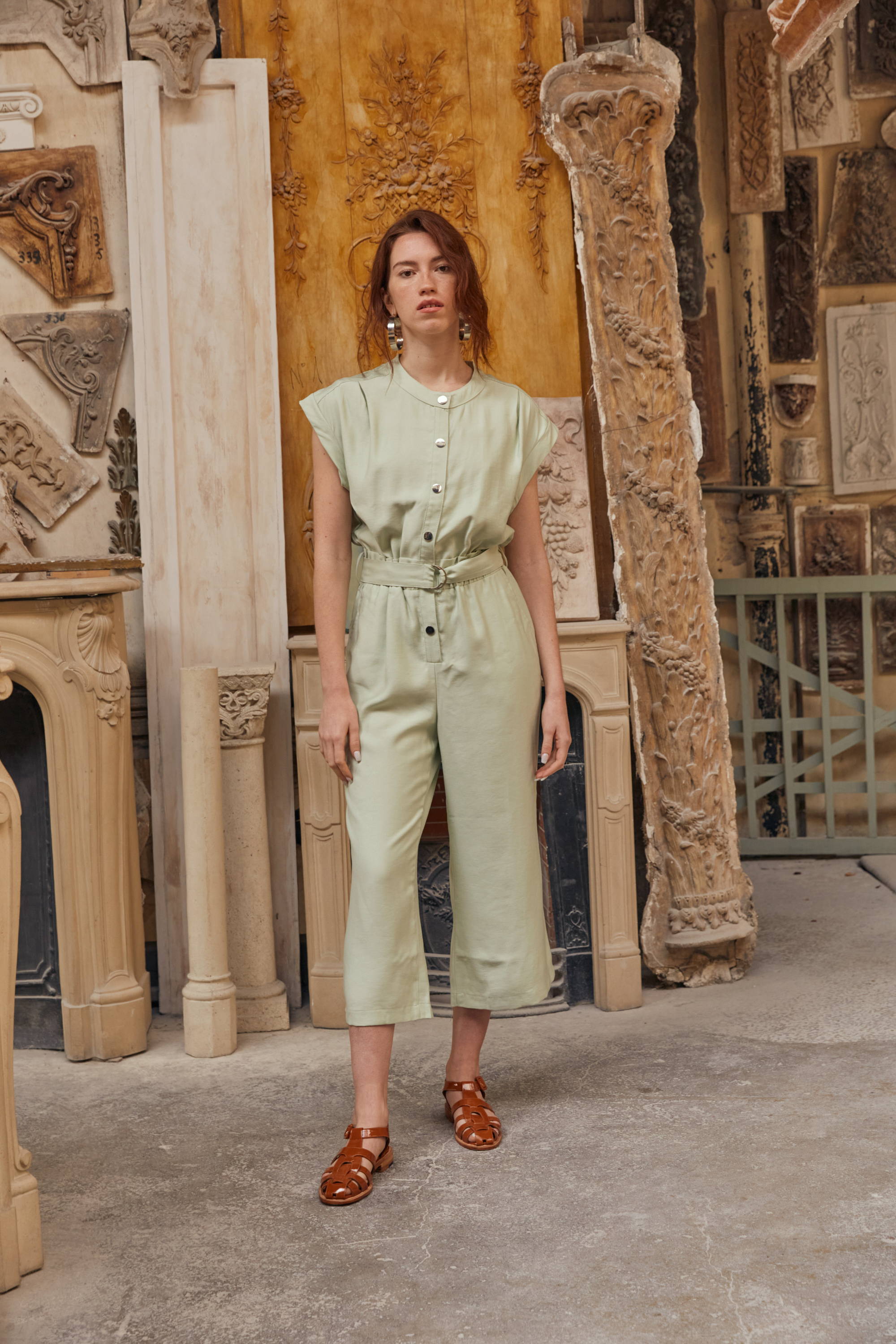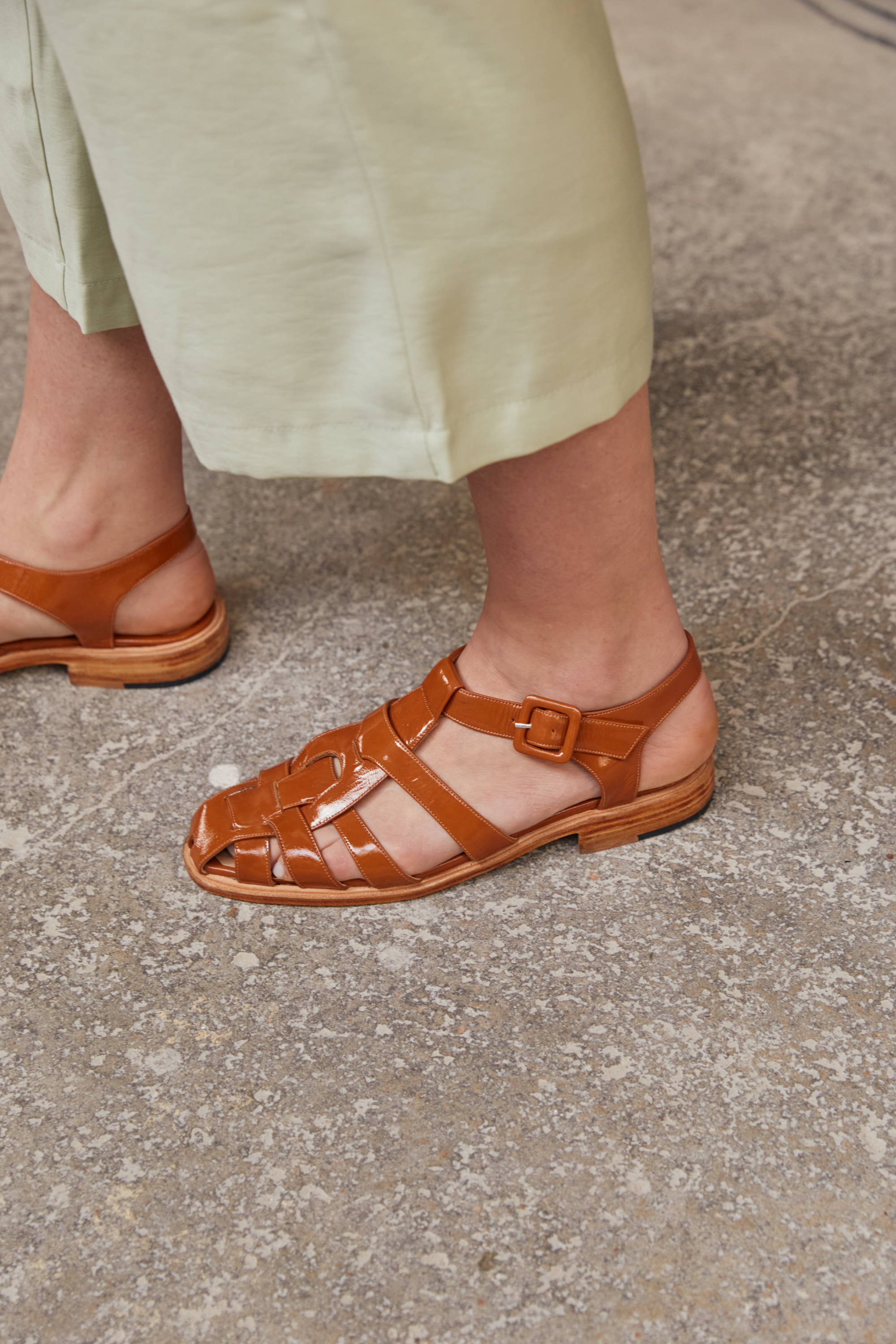 The Franca is an unexpected pairing for an afternoon exploring the art and culture scene of a new city followed by dinner with family. Comfortably tackle a day on your feet with confidence and comfort with the Franca.
Day
Before hitting the museum or local cafe, pair the Franca with a cropped knit tank top and an unbuttoned jumpsuit for an off-duty look. This convertible ensemble will keep you cool when mid-day hits and is ready for whatever the day has in store next.
Night
As daylight wanes, formalize the outfit by buttoning up the jumpsuit. Now, head to dinner feeling put-together and casually cool.