The Pre-Spring Issue
PS22 COLLECTION GUIDE
BUENOS AIRES, ARGENTINA
Introducing The Pre-Spring Issue. The PS22 Collection creates a unique stand-out season of its own, quietly transitioning from winter to early spring without plunging straight ahead into the vitality of late spring and summer.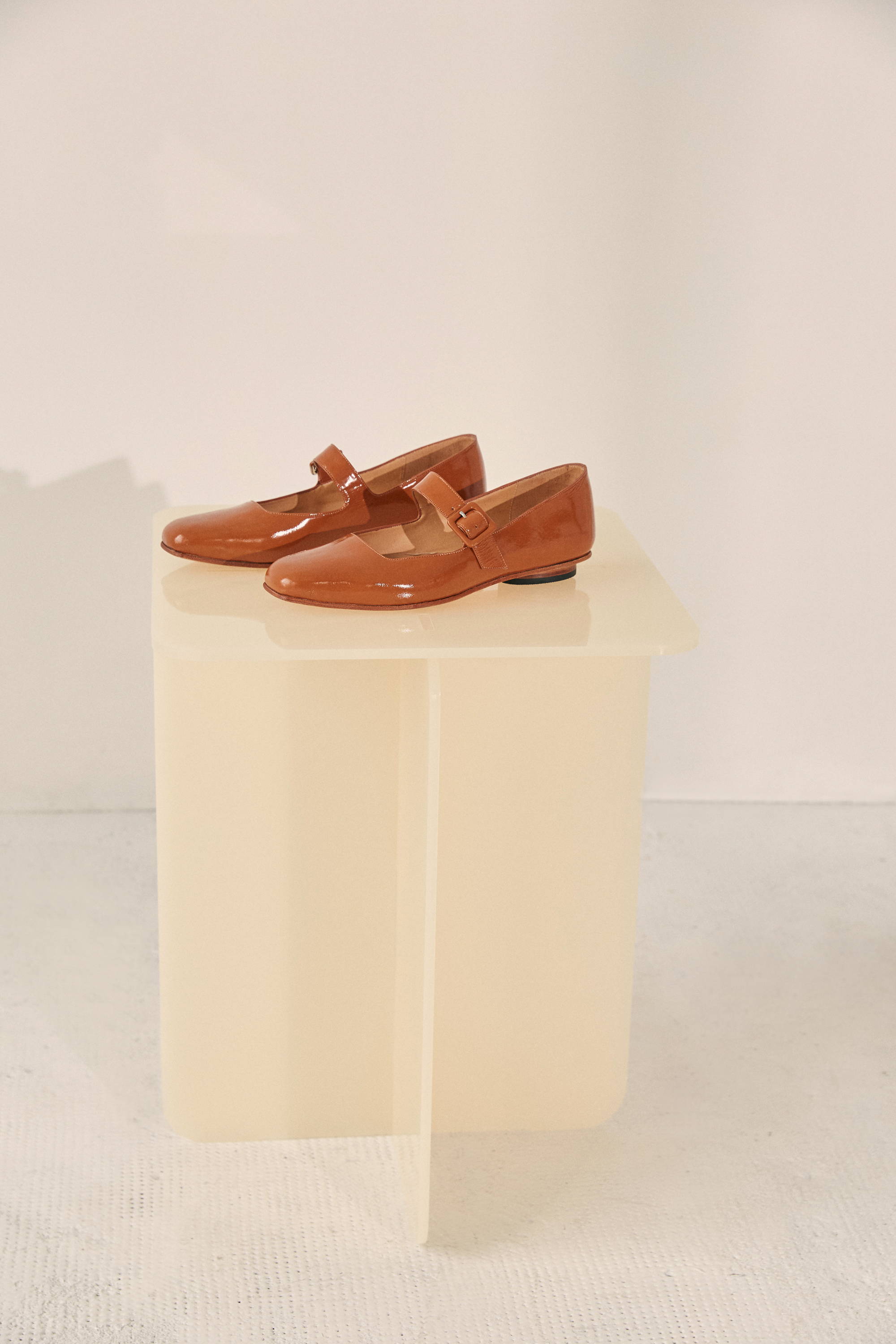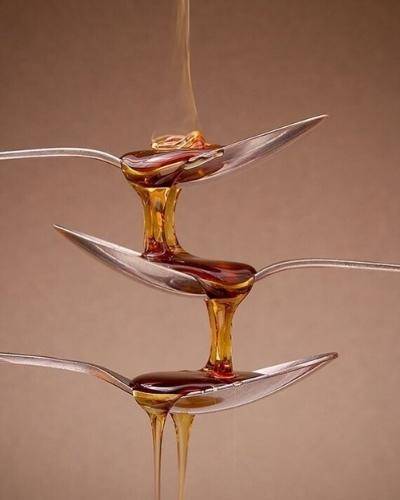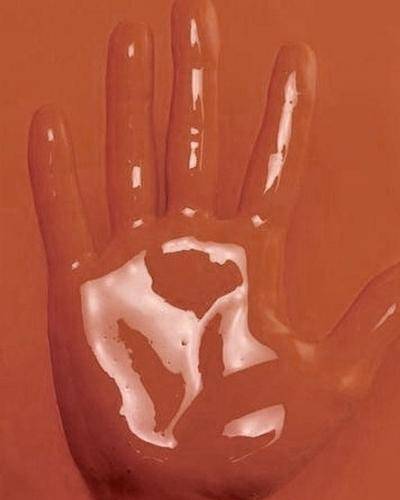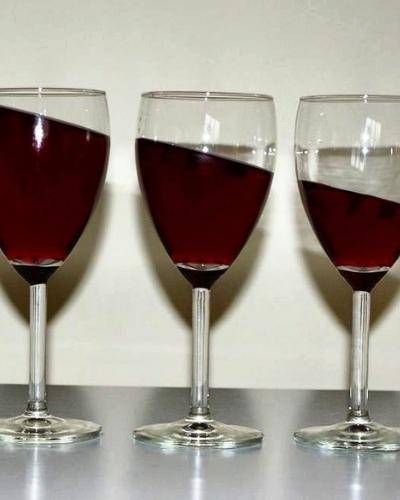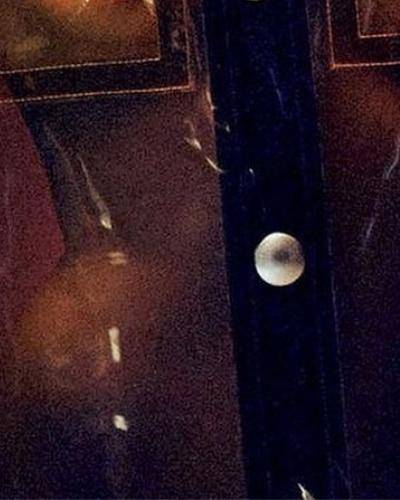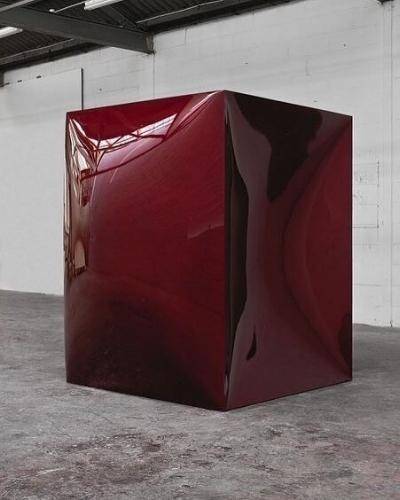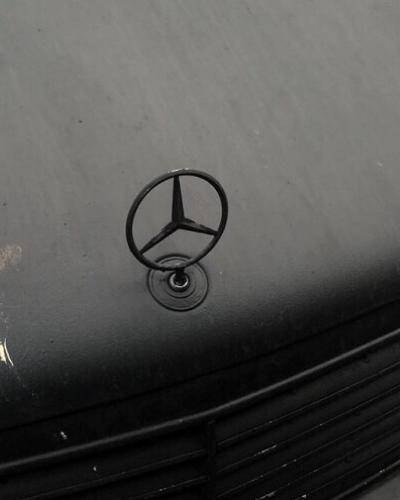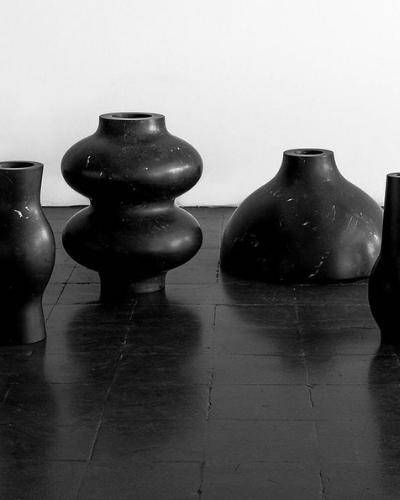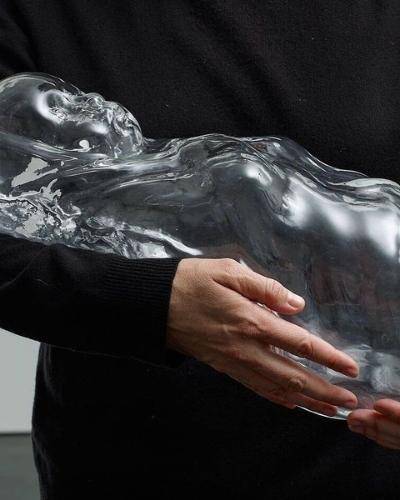 A nod to creating a quiet, transitional collection, this season's color references challenge the bounds of one's wardrobe. Modern textures in unique tones revive cold-weather pieces while grounding spring pieces as we gradually reach for them as temperatures rise.
References 01-03 inspired Caramel Patent, a timeless tan evoking obtainable luxury and decadence.
References 04-06 prompted Tannat, a modern shade of burgundy, personifying red wine through the glossy sheen and absence of texture.
References 07-09 produced Matte Black and Black Patent, creating tones void of texture, unlocking black's hidden potential, resulting in high-shine and ultra-refined finishes.
This collection's color story tells a unique tale. The silhouettes and colorways are fluid, making them ideal as investment pieces for their ability to be interpreted time and time again by the wearer across seasons, situations, and temperatures.
The hues balance an appreciation for winter with a lust for spring and are meant to be worn during bursts of weather confusion. A reliable pick for the unexpected mix of temperatures upon us.
Caramel Patent and Tannat elude from the concept of traditional seasonal dressing. Instead, they are year-round staples that can break any styling rut. Tannat is almost as moody as pre-spring days, while Caramel Patent is an upbeat look into the warmth heading our way.
Matte Black and Black Patent are easy additions to any wardrobe. A fresh take on black, both options provide an unexpected yet easy-to-wear alternative to traditional black leather footwear.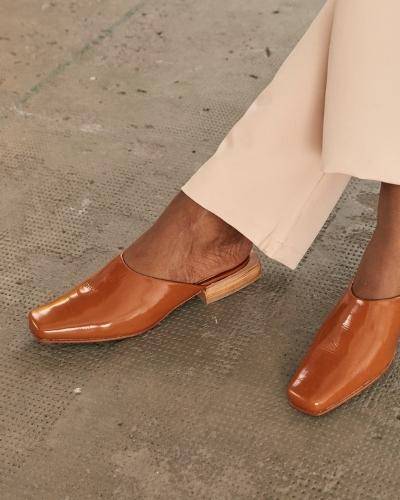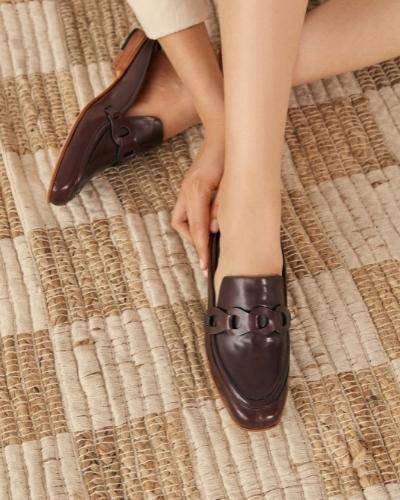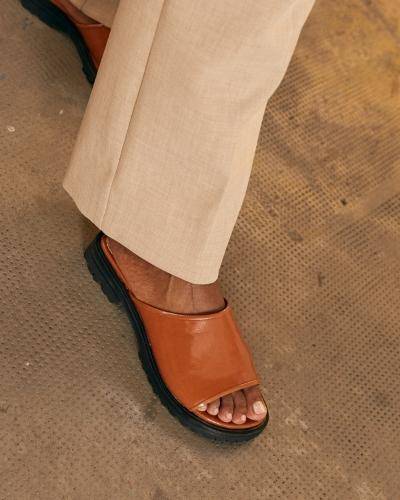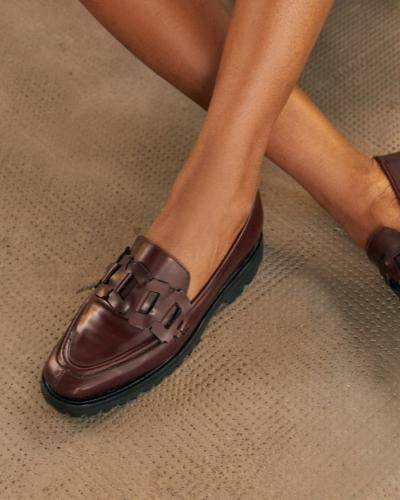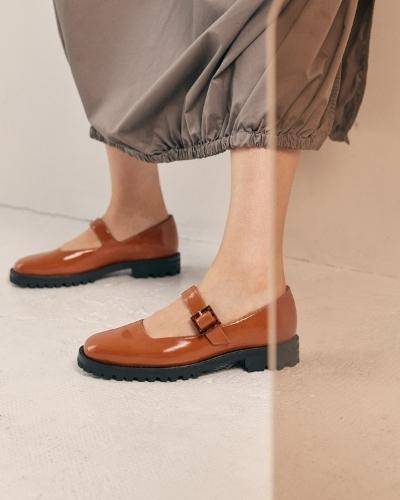 The PS22 silhouettes explore the art of expressing modernity without compromising the artisanal shoe-making process. This challenge led to playing with texture, shape, and color to create a much-needed solution to transitional spring dressing.
True to the nature of the early spring months, the styles flow with the unpredictable nature of the season and the mix of layers we find ourselves wearing. In addition, each shoe can be worn with and without bare skin, perfect for an easy switch from cold mornings to warm afternoons.
The Uchi flat is a reimagined version of the iconic mary jane flat with a leather upper, an eye-catching faux tortoiseshell acrylic buckle, and a chunky layered leather and rubber outsole.
The Trini loafer is a classic menswear shape built on a chunky layered leather and rubber outsole with an oversized leather chain-link detail. Caramel Patent and Tannat transform the Trini into a stand-out piece that promises to work hard in the wardrobe.
Eugenia lovers will immediately be taken with the new Uchi flat. The Uchi similarly features a square toe and buckle detail like the Eugenia. But, notably, the Uchi has been transformed with a sleek faux tortoiseshell acrylic buckle in place of leather.
Combining our take on classic Mary Jane flats with a chunky leather and rubber lug sole, the Uchi is ready to tackle it all, from a long commute and casual strolls to walking through multiple terrains in comfort and style.
The Uchi has something for everyone with a sleek leather upper in three colorways. Minimalists will appreciate the off-beat nature of the Uchi in Matte Black or the subtle alternative neutral Tannat offers. Bold dressers will fall for The Uchi in Caramel Patent for its pop of color and unfathomable, eye-catching shine.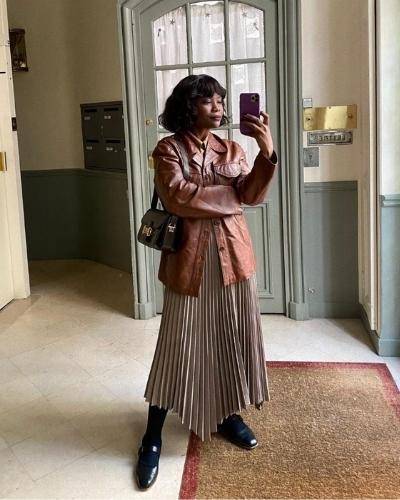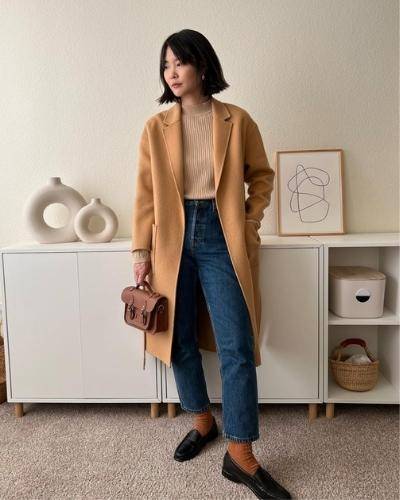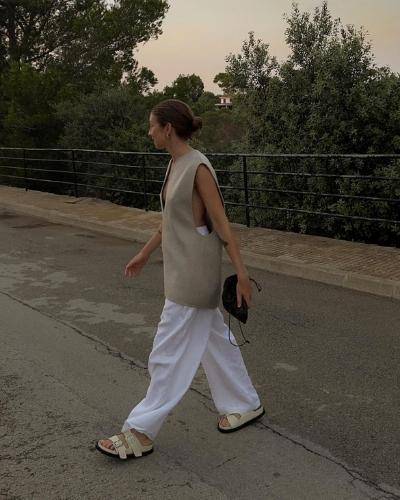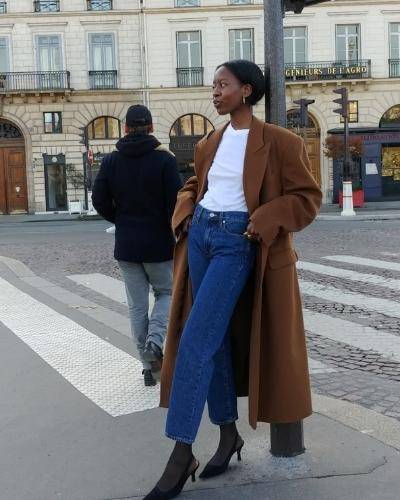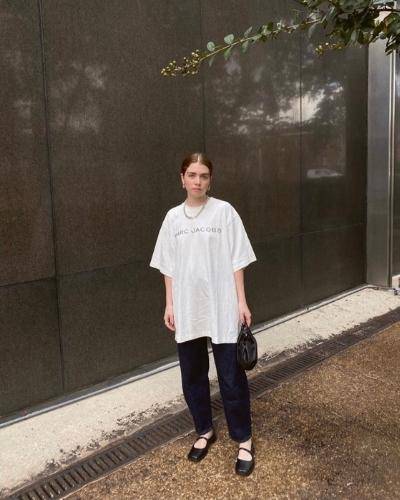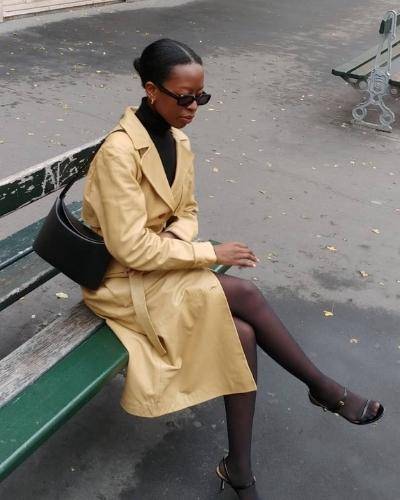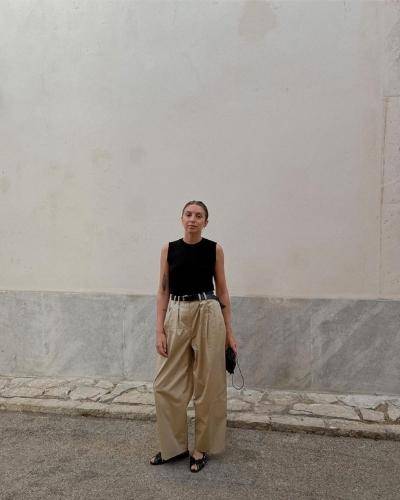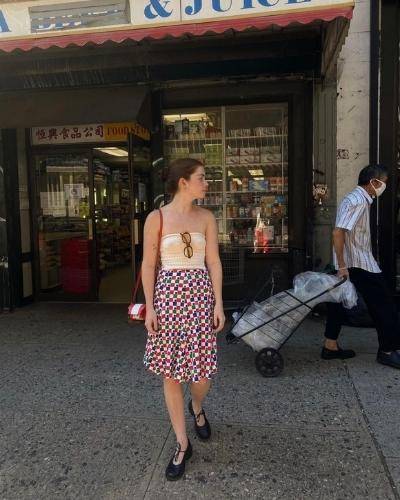 Every ZX collection aims to expand the creative styling potential of a curated wardrobe with the addition of an impactful yet versatile shoe.
This season's silhouettes were selected with transitional spring weather in mind. As a result, the styles reinvigorate well-loved winter pieces and welcome the first signs of spring, bringing excitement to the dresser as the layers of the past season shed.
Core styling pieces include tights and socks for maximum potential: pair straight-leg denim or oversized trousers with ankle-length trench coats and jackets on cooler days. Then, as the temperatures rise, switch out winter staples with midi skirts, tank tops, short sleeve blouses, and midi dresses.
For an interesting take, challenge shape and form by balancing oversized masculine pieces with fitted feminine pieces.
Styling Tips

Style the Uchi flat with socks and winter layers for cool temperatures. The Uchi is sensational paired with socks, skirts, or pants of varying lengths and long tailored coats. When warmer weather hits, style the flat with bare legs and a mix of sophisticated and casual pieces for an effortless feel.
Wear the Trini loafer ironically with ultra-refined, feminine pieces for contrast. For a cool, off-beat take, replace sneakers with the Trini and style as you usually would. Once the temperatures rise, challenge the Trini loafer's masculine nature with ultra-girly pieces like knit shorts and crochet tops.
The Alba mule and Pilar loafer provide refined alternatives to high heels. Pair either style with dresses, tailored trousers, and skirts for a modern look, or wear the mules with mid-length skirts and smart trousers for an elevated yet comfortable workday look.
The Delfina sandal in patent leather is unmatched with nylon socks and stalkings to ease into bare legs and open toes when the air is balmy and become no-brainers when the days turn warm.
The Pileta slide in patent leather provides a creative solution to cool weather styling with socks or tights while being easy to wear later with dresses and shorts through the warmer months.
As spring will quickly sneak up on us, we hope the PS22 Collection provides comfort on unpredictable days filled with confusing dressing, and the styles become treasured pieces in your wardrobe year-round.