Spring Travel
STYLE EDITORIAL
BUENOS AIRES, ARGENTINA
As spring wanes on and temperatures continue to rise, the urge and resurgence of travel have arrived. Many of us can't wait to get back to exploring, while some of us are out of practice on traveling and packing for the occasion. Explore the style editorial for footwear and outfit inspiration to make prepping for your next trip a breeze. Plus, we share our best-kept tip for packing light: bring fewer shoes that are each functional for multiple activities.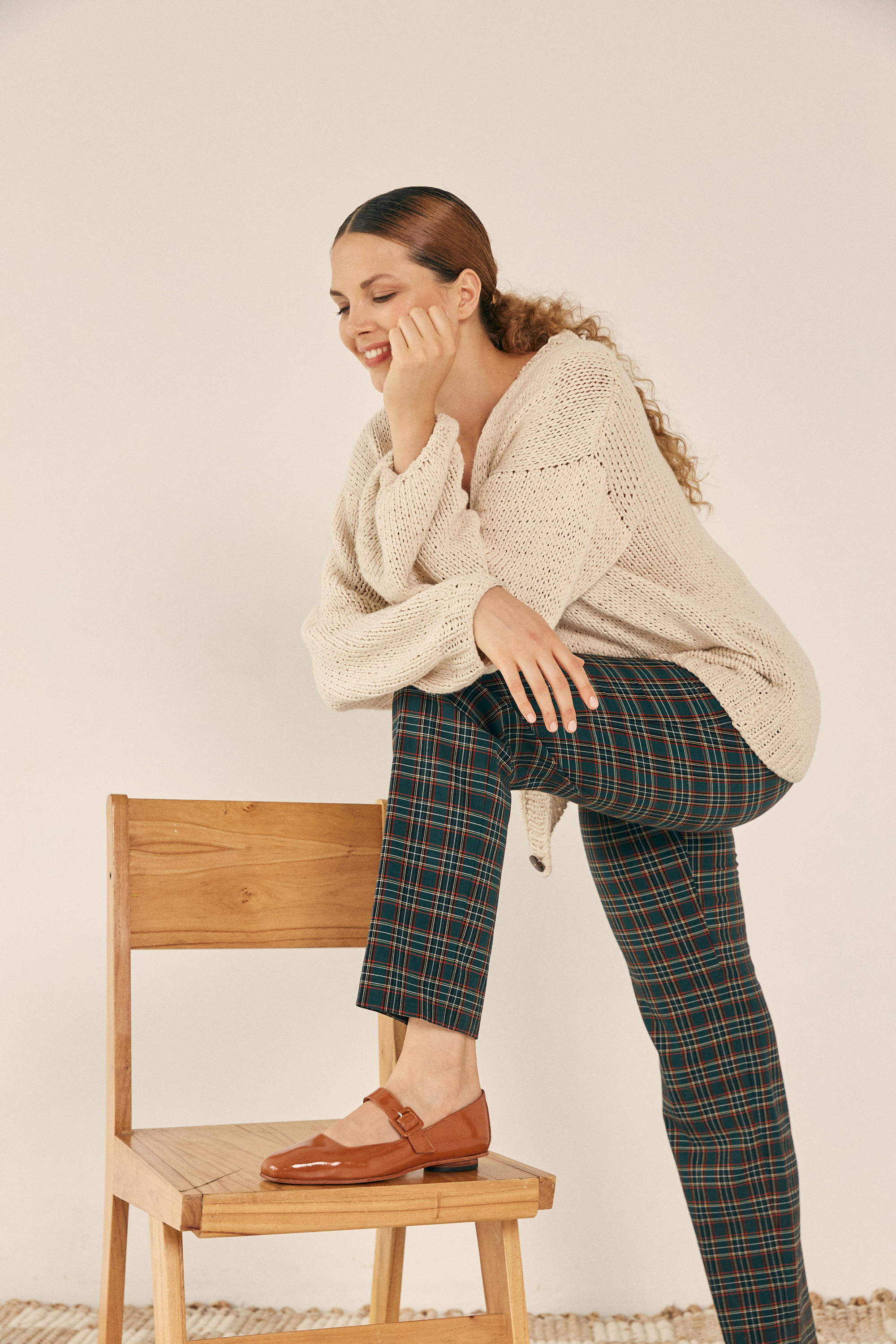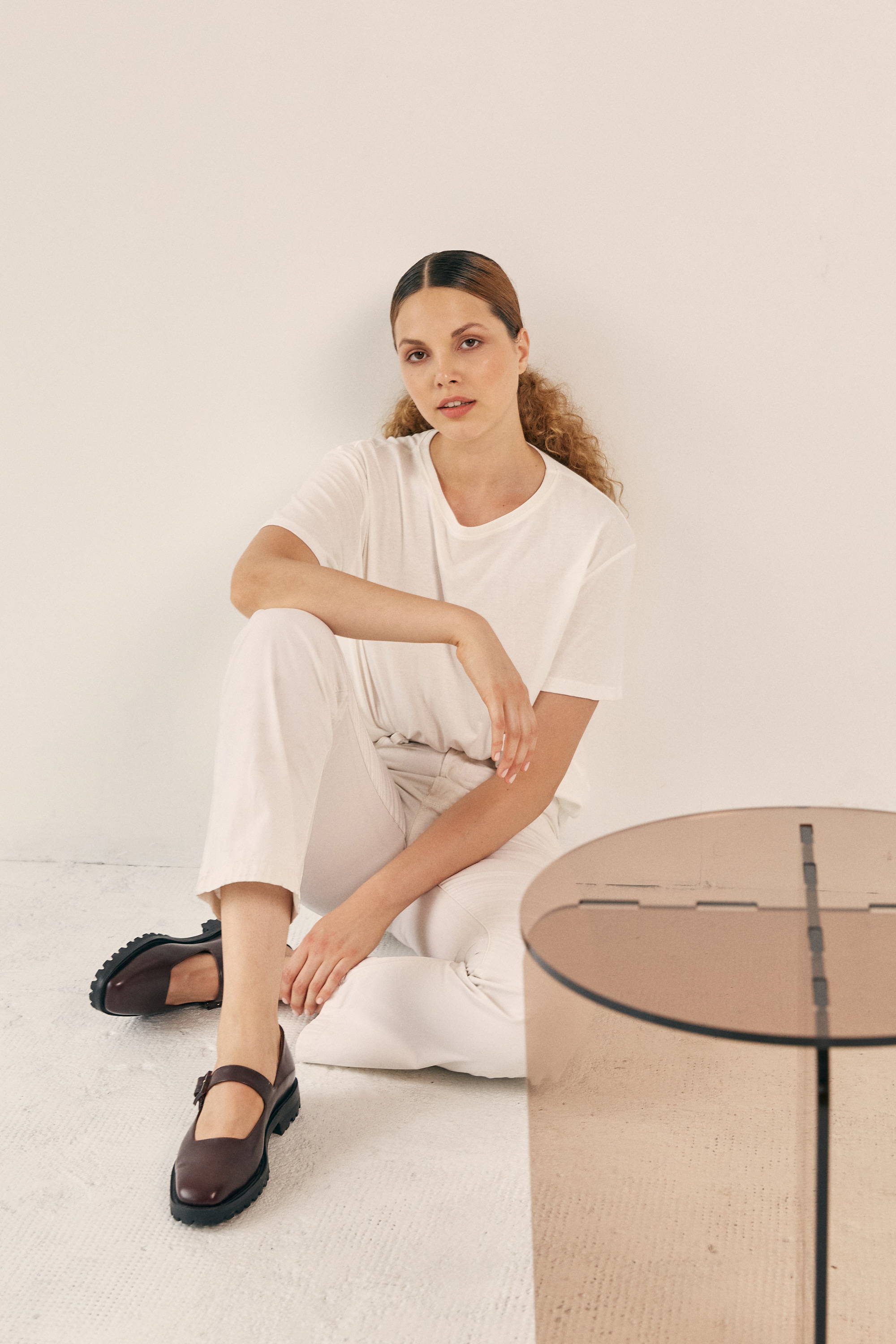 Meet the Uchi flat, a fresh take on our well-loved classic Eugenia flat. With a square toe, buckle details, and a chunky leather and rubber lug sole, the Uchi merges function with an edge. Infinitely comfortable, the Uchi is ready to tackle any itinerary.
Look to the Uchi in Matte Black for a forever investment piece, or expand the potential of your wardrobe with the Uchi in Caramel Patent or Tannat.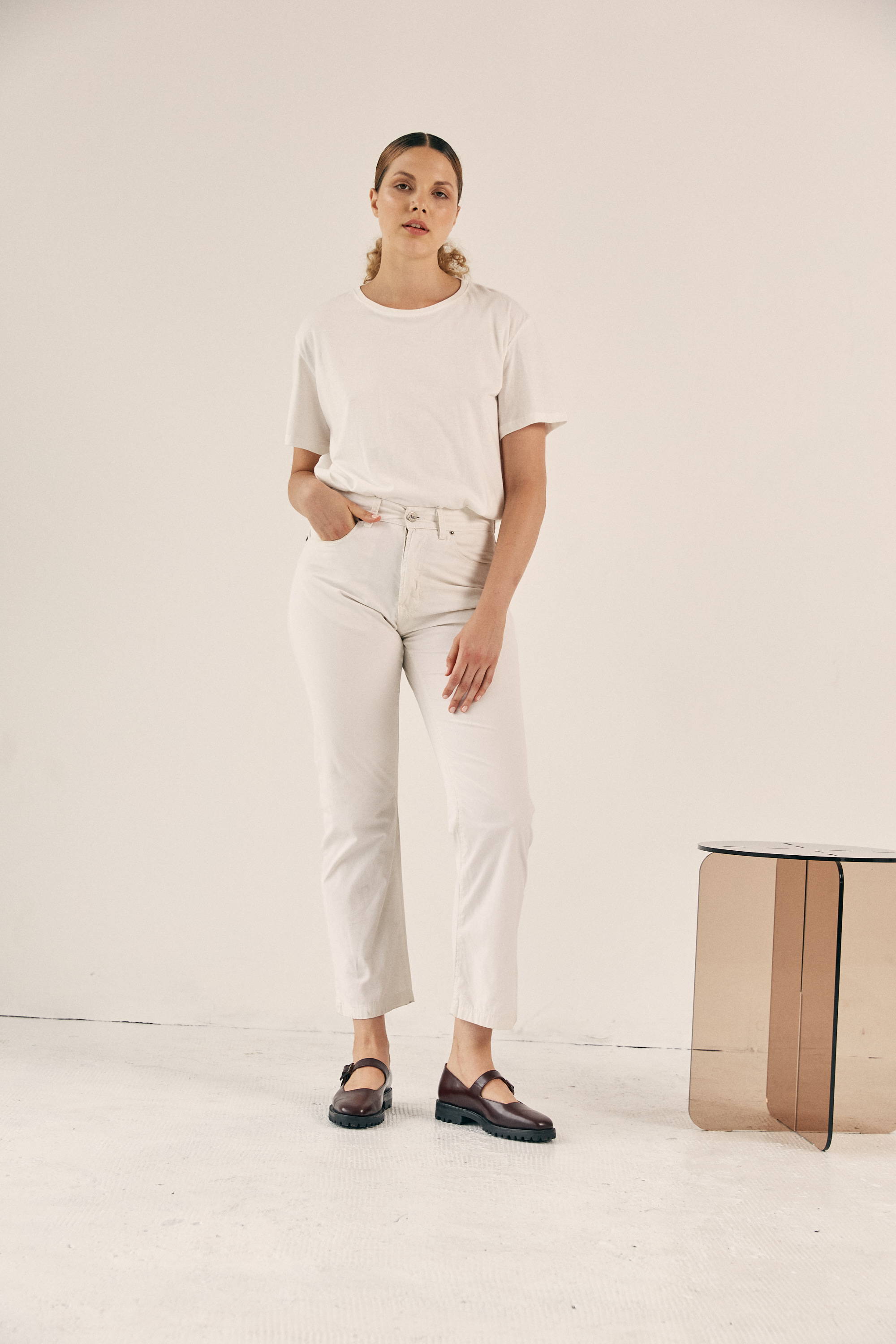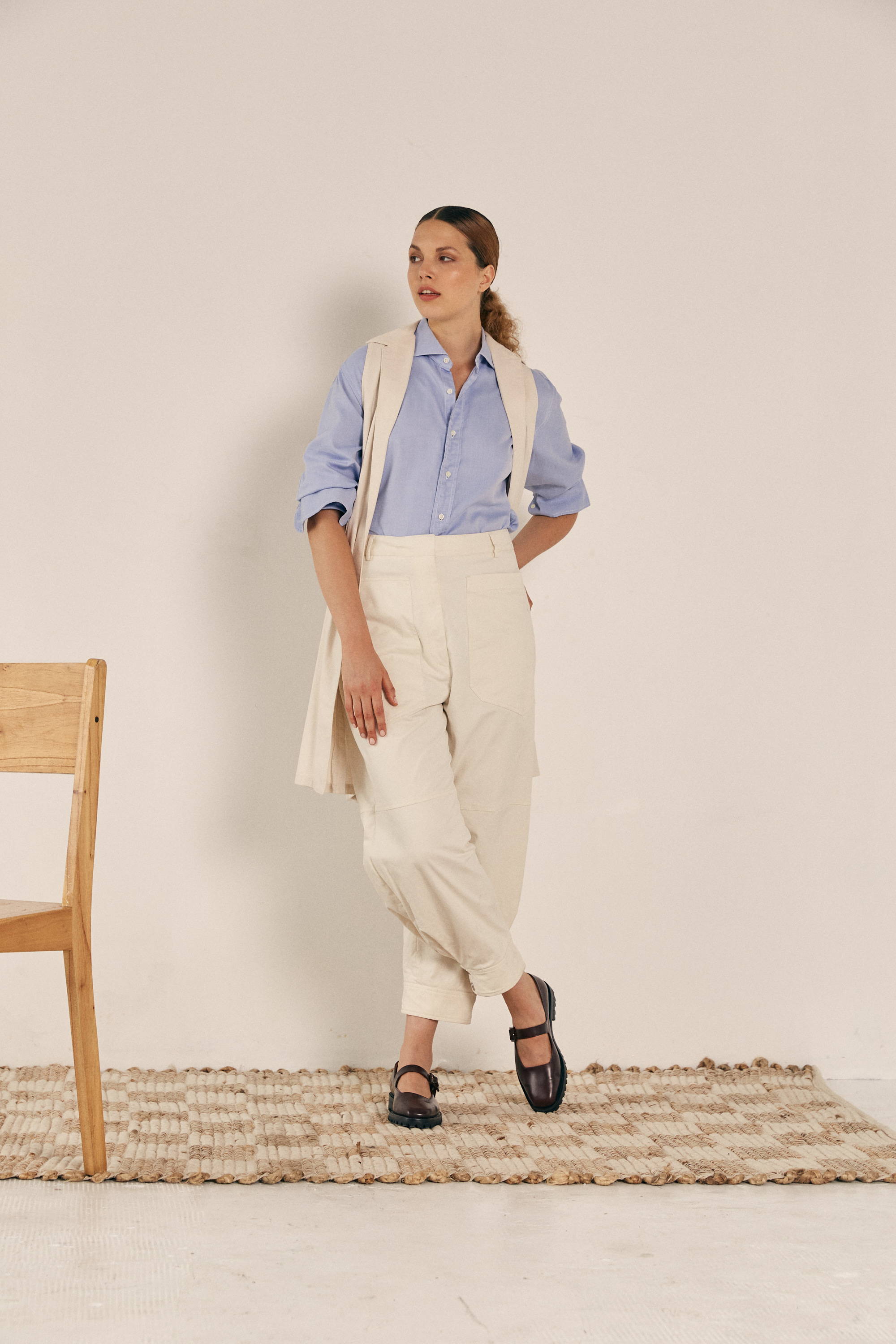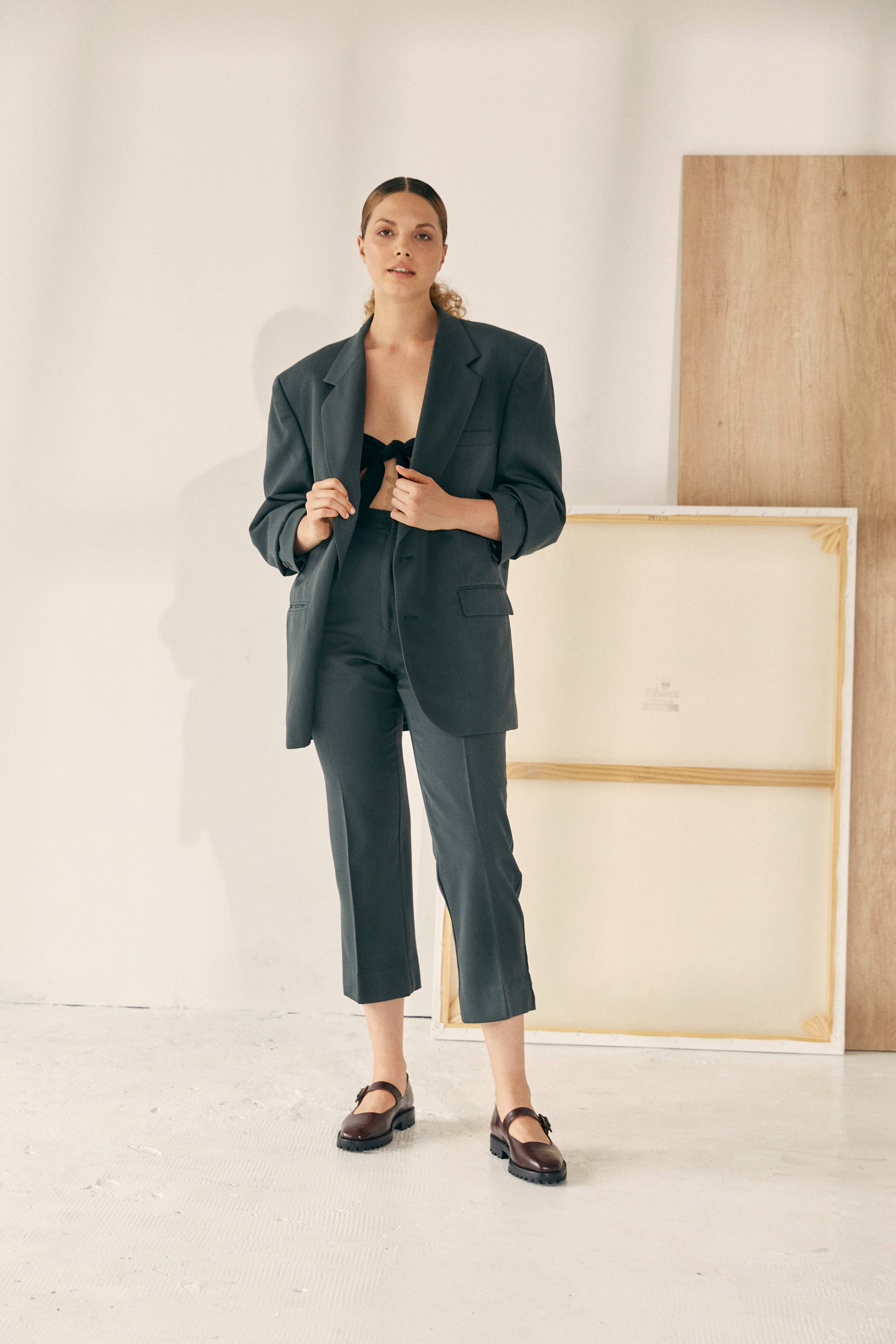 Are you heading to Los Angeles, Paris, Chicago, New York, London, or another city this spring? Meet your match with the Uchi flat, a playful and unique alternative to packing sneakers. There's no need to pack multiple pairs of shoes; the Uchi has you covered no matter your plans.
Travel Day
Head to the airport in a crisp and clean all-white look for maximum comfort and ease. Think of your go-to straight-leg jeans and favorite tee. The Uchi instantly makes this simple look enticing thanks to its creative design, plus the lug sole will make trekking through the terminal a breeze. Arrive at your destination, head to a cafe for coffee and brunch, then hit the streets to explore the city and check in to your accommodations.
Sightseeing
For a day with a list of activities longer than your to-do list back home, style the Uchi with a pair of loose white trousers, a blue button-up, and add a cardigan, vest, or lay a sweater across the shoulders in the event the temperature drops. From here, the day is yours for the taking; from a bike ride or walk through the park to sightseeing, shopping, or museum hopping, you'll be ready for it all.
Night Out
The Uchi unseemingly transitions to evening wear with surprising results. Pair the Uchi with a summer suit. Keep it classic with a cami underneath, or show some skin with a bandeau or crop top. Then, head to a show, dinner, drinks, and dance the night away, knowing the Uchi will keep you comfortable and looking cool all night.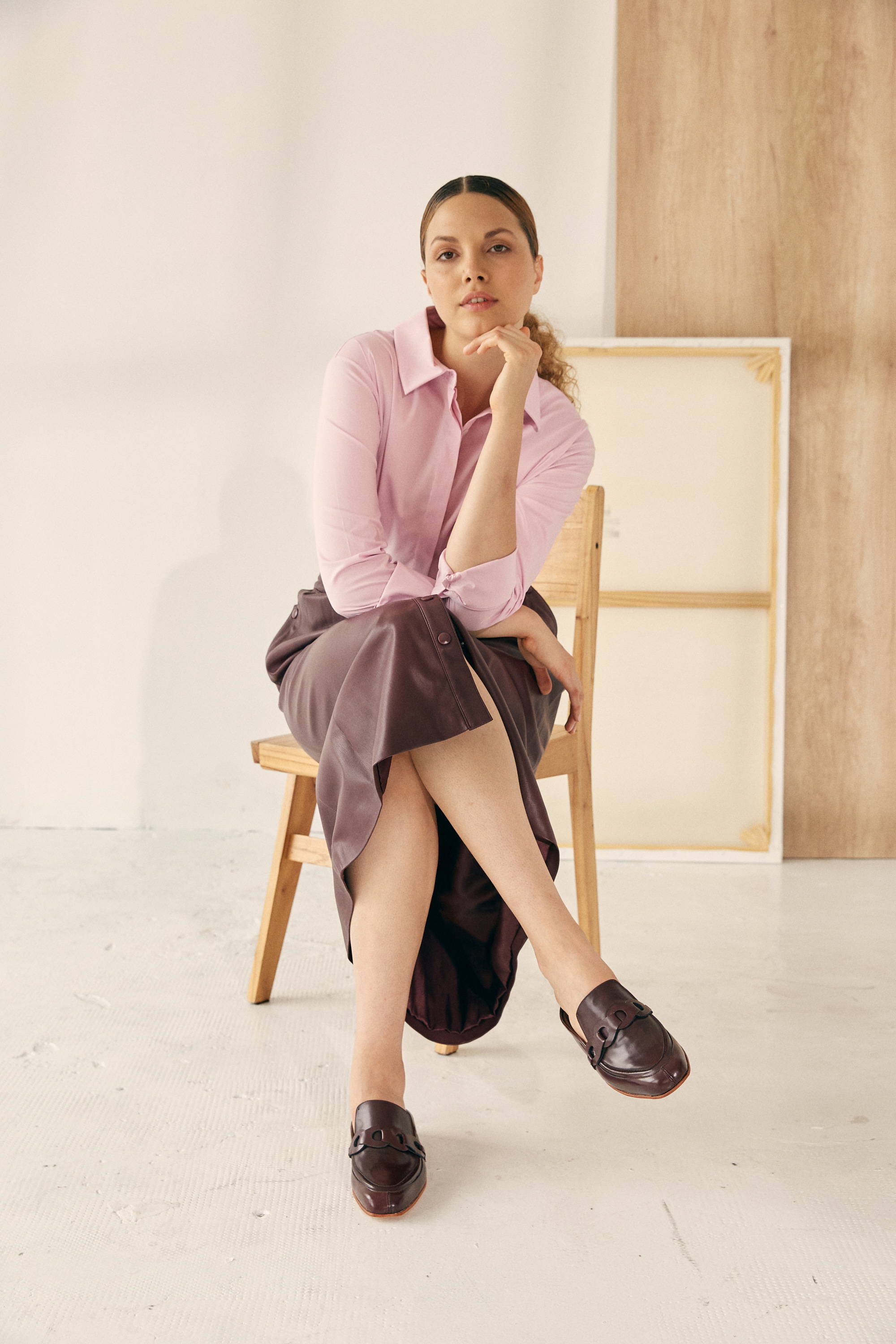 Fall for the Pilar mule, the backless sister style to the Pilar loafer featuring a leather-link chain and corded seam detail. The Pilar boasts personality and a hint of unexpectedness. It's the perfect pairing for those who love to wear loafers, even when it's 90 degrees out.
The Pilar in Tannat is a sensational spring/summer alternative to black.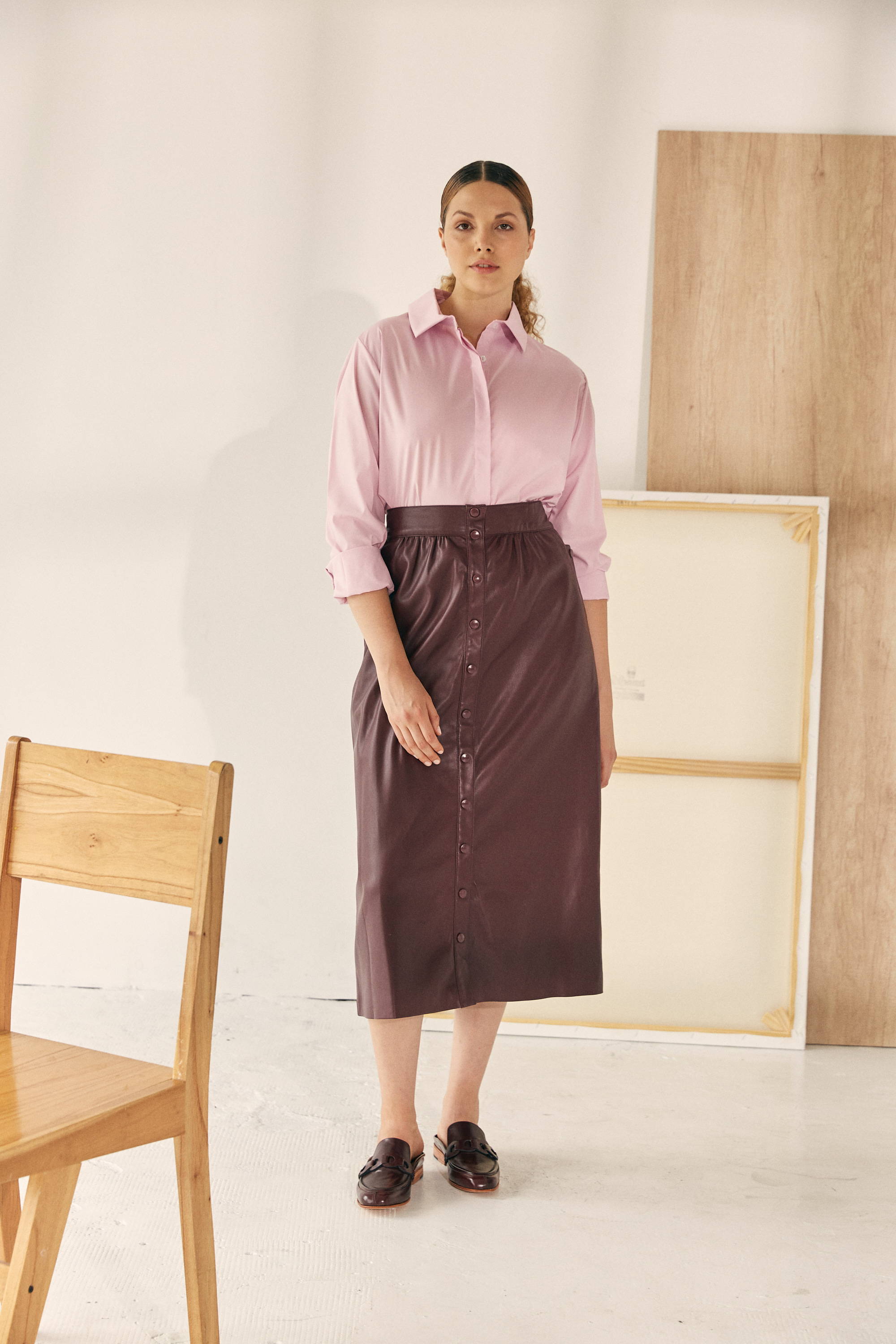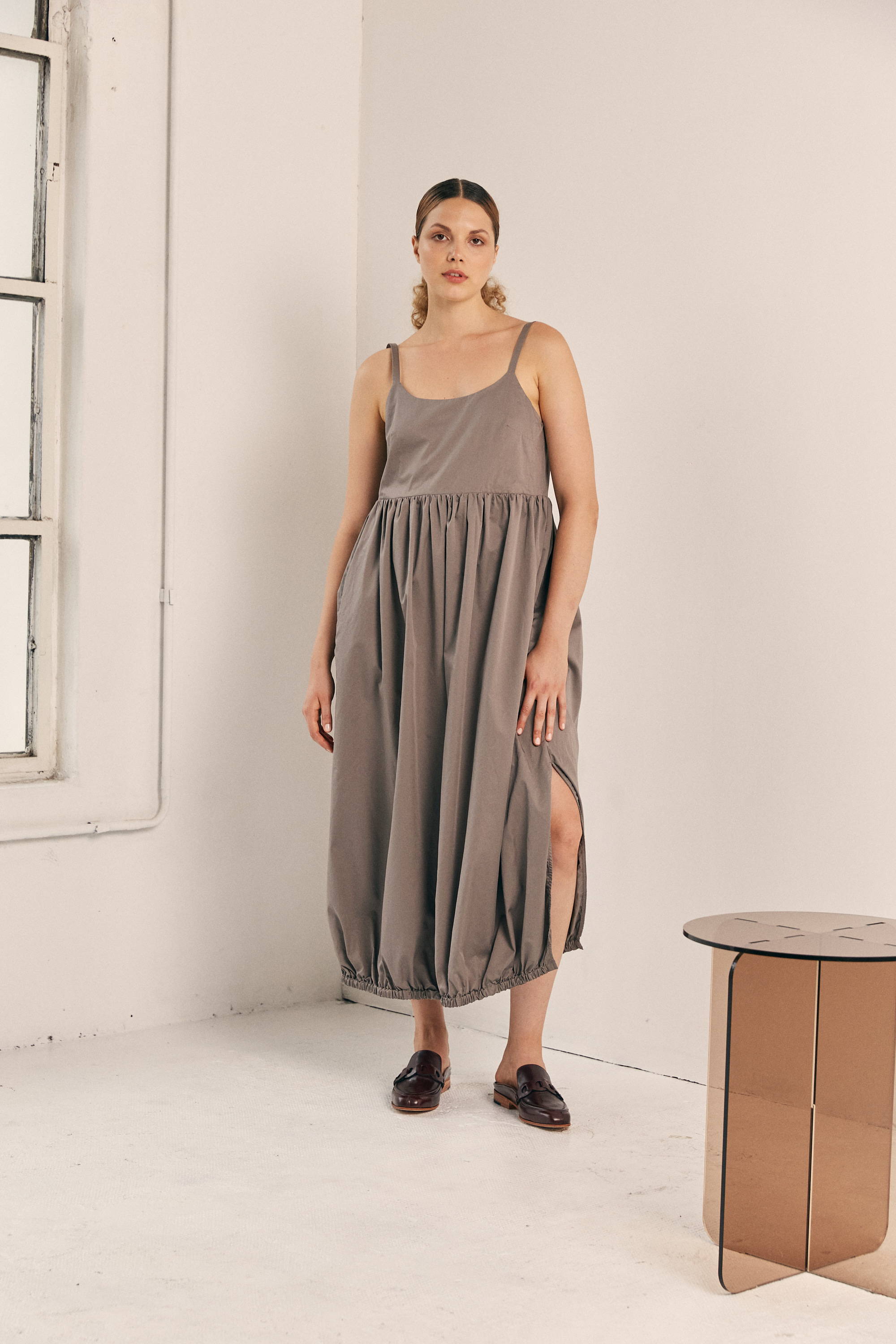 Are you traveling for work and looking to take full advantage of the opportunity? Then, look to the Pilar mule, the definition of on and off-duty footwear. Thanks to its backless nature, the Pilar mule is ready for hot temperatures, important meetings, and exploring the city in the off moments. With a memory foam cushioned insole, you'll be happy you only packed one pair of shoes.
Onsite
Dress to impress for a day filled with back-to-back meetings, time in the office, or various appointments across the city by pairing the Pilar with a professional yet, pragmatic leather skirt and a classic button-up top. This put-together ensemble has the perfect amount of personality.
Offsite
For a day offsite, work remotely from the hotel, a co-working space, or a coffee shop in something casual and put-together. Pair the Pilar with a voluminous midi dress for a playful juxtaposition of styles. Popping into the office for a few hours, taking a Zoom call, or meeting colleagues for lunch is a breeze; just throw a blazer over the top to instantly formalize the look.
Free Day
If you have a free afternoon or day during your business trip, casualize the Pilar mule with athleisure-like styling. Wear biker shorts, a tank top, and a jacket over the top, then head to a yoga or pilates class followed by a few hours of exploring seamlessly.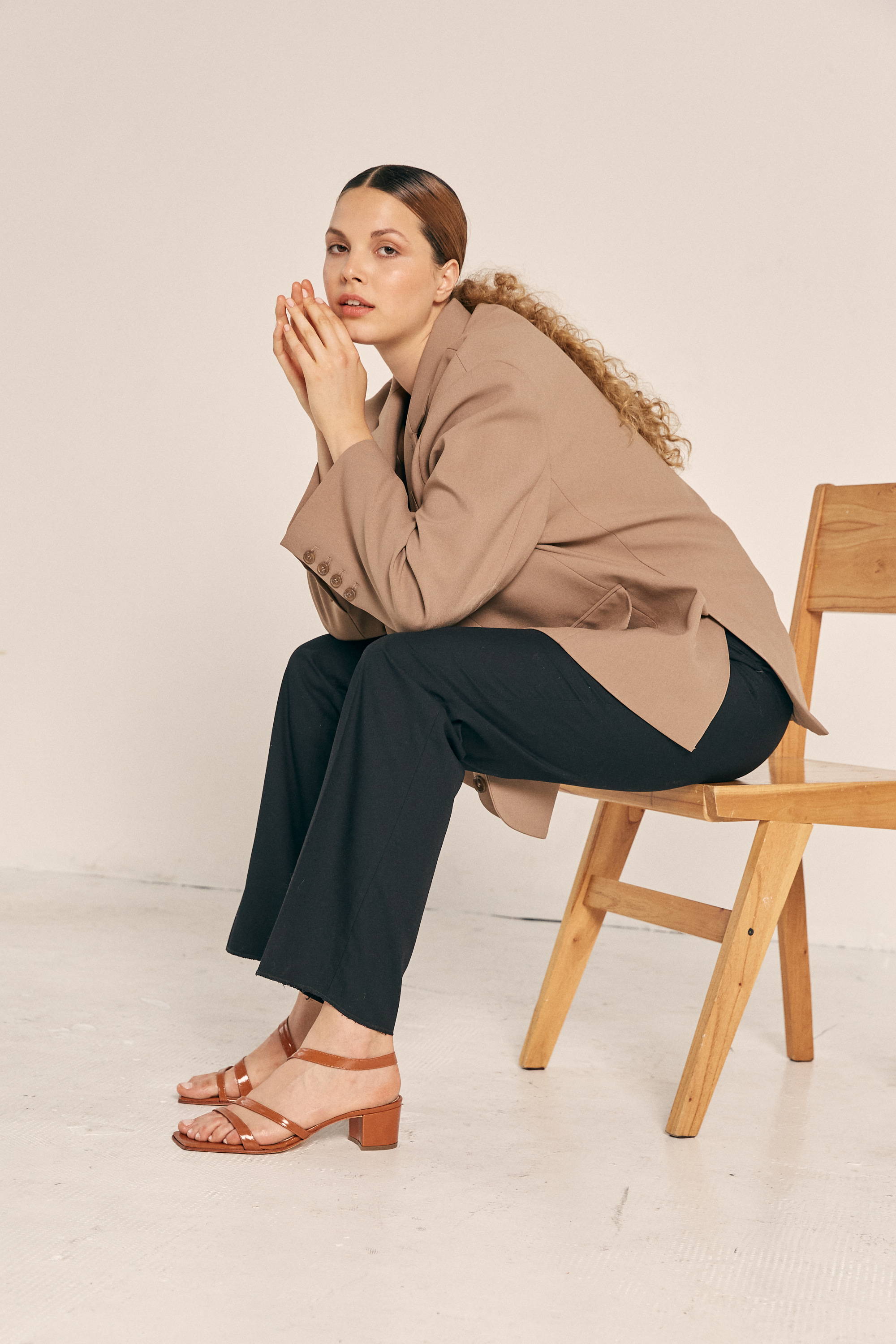 Sandal season is waiting for the Delfina, a provocatively bare sandal that adds streamlined elegance to any look. The Delfina is infinitely chic with a square footbed, delicate straps, and a low block heel. The elasticized ankle strap makes for an easy-to-slip-on silhouette and a sleek presentation.
Wear the Delfina in Caramel Patent to add a pop of color or the Delfina in Marfil for a simple, minimalist look.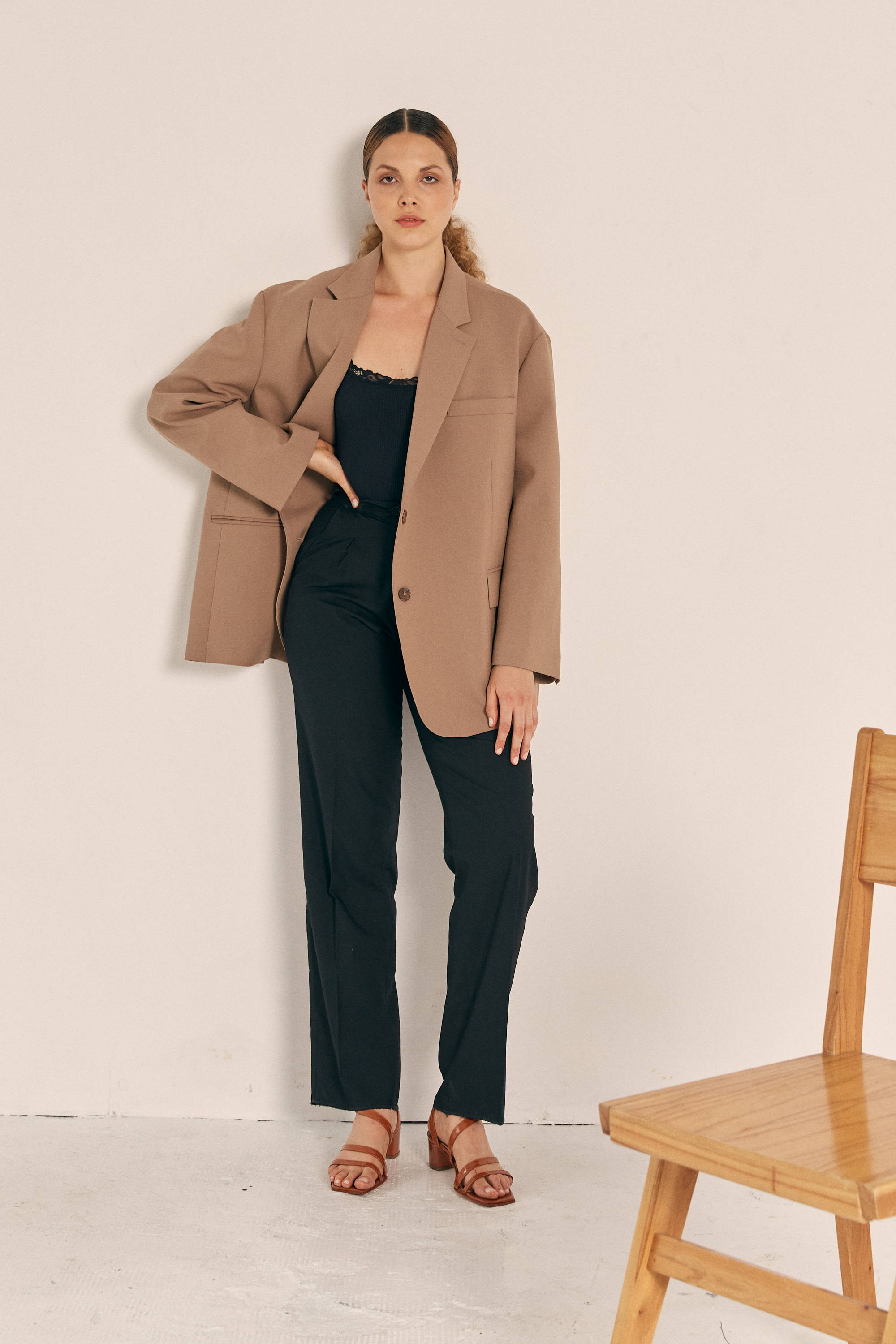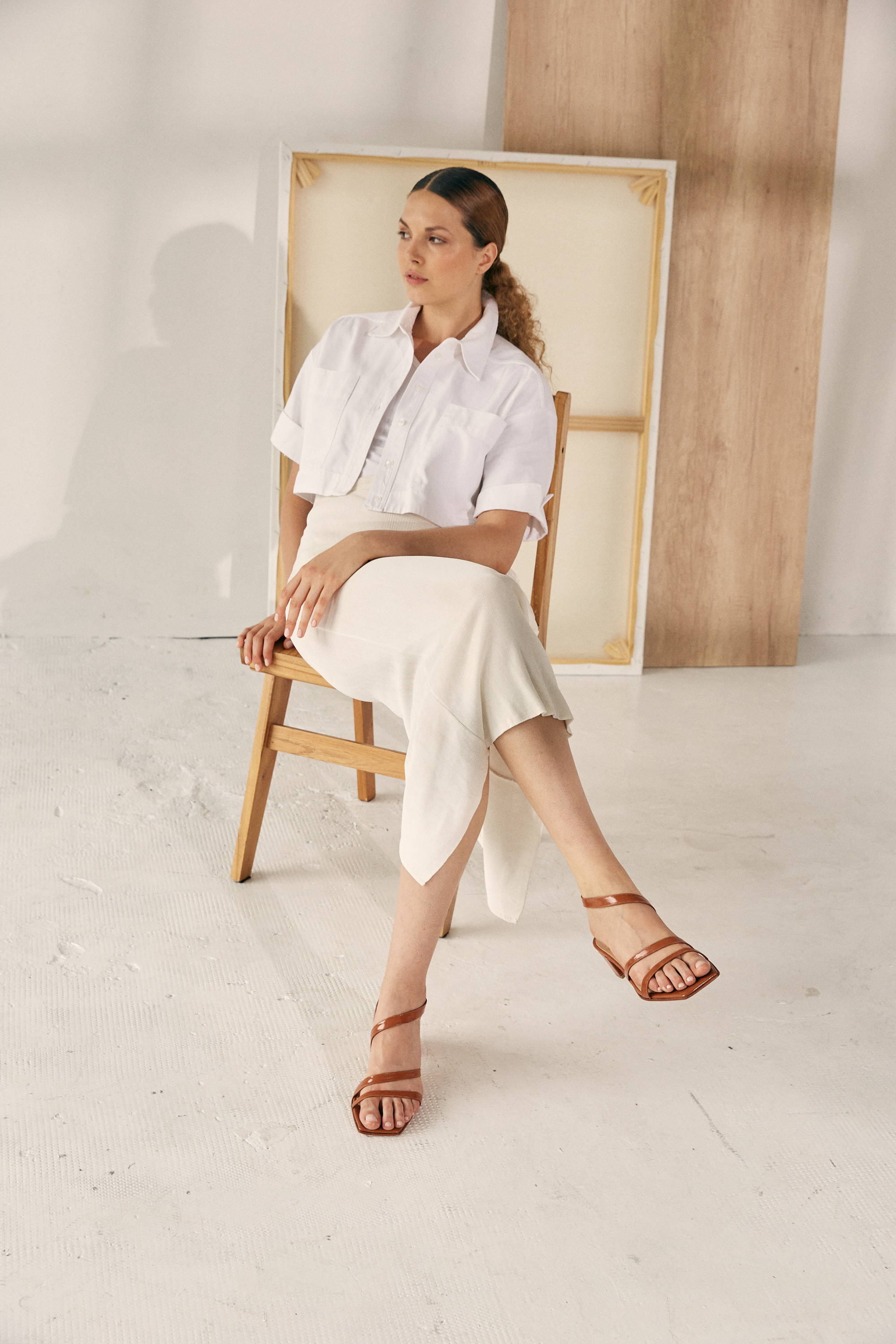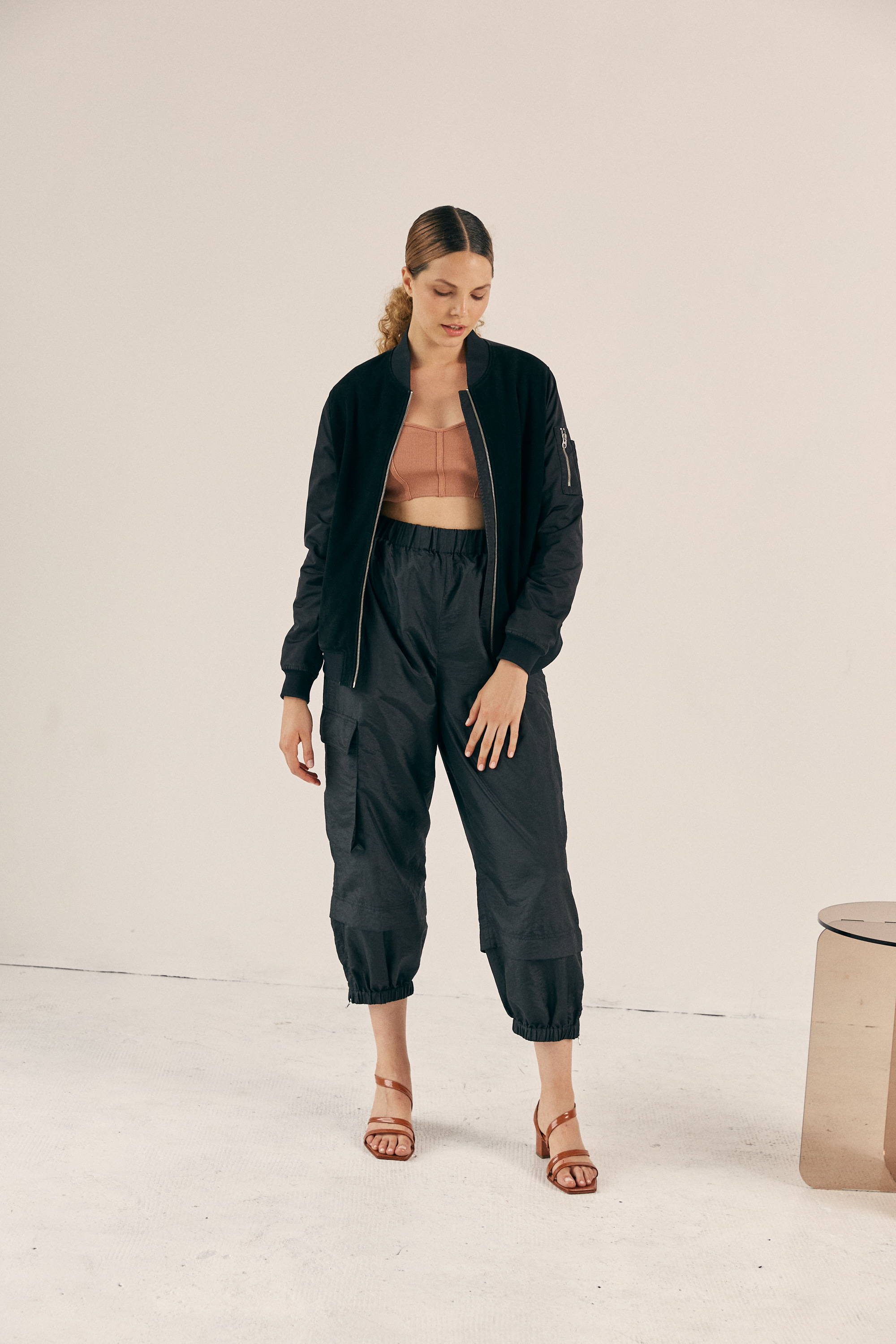 Wedding season is in full swing this spring. You're not alone if you find yourself with back-to-back weddings this year. So the first order of business is to get a pair of the Delfina sandals, the only shoes you'll need.
Rehearsal Dinner
Dress up your favorite black straight-leg jeans or trousers and a tank top with an oversized blazer and the Delfina sandal to kick things off at the rehearsal dinner. The Delfina immediately adds a layer of polish and detail to this straightforward look.
Civil Ceremony
Head to the civil ceremony with the Delfina by your side the following day. Untraditional brides may enjoy styling the Delfina in Caramel Patent for a pop of color and shine. Otherwise, look to the Delfina in Marfil. Style the Delfina with a midi dress and a cropped jacket for an easy yet, eye-catching look. If you aren't the bride, opt for something other than white.
Farewell Brunch
Tackle the farewell brunch and the trip back home afterward in complete comfort. Transform a pair of joggers and jacket with the Delfina and a cropped cami or bandeau underneath. The result is casually cool and stylish.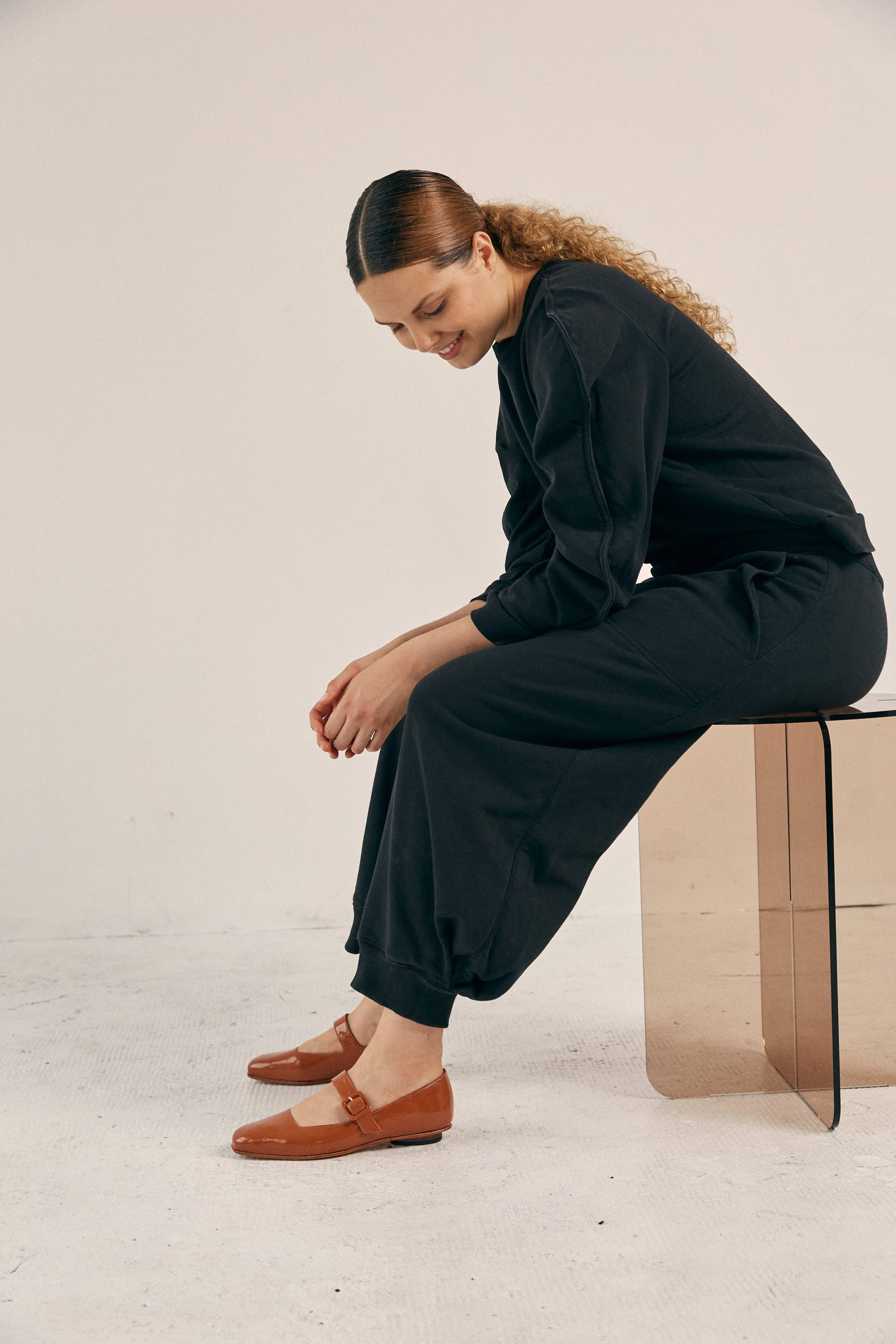 A forever favorite, the Eugenia flat is a modern interpretation of the classic mary jane flat featuring a square toe, angular topline, and an oval-shaped heel. An instant go-to, the Eugenia combines style with function for an effortless feel.

Explore color with the Eugenia flat in Caramel Patent, or go with Black for a definitive look.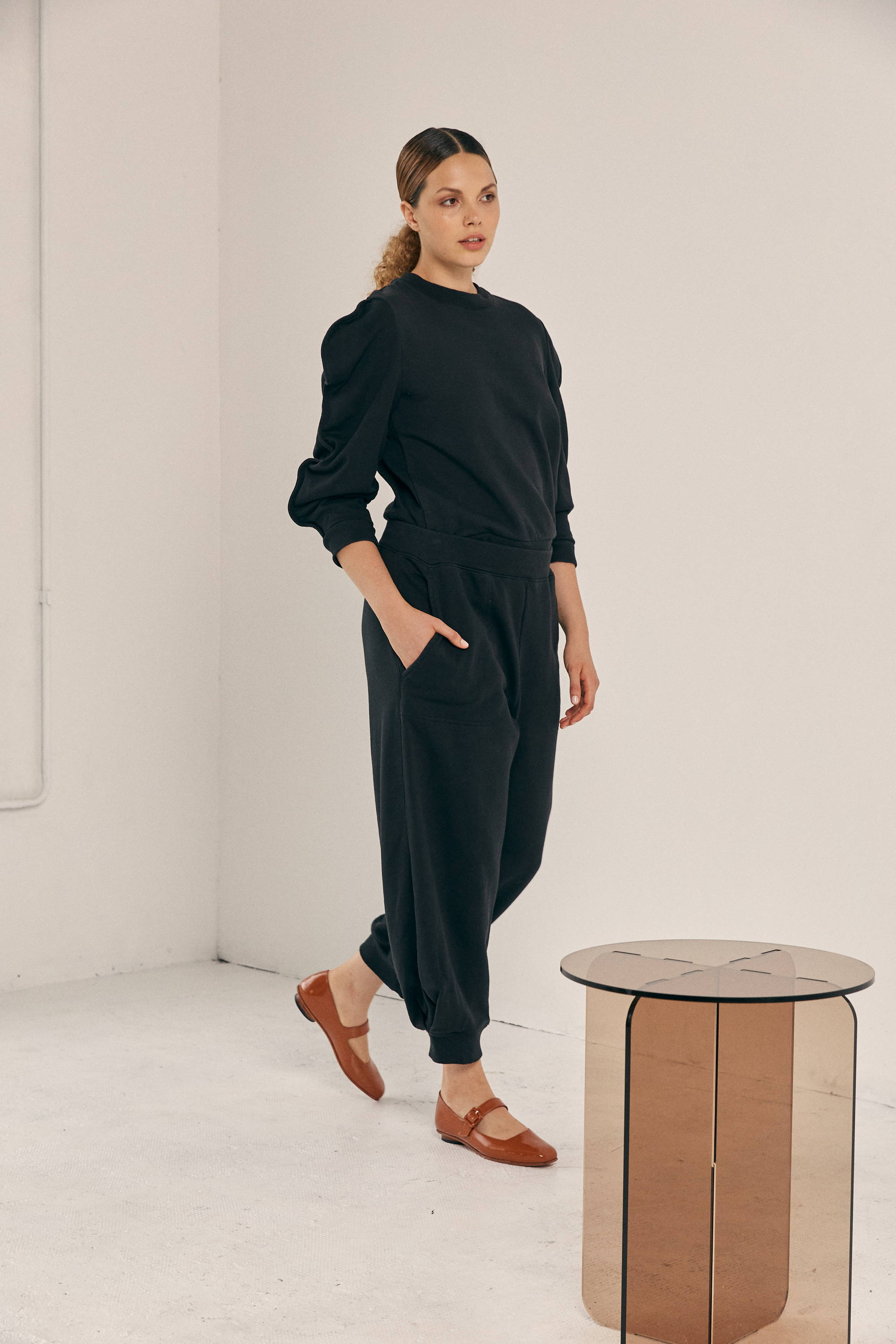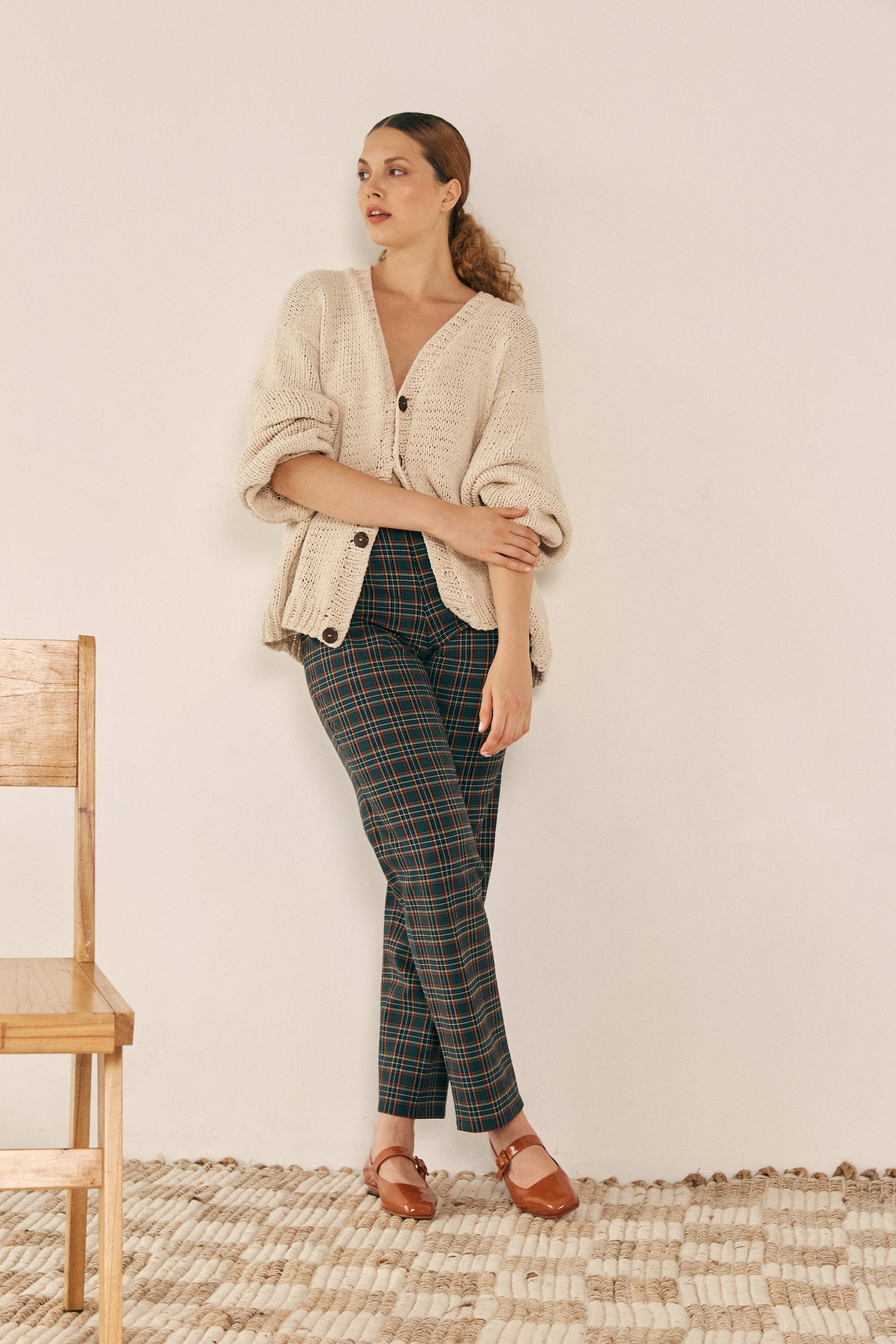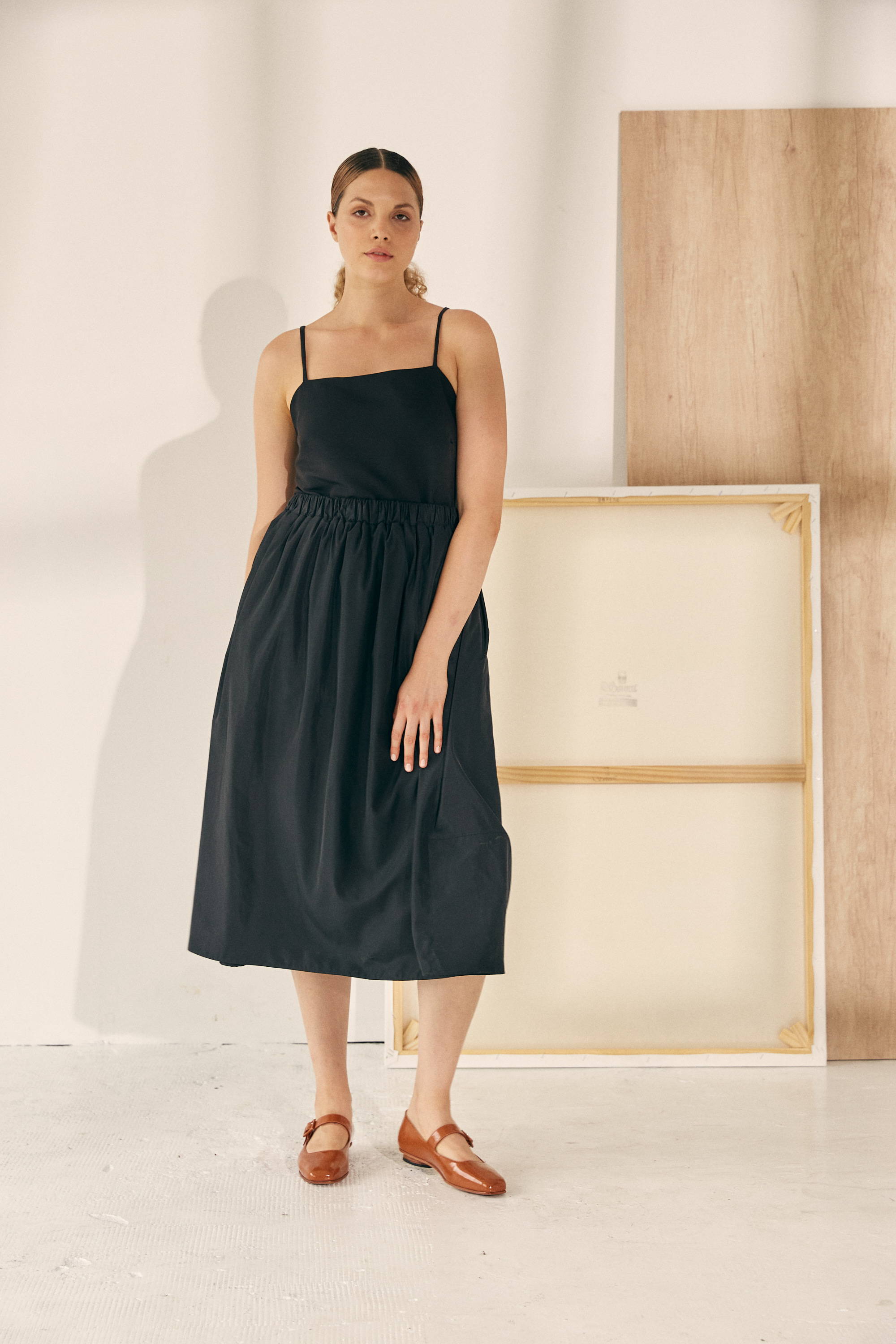 Often overlooked, sometimes a road trip is an unmatched vacation. If you're planning a weekend getaway or a multi-city adventure, the Eugenia has your name on it. Infinitely popular for a good reason, the Eugenia has you covered from sun up to sundown.
Driving Day
For a day filled with driving, keep it casual in a matching sweatsuit and the Eugenia. With a buckle, it's easy to pop the Eugenia on and off between driving, napping, and leaving the car. This look does it all, from rest stops to lunch and quick photo ops.
Exploring Town
Explore the town and style the Eugenia with a pair of straight-leg trousers, a tank top, and an oversize knit cardigan. Then, head to breakfast, the local record store, thrift shop, and a few monuments or sights.
Dinner Out
Dress the Eugenia up for dinner out with a square neck fit and flare midi dress. This approachable look is ready for any restaurant and can even handle drinks and dancing afterward.